Romney faces tax-return dilemma with more conservatives/GOPers calling for their release… Trying to change the subject: Yesterday, Team Romney hits Obama on "crony capitalism," for misunderstanding business, on Rezko, on "socialism," and even on Obama's drug use in his youth… And the DNC slings the mud back at Romney with web video featuring the Romneys' dancing horse… Latest Romney TV ad knocks Obama on the stimulus… Team Romney is now outspending Team Obama 2-to-1 in battleground states (thanks to the RNC cavalry coming to the rescue)… This week's 10 hottest advertising markets… And profiling potential VP pick Bobby Jindal.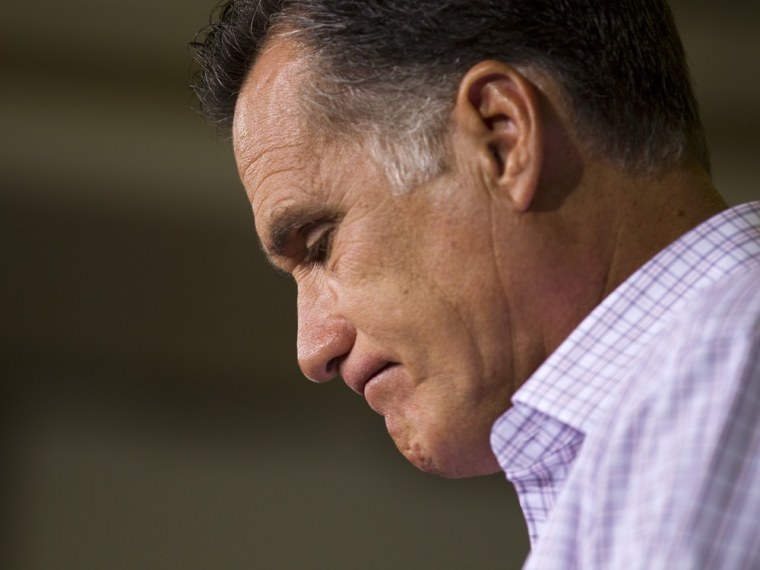 *** Romney's tax-return dilemma: For Mitt Romney and his campaign, the tax return story isn't going away. Just yesterday, the conservative National Review called on the presumptive GOP presidential nominee to release his returns prior to 2010. So did Ron Paul. And Rick Perry said yesterday that candidates for public office should be "as transparent as you can be with your tax returns," though he wouldn't directly answer if Romney himself should release more returns. Here's the problem for Romney: Either today, tomorrow, or next week, another Republican will probably also call on him to release more returns. National Review summed up Romney's dilemma this way: "[H]e's a politician running for the highest office in the land, and his current posture is probably unsustainable. In all likelihood, he won't be able to maintain a position that looks secretive and is a departure from campaign conventions. The only question is whether he releases more returns now, or later — after playing more defense on the issue and sustaining more hits. There will surely be a press feeding frenzy over new returns, but better to weather it in the middle of July."
Poll: Should Mitt Romney release more of his past tax returns?
*** Trying to change the subject: While the Romney campaign finds itself on the defensive -- on the tax returns, on Bain Capital -- it moved aggressively yesterday to change the subject. Not only did a feisty Romney accuse President Obama of "crony capitalism" and misunderstanding business while stumping in Pennsylvania, but the campaign held a conference call with reporters in which surrogates talked about Tony Rezko and "socialism." And topping it off on the conference call, former New Hampshire Gov. John Sununu said: "I wish this president would learn how to be an American." Sununu eventually walked back that comment, but he also said on FOX yesterday that Obama doesn't understand "how the American system functions" because "he spent his early years in Hawaii smoking something," The Hill writes. Indeed, an unnamed Romney adviser tells Buzzfeed that little will be off-limits from now on. "'I mean, this is a guy who admitted to cocaine use, had a sweetheart deal with his house in Chicago, and was associated and worked with Rod Blagojevich to get Valerie Jarrett appointed to the Senate,' the adviser said. 'The bottom line is there'll be counterattacks.'" And it's just not the Romney campaign now slinging mud; the DNC is up with a web video featuring the Romneys' dancing horse. Here we go…
*** Romney's newest ad hits Obama on the stimulus: In today's latest back-and-forth, the Romney campaign is up with yet another TV ad -- this one hitting Obama on the economic stimulus. "Where did all the Obama stimulus money go?" the narrator asks in the ad. "Friends, donors, campaign supporters, special interest groups. Where did the Obama stimulus money go? Solyndra… windmills from China, electric Cars from Finland."
*** Team Romney now outspending Team Obama by 2-to-1 margin on TV ads: And in another sign of its ferocious counterattack, Team Romney (the campaign, the RNC, and Crossroads GPS) is outspending Team Obama (campaign and Priorities USA Action) this week by a 2-to-1 margin in the battleground states, $16 million to $8 million. According to our ad-tracking data, the Obama campaign has purchased $7.1 million worth of advertising this week (7/16-7/22), Crossroads GPS $6.1 million, the Romney campaign $6 million (its largest media buy to date in the general election), the RNC $4.4 million, and Priorities USA Action nearly $1 million. For a while now, the Romney campaign and its allies have observed that the Obama campaign is outspending them on the airwaves. And that's true when it's campaign vs. campaign. But when you add up all the advertising entities, Team Romney now has a 2-to-1 advantage.
*** The RNC to the rescue: And what's creating this advantage is the RNC cavalry coming to the rescue. Indeed, in three battleground states now, the RNC is actually outspending the Romney campaign for this week: North Carolina (RNC $835K vs. Romney $682K), Iowa ($475K vs. $427K), and New Hampshire ($648K vs. $82K).
*** This week's 10 hottest advertising markets: And speaking of this advertising battle, here's our weekly look at the 10 hottest markets in the presidential race (in terms of advertising points from 7/16 -7/22). A few observations here: One, the top-three markets are in Colorado. Two, markets in Virginia (Roanoke and Richmond) round out the top five. Three, New Hampshire makes its first appearance on this top-10 list (thanks to 1,000 points by the RNC). And four and mostly importantly, all the GOP entities are outspending the Obama/Dem entities in these markets. 
1. Denver, CO (Obama 975, Romney 840, RNC 620, Crossroads 520, Priorities 150)
2. Colorado Springs, CO (Romney 950, Obama 930, Crossroads 700, RNC 300, Priorities 185)
3. Grand Junction, CO (Obama 930, Romney 820, Crossroads 745, RNC 275)
4. Roanoke, VA (Obama 930, Romney 630, Crossroads 600, RNC 470)
5. Richmond, VA (Obama 860, Romney 775, RNC 370, Crossroads 360, Priorities 240)
6. Charlotte, NC (Romney 915, Obama 750, RNC 570, Crossroads 370)
7. Tampa, FL (Romney 875, Obama 711, Crossroads 690, Priorities 185
8. Columbus, OH (Romney 815, Obama 765, Crossroads 360, RNC 350, Priorities 140)
9. Boston-Manchester, NH (RNC 1000, Crossroads 550, Obama 550, Romney 225)
10. Orlando, FL (Romney 830, Obama 800, Crossroads 615, Priorities 130)
*** Veepstakes watch: We noted in First Read yesterday that, despite some hints a Romney VP pick would come early, don't bet on it. And today, the New York Daily News' Tom DeFrank reports: "Sources close to the Romney campaign told the Daily News the working plan has been to announce the pick after the Olympic Games, which begin next week and conclude Aug. 12 — two weeks before the Republican convention in Tampa." More: "The running mate choice — a high-stakes pick often described as the first presidential-caliber decision a candidate makes — will dominate the news cycle for days, temporarily changing the subject from Romney's financial baggage. But some top advisers believe popping the name now would be seen as a panicky overreaction to Romney's bad press and should be saved for better 'bounce' closer to the convention. As a practical matter, moreover, a GOP veteran of vice presidential rollouts said it takes at least a month for a support staff to be up and running before a nominee is named."
*** Bobby Jindal's strengths… : Today we profile potential VP candidate Bobby Jindal. STRENGTHS: He checks many boxes -- a conservative, a two-term governor, smart (former Rhodes Scholar), and policy whiz (in his 20s, he helped turn around Louisiana's public health system). As conservative writer Philip Klein has put it, "He's more exciting than Portman and more experienced than Rubio."… Despite that experience, Jindal -- at age 41 -- is still a young rising star in the Republican Party… And as an Indian-American, Jindal would bring diversity to the GOP presidential ticket.
*** And his weaknesses…: WEAKNESSES: Unlike some of the other potential VP picks (like Ayotte, Pawlenty, and Portman) Jindal endorsed Rick Perry over Romney during the GOP primaries... Jindal's first time on the national stage (giving the Republican response to President Obama's first address to Congress) fell flat… Crony capitalism? In March 2011, the New York Times reported that corporations seeking business with Louisiana's state government (like AT&T, Marathon Oil, and Northup Grumman) have donated a significant amount of money to a charity established by Jindal's wife, the Supriya Jindal Foundation for Louisiana's Children. This revelation came out after Jindal had worked to tighten Louisiana's ethic rules and lessen the influence of special interests… Despite his insistence to construct sand berms to contain the BP oil spill, a presidential commission concluded that Jindal "wasted $220 million building controversial sand berms that captured a 'minuscule amount' of oil and proved to be 'underwhelmingly effective' and 'overwhelmingly expensive,'" USA Today reported… In 2004, Jindal wrote about witnessing an "exorcism" that he claimed cured a friend with cancer. 
Countdown to GOP convention: 40 days
Countdown to Dem convention: 47 days
Countdown to Election Day: 111 days
Click here to sign up for First Read emails.
Text FIRST to 622639, to sign up for First Read alerts to your mobile phone.
Check us out on Facebook and also on Twitter. Follow us @chucktodd, @mmurraypolitics, @DomenicoNBC, @brookebrower