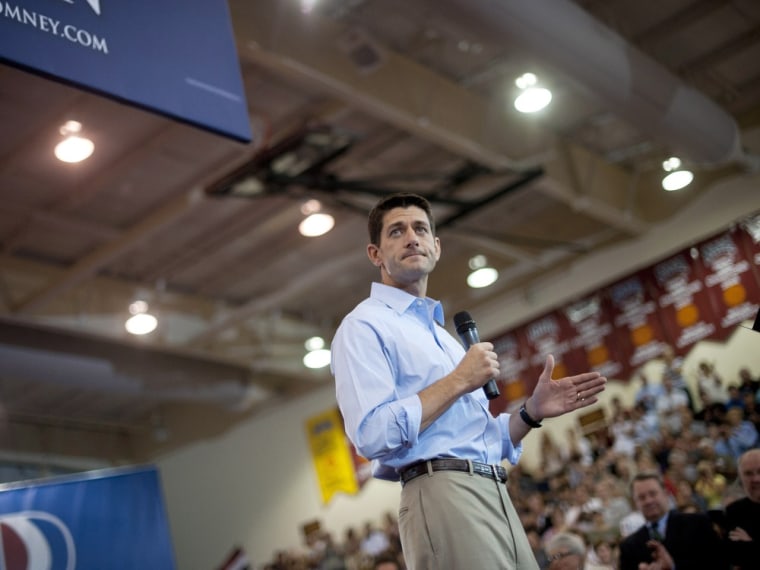 The Ryan pick -- one week later… The vetting of Ryan (on the stimulus, China) continues… Obama camp makes offer to Romney on his tax returns, ensuring that the tax-return story stays in the news… Just in: Romney camp declines the offer… Team Obama unveils its first TV ad on Medicare (and it's reactive)… Medicare vs. the Romney-Ryan plan is akin to pensions vs. 401ks… And ad spending in the presidential contest tops $500 million.
*** The Ryan pick -- one week later: So what have learned in the week since Mitt Romney tapped Paul Ryan to be his running mate? For starters, the pick has given the Romney campaign a shot of energy (it says it has raised more than $10 million online from 125,000 donors, and it has seen its website and social-media traffic increase). But that energy hasn't necessarily translated to the polls, with surveys (like Gallup) showing a minimal bounce. The Ryan pick has shifted the issue terrain to Medicare, not only in the presidential contest but also the battle for the House (example: that new DCCC ad). And the week since Ryan's selection has marked the most negative turn in the campaign so far, with President Obama invoking Seamus the dog, Vice President Biden referring to "chains," and Romney accusing the Obama camp of engaging in "division and anger and hate." Again, so much for that promise of a more high-minded debate…
*** The vetting of Ryan continues: But here's what we haven't learned yet: Is the Ryan pick a winner? As one GOP strategist has remarked to First Read, the VP choice could either turn out to be a stroke of genius or it could go badly -- but it's too early to tell. In fact, Ryan is still being vetted by the national press. Yesterday, we learned that the Wisconsin congressman was talking tough on China's currency manipulation, even though he voted against a 2010 House bill that would have cracked down on China's currency manipulation. Also yesterday, he told a Cincinnati TV station that he didn't ask for money from the $787 billion stimulus when the record shows he did, and he later acknowledged sending the letters to the Energy Department requesting funds for two companies. As we wrote earlier in the week, there's a potential danger for Ryan sounding a like a typical politician, which would undermine one of biggest perceived strengths.
*** Romney's tax returns stay in the news: In an obvious attempt to keep yesterday's story about Mitt Romney's tax returns in the news, the Obama campaign sent a letter to the Romney camp making this offer: If Romney releases just five years of returns (including the 2010 and 2011 he has given/pledged to give), the Obama camp promises NOT to criticize him for not releasing more. "I repeat, the governor and his campaign can expect in return that we will refrain from questioning whether he has released enough or pressing for more," Obama manager Jim Messina wrote to Romney manager Matt Rhoades. (Note: This offer doesn't seem to pertain to WHAT'S IN the tax returns.) This letter is proof of why Romney's answer yesterday that he paid no less than 13% in federal taxes over the past 10 years was such an unforced error (even though we, as members of the press, give him credit for answering the reporter's question he was asked). Bottom line: It immediately changed the conversation from something the campaign wanted to talk about (Medicare) to something it probably didn't (the tax returns). But there's a bigger public-policy issue here: 13% is a VERY low number for a multimillionaire like Romney, and it demonstrates how the current rules (and loopholes) benefit the wealthy. 
*** Just in: The Romney camp declines the offer: Rhoades responds, "It is clear that President Obama wants nothing more than to talk about Governor Romney's tax returns instead of the issues that matter to voters, like putting Americans back to work, fixing the economy and reining in spending. If Governor Romney's tax returns are the core message of your campaign, there will be ample time for President Obama to discuss them over the next 81 days. In the meantime, Governor Romney will continue to lay out his plans for a stronger middle class, to save Medicare, to put work back into welfare, and help the 23 million Americans struggling to find work in the Obama economy."
*** Obama camp unveils its first TV ad on Medicare: Meanwhile, the Obama camp is it up with its first TV ad on Medicare, and it's a response to the Romney camp's attack on the subject. "The non-partisan AARP says Obamacare cracks down on Medicare fraud, waste, and abuse and strengthens guaranteed benefits," the ad's narrator says. "And the Ryan plan? AARP says it would undermine Medicare and could lead to higher costs for seniors. And experts say Ryan's voucher plan could raise future retirees' costs by more than $6,000." What is surprising is that Team Obama waited a week to unveil an ad like this -- and what's more surprising is that it's a reactive ad. That development has Boston grinning, because Democrats are playing defense on Medicare -- especially regarding those $716 billion in cuts.
*** Medicare vs. Romney-Ryan plan is akin to pension vs. 401k: But keep this in mind: The actual Romney-Ryan plan still hasn't been truly litigated yet. Yesterday, Romney compared his plan to Medicare Advantage. "It gives all of the next generation retirees the option of having either standard Medicare, a fee-for-service-type, government-run Medicare, or a private Medicare plan," he told reporters. But as one of us wrote yesterday, there is a SIGNIFICANT difference between Medicare Advantage (or traditional Medicare) vs. the Romney-Ryan plan. The former is a defined benefit (where the government guarantees a level of coverage), and the latter is a defined contribution (where the government decides what it will pay). It's essentially the same difference between a pension (defined benefit) and 401k (defined contribution). And 401ks save companies money, but they are a weaker benefit than a pension. What's more, just like many seniors probably can't maintain their standard of living on a 401k alone, the CBO has said that the Ryan plan will force most future seniors to pay MORE for their health care than under the current Medicare system. Folks, this is the debate that's coming…
*** Reunited and it feels so good: Politico: "Mitt Romney and Paul Ryan plan to campaign together again sooner than aides had originally planned, likely twice next week, as part of a new offensive to take on the touchy issue of Medicare… Romney and Ryan had planned to go their separate ways before meeting up at the end of the month at the Republican National Convention in Tampa. But then campaign strategists saw how much of a psychic boost Romney got from Ryan — and how much more animated Romney appeared on television with his younger running mate at his side. 'They really like each other and they feed off of each other,' campaign manager Matt Rhoades said. 'There's an energy, there's a chemistry.'" One take here is that they indeed have good chemistry. Another take is that Boston might be worried that Romney's solo crowds could be smaller than Ryan's solo crowds…
*** Ad spending tops $500 million: As another of us wrote yesterday, ad spending in the presidential contest has now crossed the health-billion-dollar mark. "With the $37 million being spent this week on political advertising -- including the campaigns and the Super PACs that support them -- the grand total for this campaign is now more than $512 million, about the amount spent on advertising in the entire 2008 general election, according to an NBC News/Smart Media Group Delta analysis. Almost half of that money is coming from outside groups, like Super PACs -- and the vast majority of the outside money is going to support presumptive Republican nominee Mitt Romney." As NBC's Brian Williams pointed out last night, this $500 million is a staggering sum, and could easily be used to pay for other things, such as feeding 9.2 million malnourished children.
Countdown to GOP convention: 10 days
Countdown to Dem convention: 17 days
Countdown to 1st presidential debate: 47 days
Countdown to VP debate: 55 days
Countdown to 2nd presidential debate: 60 days
Countdown to 3rd presidential debate: 66 days
Countdown to Election Day: 81 days
Click here to sign up for First Read emails.
Text FIRST to 622639, to sign up for First Read alerts to your mobile phone.
Check us out on Facebook and also on Twitter. Follow us @chucktodd, @mmurraypolitics, @DomenicoNBC, @brookebrower