We've entered the silly season… In fact, there have been three manufactured controversies in the past month (Etch A Sketch, hot mic, and Hilary Rosen)… What yesterday did teach us: It didn't take much for conservatives to rally to Romney's side… Team Obama's not-so-good week… Romney calls Obama "incompetent" after North Korea's "incompetent" missile launch… Romney addresses NRA at 2:20 pm ET, while Obama gives a speech in Tampa, FL at 1:20 pm ET and sits down for interview with Telemundo before departing to Colombia… Lugar gets Super PAC help… And "Meet" interviews Treasury Secretary Geithner.
*** The silly season: If this first week of the general election has taught us anything, this is going to be a long next six months. It started with the Obama White House and campaign hammering away at the "Buffett Rule," which was more of an effort to embarrass Mitt Romney (and his low effective tax rate) than a realistic policy proposal. And then on Wednesday and Thursday, the Romney campaign seized on comments by Hilary Rosen, a Democratic strategist with thin ties to the White House, who said that Ann Romney has never worked a day in her life. It was a manufactured controversy -- fueled by Twitter and social media -- because no serious political actor in this presidential contest is criticizing stay-at-home moms or the value of the work they do. In fact, Rosen was referring to the Romneys' wealth, not Ann Romney's decision to raise her five sons at home. While the two major parties are fundamentally divided (over taxes, entitlements, the role of government, and national security) and while so much is at stake (control of Washington, potentially two Supreme Court justices), we find ourselves smack-dab in the silly season.
*** Three manufactured controversies in the past month: Of course, manufactured controversies are nothing new in American politics. There was Nixon's famous "Checkers" speech. Even four years ago, political observers were obsessing over Michelle Obama's patriotism and John McCain's seven homes. What is new, however, is how much faster and professionalized -- due to Twitter and the drive to make something go viral -- these manufactured controversies have become. Indeed, we've now seen three of them in the past 30 days: Etch A Sketch, hot mic, and Hilary Rosen. Now all three were related to a bigger issue or narrative (doubts about Romney's true beliefs and ideology, conservative suspicions about Obama's intentions, and a real gender gap in American politics). But, unfortunately, we talk about the manufactured controversy and not the real story here (that a general-election candidate always moves back to the center, that a president's second term with no more elections on the horizon does give him more flexibility to do certain things, and that women do have real anxieties about the balance between working and raising a family). The fact is, these next few months before the conventions are probably going to be filled with these manufactured "shiny metal object" controversies because of what we noted -- just how professionalized both political parties are at creating them. And some in the media are easily susceptible to helping these manufactured controversies go viral because they are seen as simply "more interesting" than the serious "eat your vegetables"-like issues that divide the two parties.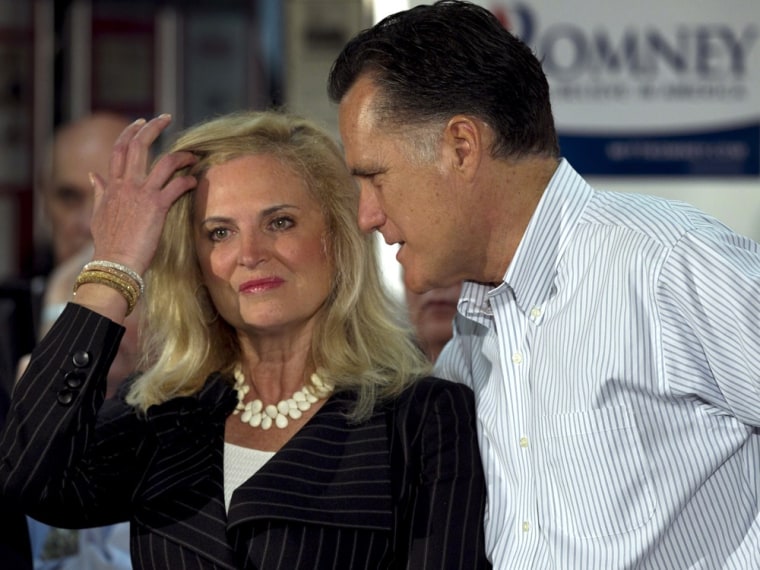 *** Rallying around Romney: Yesterday also taught us something else: Conservative elites are going to rally around Romney. They needed just the tiniest spark (Hilary Rosen) and they went into overdrive for Romney. It remains to be seen whether conservatives will stick around the former Massachusetts governor when the going gets tough -- that's the true definition of a strong base (see African Americans for Obama, evangelical Christians for George W. Bush) -- but the folks in Boston have to be pleased with the past 24 hours. But today will be an interesting when Romney addresses the National Rifle Association's conference in St. Louis at 2:20 pm ET. After all, it's been well chronicled that Romney, who only became a "lifetime member" of the NRA in 2006, lacks a natural appeal with gun-rights groups, having supported some gun-control measures in the past. But so far this cycle, he's avoided awkward missteps like in the '08 cycle, when he said (falsely) on Meet the Press that he'd been endorsed by the NRA, claimed to have been "a hunter pretty much all my life," and the "Varmint" hunter press conference. By the way, expect a lot of anti-Obama chatter out of the NRA convention. While not surprising, do consider this so-called anti-gun president signed one of the largest expansions of rights for gun owners in recent history, allowing loaded guns to be carried in National Parks.
*** Team Obama's not-so-good week: This was supposed to be a week when the White House and the Obama campaign focused on tax fairness and Mitt Romney's wealth, punctuated by today's release of Obama's and Biden's tax returns (more on that below). But the last seven days have been rough for Obama. There was last Friday's disappointing jobs report (which led to a nervousness and recalibration on Wall Street and in the economic community in general), the rallying around Romney (due to Rick Santorum's exit and the Hilary Rosen flap), and the Romney campaign's success in manufacturing a distraction (when Romney was having a rough time erasing his gender gap). Even yesterday, one of Obama's local TV interviews didn't go so hot, with the RNC clipping this exchange. That said, it shouldn't be lost that Obama has had a GREAT last three months -- with strong jobs numbers, the divisive GOP primary season, and the GOP's focus on abortion and contraception. But the last seven days haven't been as good for Team Obama, and these last 7 days constitute the first REAL week of the general election.
*** Obama campaign to urge Romney to release his tax returns: Speaking of tax returns, the Obamas and Bidens will release theirs today -- with a statement calling on Romney to do the same, the New York Times reports. "While Mr. Obama has long acknowledged being in the nation's high-income echelon, thanks largely to sales of his best-selling books, he and his wife, Michelle, have paid an effective federal tax rate nearly twice that of Mr. Romney and his wife, Ann, according to tax returns released by both couples. The Obama campaign will post the 2011 tax return for the Obamas, as well as those dating back to 2000, on the campaign's Web site, an official said. It will also post tax returns for Mr. Biden and his wife, Jill. In January, under intense pressure from his Republican rivals, Mr. Romney released his tax return for 2010, plus an estimate of his tax payment in 2011. But he has not released returns from earlier years, when he was governor of Massachusetts or a financial executive at Bain Capital." Obama gives a speech in Tampa, FL at 1:20 pm ET and sits down for interview with Telemundo before departing to Colombia.
*** Romney calls Obama "incompetent" after North Korea's "incompetent" missile launch: Last night, Romney released a statement criticizing Obama for North Korea's failed missile launch. "President Obama sought to appease the regime with a food-aid deal that proved to be as naïve as it was short-lived. At the same time, he has cut critical U.S. missile defense programs and continues to underfund them. This incompetence from the Obama Administration has emboldened the North Korean regime and undermined the security of the United States and our allies." Two things jump immediately to mind with this release: 1) Wasn't the real incompetence was on North Korea's side due to the failed launch and the nation squandering its chance at food aid? 2) The tone of this statement appears to reinforce a growing perception in serious foreign policy circles that Romney is willing to say anything, no matter how knee-jerk, to try to get an upper hand on these issues. What would Romney do when it comes to North Korea? Isn't his criticism of Obama on North Korea also a criticism of  Bush's handling of the country as well?
*** On the GOP trail, per NBC's Adam Perez: As mentioned above, Romney speaks at the NRA conference in St. Louis at 2:20 pm ET, while Gingrich addresses it at 3:00 pm ET.
*** Veepstakes watch: NBC's Jamie Novogrod reports on Rob Portman stumping last night for Romney in Pennsylvania: Portman began his academic-feeling speech with a lengthy tip of his hat to Santorum in an effort to nurture a spirit of party unity. But later, Rep. Marsha Blackburn (R-TN), the evening's keynote speaker, seemed to resist Portman's entreaty, stopping short of rallying would-be Santorum voters behind Romney. "We're going to have a presumptive nominee for 2012 really soon," Blackburn said tepidly, per Novogrod.  Blackburn, in fact, did not mention Romney by name during her speech -- and only later, during an on-camera interview with NBC, did she say: "I will support our nominee.  We are moving to having that presumptive nominee, and it's going to be Gov. Romney from what it appears, and I look forward to supporting the nominee."
*** Lugar gets Super PAC help: Politico: "After massive ad buys against Indiana Sen. Richard Lugar by national conservative groups like the Club for Growth, the establishment cavalry is coming to his rescue, with the American Action Network launching a nearly $600,000 broadcast buy just in Indianapolis… The ad, called 'Problems,' is an ad slamming Lugar's primary opponent, state treasurer Richard Mourdock, accusing him of 'receiving illegal tax breaks,' and hitting his 'failed stewardship' of his government office, according to a release. The ad, which launches tomorrow on broadcast, will run through May 4. The cost of the flight is $590,000. There will also be a digital ad component, and a limited statewide mail buy, in the AAN campaign."
*** On "Meet" this Sunday: On Sunday's "Meet the Press," NBC's David Gregory will interview Treasury Secretary Tim Geithner and have a roundtable featuring Hilary Rosen, Michele Bachmann, NBC's Savannah Guthrie, Harold Ford Jr., and Mike Murphy.
Countdown to the CT, DE, NY, PA, and RI primaries: 12 days
Countdown to Election Day: 208 days
Click here to sign up for First Read emails.
Text FIRST to 622639, to sign up for First Read alerts to your mobile phone.
Check us out on Facebook and also on Twitter. Follow us @chucktodd, @mmurraypolitics, @DomenicoNBC, @brookebrower