So much for breaking that fever… Obama has hit a brick wall six months into his second term, and Republicans have pretty much ignored that RNC "autopsy" report… What we learned after yesterday's House GOP meeting on immigration… What happens next?... How do you get anything done when one side doesn't trust the term-limited president?… How do you get anything done when that same side doesn't believe in comprehensive legislation?... Obama meets with Schumer, McCain at 10:15 am ET… And new poll: A majority of Virginia voters back gay marriage.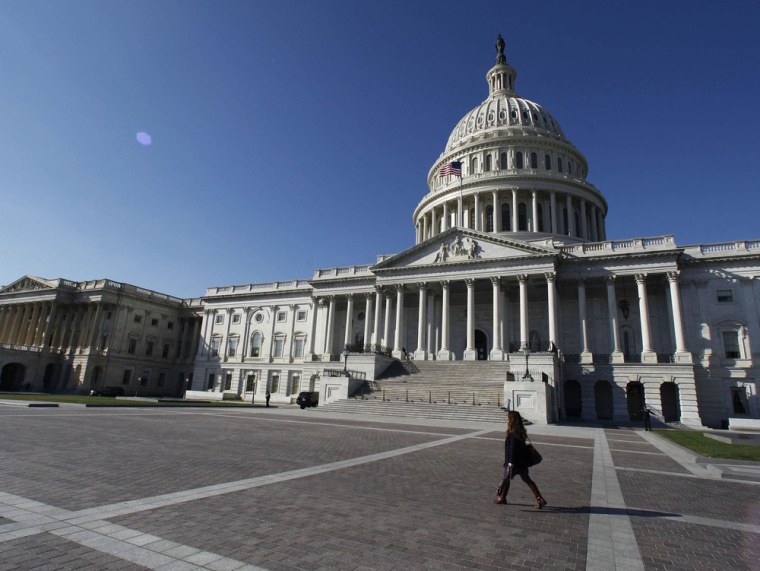 *** So much for breaking that fever: No one ever said American politics was easy, particularly during a time of divided government, but President Obama has seemed to hit a brick wall six months into his second term. The Senate filibustered the crux of his gun-control efforts; the aftermath of the Arab Spring has been difficult to manage; and the prospects for passing immigration reform now look worse than they've been all year, especially after House Republicans emerged from their meeting yesterday. Meanwhile, it's been about four months since the Republican National Committee released its recommendations to move the party forward after its two-straight presidential defeats. Those recommendations included reaching out to Latinos and African Americans, passing immigration reform, and focusing less on divisive social issues. The progress so far? Congressional Republicans are now opposing comprehensive immigration reform, especially one that gives undocumented immigrants a path to citizenship; conservatives on the Supreme Court gutted the 1965 Voting Rights Act; and GOP lawmakers across the country are pursuing restrictions on abortion -- after Mitt Romney lost female voters by 11 points in 2012. Both Obama and Republicans thought they'd have a fresh start in 2013, but so far the year has turned out to be more of the same, if not even more dysfunctional. In other words, little to nothing has changed. 
*** What we learned after yesterday's House GOP meeting: Just how unproductive has it been over the past few months? As we first noted, this current Congress has passed just 15 bills into law -- down from its record-low pace in the 112th Congress. And when you add the fiscal-cliff deal that the last Congress passed at the start of this year, the three major pieces of legislation that have cleared Congress in 2013 (fiscal cliff, Hurricane Sandy relief, Violence Against Women Act reauthorization) have all done so with support from just a minority of House Republicans. But in the meeting with his House GOP conference yesterday, Speaker Boehner repeated that any immigration legislation that goes on to the House floor or into a conference committee must have support from a majority of House Republicans, NBC's Luke Russert reports. That means most likely than not you'll see the House take up a piecemeal approach rather than one giant bill. Other things that Russert learned: House GOPers detest the Senate immigration bill (which isn't good news for Marco Rubio); they want border security to come FIRST before any kind of legalization, which Democrats say is a non-starter; and they might be open to passing a variation of the DREAM Act to deflect charges of being anti-Latino.  
*** What happens next? Here's more from NBC's Russert: "After yesterday, seasoned observers believe the House will act first on an intense border security bill. Then they'll most likely pass some variation of the DREAM Act that would only be triggered into effect once the goals in the border security bill were met. This allows them to say they tried to secure the border and that they're not totally heartless people. Either way, it's unlikely Democrats will play ball on either bill. And if anything this will most likely be pushed into the fall, when debating the debt ceiling becomes the real story. And after Christmas it's 2014 primary season, and many House GOP members won't touch immigration with a 20-foot pole during that election year."
*** How do you get anything done when one side doesn't trust the term-limited president? After yesterday's meeting, the House Republican leadership released a joint statement, and its gist was this: We don't trust the Senate, Obama, or any large piece of legislation. "Today House Republicans affirmed that rather than take up the flawed legislation rushed through the Senate, House committees will continue their work on a step-by-step, common-sense approach... [The American people] don't trust a Democratic-controlled Washington, and they're alarmed by the president's ongoing insistence on enacting a single, massive, Obamacare-like bill... The president has also demonstrated he is willing to unilaterally delay or ignore significant portions of laws he himself has signed, raising concerns among Americans that this administration cannot be trusted to deliver on its promises to secure the border." The House GOP's focus on Obama here is particularly striking, given that he took a backseat on the Senate legislation (it's more McCain's, Schumer's, and Rubio's baby than Obama's) and given that most of the bill's administration and implementation won't start until AFTER he leaves office. Bottom line: The House GOP base continues to despise the president, even though he'll never run for office again). And it that's the case, it's hard to see how you get immigration -- of much of anything else -- done. 
*** And how do you get anything done when one side no longer believes in legislating? It's also hard to see how you get much done when you don't believe in passing "comprehensive" legislation. Read the line from the leadership statement again: "[The American people] don't trust a Democratic-controlled Washington, and they're alarmed by the president's ongoing insistence on enacting a single, massive, Obamacare-like bill..." This has emerged as one of the big divides in American politics: Conservative Republicans no longer believe in big legislation, while Democrats and some Republicans see it as the only way to find consensus and compromise to get something done. As Jonathan Chait writes, "[A] hatred for lawmaking has emerged in the Obama years, first as a Republican tactic, and then as an apparently genuine belief system." How do you bridge the divide when one side attacks the fundamental part of legislating? 
*** So you're saying there's still a chance… : Despite all of the pessimism we've written about -- the GOP's insistence that any immigration bill must have the support from a majority of House Republicans, its distrust of Obama, and its aversion to comprehensive legislation -- there is STILL a reason for optimism in getting SOMETHING done. That optimism: Boehner's insistence that the House has to pass something. "Speaker John A. Boehner warned about the steep price of inaction, telling House Republicans that they would be in a weaker political position against a bipartisan Senate coalition and President Obama if they did nothing to answer the immigration measure passed by the Senate last month," the New York Times says. If that's the case and House Republicans produce something, that is a recipe for getting into a conference meeting. By the way, Obama meets with "Gang of Eight" authors Chuck Schumer and John McCain at 10:15 am ET to discuss immigration reform. 
*** On polarization, obstruction, and Iraq: Earlier this week, we observed how political polarization had reached a new level in Washington, with Republicans working not only to defeat or repeal legislation (which has been standard practice by both parties) but also to undermine the implementation of laws (which seems unprecedented). And the example we used was the Medicare prescription-drug law, noting that most Democrats opposed it and campaigned against it -- but never tried to undermine its implementation. Yet a Republican source asks us: What about Iraq? "How many votes did [Democrats] take to defund and undermine Iraq and the surge? A freaking lot," the GOP source says. "That is the proper analogy, and they did exactly what we're doing: following through with a fight on the main issue that swept us into power." That is a good thought exercise, but it brings us back to what we said earlier: While Democrats campaigned against the Iraq war, held hearings on it, and threatened to defund the war, they never interfered with how it was conducted (i.e., it's implementation) or its ultimate funding. To us, that's a pretty big difference. 
*** Majority of Virginia voters back gay marriage: Finally don't miss this poll out of the swing state of Virginia: More than half of voters support gay marriage. "About 55 percent of Virginia voters now believe that marriage between people of the same sex should be allowed, while 41 percent oppose it, according to a poll released today by the Human Rights Campaign — the nation's largest LGBT equality-rights advocacy group," the Richmond Times Dispatch writes. The poll was conducted by Dem firm Greenberg Quinlan Rosner and GOP firm Target Point Consulting.
Click here to sign up for First Read emails.
Text FIRST to 622639, to sign up for First Read alerts to your mobile phone.
Check us out on Facebook and also on Twitter. Follow us @chucktodd, @mmurraypolitics, @DomenicoNBC, @brookebrower