Two political questions after Boston… One, how should the federal government try terror suspects, even if they're U.S. citizens?.... Two, does it impact the immigration-reform debate?... McCain, Graham, and Rubio play defense on immigration… An overlooked story over the weekend: Christie pursues background checks… The Democrats' red-state dilemma on guns… Debbie Dingell says "no" on MI SEN bid… And Garcetti leads Greuel by 10 pts in new poll.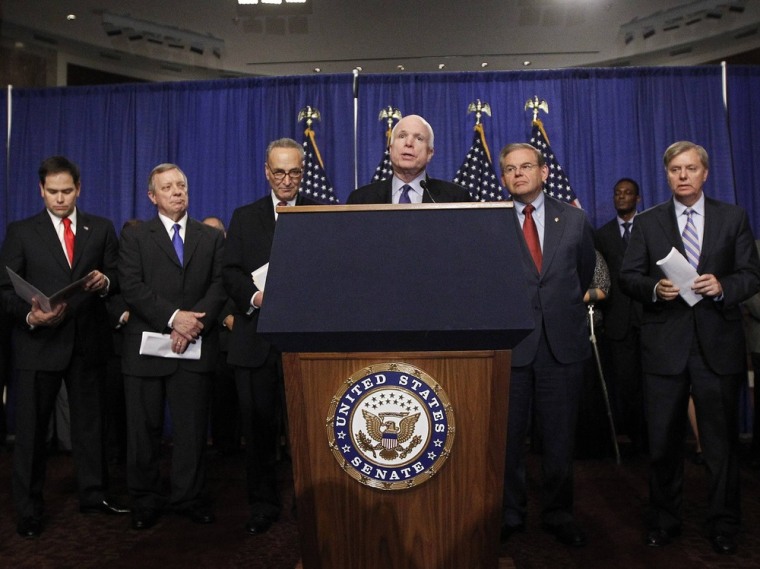 *** The two political questions after Boston: Just days after one Boston Marathon bombing suspect was apprehended and the other was killed, the political world confronts these two questions: One, how should the federal government try terror suspects, even if they're U.S. citizens? And two, how does Boston impact the immigration debate? On the first question, GOP lawmakers -- including Sens. Lindsey Graham, John McCain, and Kelly Ayotte, as well as Rep. Peter King -- "want President Obama to declare the surviving Boston bombing suspect an enemy combatant in order to question him without a lawyer and other protections of the criminal justice system," the New York Times writes. But this appears to be a dubious demand given that the surviving suspect, Dzhokhar Tsarnaev, is a naturalized American citizen. (Indeed, the question might be more complicated if the other brother Tamerlan, who wasn't a citizen but was a legal resident, had been the one who survived.) As the Times, writes, "Beyond the absence of known links between Mr. Tsarnaev and Al Qaeda, it is also unclear whether the Constitution permits the government to hold citizens arrested on domestic soil as enemy combatants." Bottom line: this isn't going to be a serious debate for long. It's not clear if Graham et al even represent a majority of GOP opinion on this. As we've seen with the rise in popularity of Rand Paul among Republicans, the libertarian wing is strong these days. If anything, Paul vs. Graham on this issue could be a fascinating sideshow debate in the coming days and weeks.
*** On handling terror suspects and on immigration: The other question in the aftermath of Boston is what it will mean for the immigration reform legislation beginning to move through the Senate. (The Tsarnaev brothers came to the United States when they were children/teenagers with their parents claiming asylum.) As early as Friday, Sen. Chuck Grassley (R-IA), the ranking member of the Senate Judiciary Committee, was the first to tie the two things together. "Given the events of this week, it's important for us to understand the gaps and loopholes in our immigration system," he said, per NBC's Tom Curry. "While we don't yet know the immigration status of the people who have terrorized the communities in Massachusetts, when we find out it will help shed light on the weaknesses of our system." On ABC over the weekend, Sen. Dan Coats (R-IN) called to delay the immigration debate in the wake of Boston. "I think stepping back a little bit and putting it on hold, we have a bigger issue on immigration in front of us and that's our debt and deficit and it has to be solved." In the Senate, there are probably about 10-15 GOP senators who are opposed to immigration reform NO MATTER WHAT. But there are probably another 15-20 GOP senators who are SKITTISH about how their base supporters view the immigration debate, and they could be susceptible to being spooked politically if this "hold off on immigration reform due to Boston" movement gains traction. But in the GRAND scheme of things, this won't derail immigration. It just could jeopardize the chances of the bill getting more than 75 votes in the Senate. And if that's the case, what does that mean in the House?
*** McCain, Graham, and Rubio play defense: Given that potential skittishness among some Republicans, fellow GOP Sens. McCain, Graham, and Marco Rubio went out of their way on Friday -- before Dzhokhar Tsarnaev was even captured -- to argue that Boston shouldn't jeopardize immigration reform. "Immigration reform will strengthen our nation's security by helping us identify exactly who has entered our country and who has left – a basic function of government that our broken immigration system is incapable of accomplishing today," McCain and Graham said in a statement. "The status quo is unacceptable. We have 11 million people living in the shadows, which leaves this nation vulnerable to a myriad of threats." And there is a danger here for GOP senators who might be wavering on immigration reform due to Boston: If you are pursuing immigration reform because you realize your party can't afford to lose Latino voters by 44 percentage points, but if you're also invoking two men who were already in the country legally (and aren't Latino), what message does that send to Latino voters? In other words, do Latino voters get the finger pointed at them because of a terrorist attack? That seems a horrible message for Republican lawmakers to send.
*** Christie pursues background checks: This might have been the most overlooked story from the weekend: "New Jersey Governor Chris Christie is seeking expanded background checks for gun purchases and parental consent for minors to buy violent video games as part of his response to the school shooting in Newtown, Connecticut," Bloomberg News writes. "Christie, a first-term Republican seeking re-election, also wants to ban purchases of the .50-caliber Barrett rifle, and to make it easier for doctors and courts to commit 'potentially dangerous' people to mental-health treatment against their will." Folks, this isn't someone who's thinking about the 2016 primaries; instead, this is someone who's running for re-election in the blue state of New Jersey. If Christie does end up running for president in 2016, he's going to bringing a record that is similar to Rudy Giuliani, circa 2007. And while Rudy's personal baggage did him in with GOP primary voters before his ideological baggage did, Christie will be another test about whether personality and electability can trump ideology. Many folks we know in GOP circles are skeptical.
*** The Democrats' red-state dilemma on guns: Also on the topic of guns, former Obama White House Chief of Staff Bill Daley -- who's eyeing a possible gubernatorial bid in Illinois -- wrote a Washington Post op-ed arguing that he regretted the $2,500 campaign contribution he gave to Heidi Heitkamp (D-ND) after she voted against universal background checks last week. "So I'll have some advice for my friends in Chicago, New York and Los Angeles: Just say no to the Democrats who said no on background checks." Yet for now, this kind of call represents a dilemma for Democrats. On the one hand, this is a sign that the Newtown shootings have changed politics, at least inside the Democratic Party. More and more, gun control is becoming a major issue for Democrats and Democratic donors. But on the other hand, if national Democrats say "no" to the Heitkamps, the Begiches, the and Pryors, do they risk losing these contests to Republicans? What is worse for Democrats: A Democratic senator in these states that opposes you 15%-20% of the time, or a Republican senator who opposes you 90%-95% of the time?
*** Debbie Dingell says "no" to MI SEN bid: Debbie Dingell, a prominent auto-industry lobbyist and wife to Rep. John Dingell (D-MI), has announced that she won't make a bid for Michigan's open Senate seat. "We have good candidates like Gary Peters already running, and a primary would be divisive at a time that cries out for unity," she said in a statement. "As someone who has spent much of my career working to bring people together, it just didn't feel right to take this step now. There may be a time when elective office is the right choice for me, but this was not it."
*** Garcetti ahead by 10 points: A month before LA's May 21 mayoral run-off, a USC Price/Los Angeles Times poll shows City Councilman Eric Garcetti leading City Controller Wendy Greuel by 10 points among likely voters, 50%-40%. And this isn't a good sign for Greuel: "The survey also found no sign of success for Greuel's effort to gain an edge among women by highlighting her potential to make history as the city's first female mayor. Women preferred Garcetti, 50% to 41%."
Click here to sign up for First Read emails.
Text FIRST to 622639, to sign up for First Read alerts to your mobile phone.
Check us out on Facebook and also on Twitter. Follow us @chucktodd, @mmurraypolitics, @DomenicoNBC, @brookebrower