The two pressure points to watch on immigration… The gun debate begins on Capitol Hill… Breaking news: Economy contracted in the 4th quarter… The unrest in Egypt… Hillary on 2016… Teeing up Thursday's confirmation for Chuck Hagel… All eyes on Deval Patrick, Scott Brown… And updating the Obama cabinet shuffle.
*** Two pressure points to watch on immigration: It's been quite a revealing past 48 hours in the still-evolving debate over immigration, with Monday's bipartisan Senate framework and Tuesday's speech by President Obama. So what have we learned? There are two pressure points that either could create enough force to ensure legislation gets through Congress, or that could scuttle any chance for a deal. One, Marco Rubio and Republicans considering any comprehensive immigration reform want a "trigger" to make sure that border enforcement comes before legalization. "Unless there's real enforcement triggers, we are not going to have a bill that moves on the opportunity to apply for a green card," Rubio told Rush Limbaugh yesterday. (The big question here, of course: What would these "triggers" be?) Two, Obama yesterday vowed to bring his own legislation if Congress doesn't quickly act. Translation: He'll blame Republicans for this failure. "If Congress is unable to move forward in a timely fashion, I will send up a bill based on my proposal and insist that they vote on it right away," the president said in Las Vegas yesterday.
*** What the debate isn't about: So those are the two big issues moving forward -- GOP pressure on Democrats for an enforcement trigger, and White House/Dem pressure on Republicans not to delay the legislation (a la what happened to health care in 2009). But here's something this debate IS NOT about: whether Obama wants to use immigration as a way to club Republicans. It's not even a question. The idea that anyone outside of political partisans -- or those looking for a reason to be against reform (but don't want to look anti-Hispanic) -- believes that Obama doesn't want to sign historic immigration legislation to fulfill a campaign promise is a bit naïve. Sure, the president is using campaign tactics to pressure Congress, but he wants the legislative "win"; he already got the political "win" in 2012. Don't forget what happened during the fiscal-cliff debate just a month ago: The White House is always looking to cut a deal, even if it gets just half a loaf. There's no political reward for not getting anything done for him in a second term. That's the "leverage" that GOPers actually have with the president. That said, the president's leverage is the public's opinion. And if the WaPo/ABC poll, which shows his favorability rating at 60%, is not an outlier that will change the equation on Capitol Hill -- not just on immigration but other issues. Reason Magazine (which uses Princeton Survey Research, the same folks that conduct the Pew poll) has the president's job-approval rating at 52%.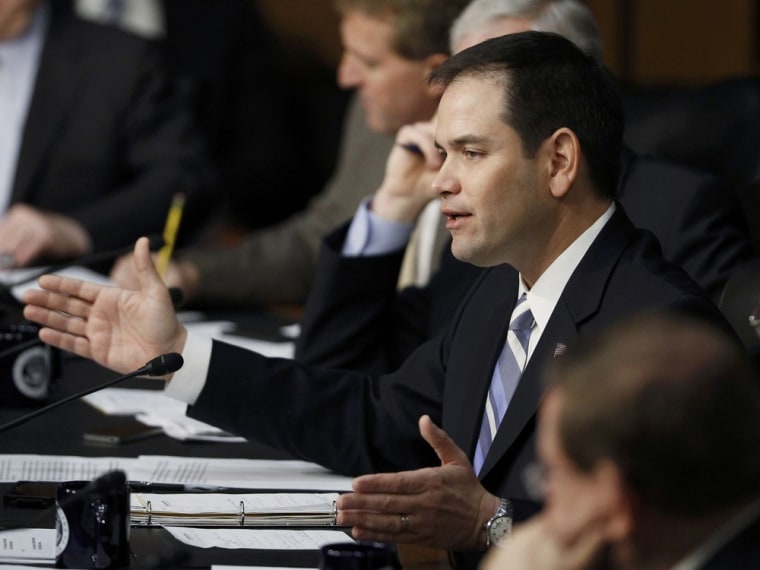 *** Gun debate begins on Capitol Hill: Today, however, immigration takes a back seat to the debate over guns. At 10:00 am ET, the Senate Judiciary Committee will hold a hearing on gun violence. Testifying: Mark Kelly, the husband of former Rep. Gabby Giffords, and the National Rifle Association's Wayne LaPierre. (And NBC's Frank Thorp confirms that Giffords herself will appear at the hearing. She will speak though not testify.) According to his prepared testimony, LaPierre will come out against even universal background checks, per NBC's Kasie Hunt. "When it comes to the issue of background checks, let's be honest -- background checks will never be 'universal' – because criminals will never submit to them," he's expected to say. Does this NRA line in the sand on universal background checks spook someone like Sen. Tom Coburn (R-OK), who appears to be open to such a measure and might actually co-sponsor Schumer's bill? Another thing to consider here. It seems like an assault-weapons ban has little chance of passing the Senate. But Senate Majority Leader Harry Reid allowing it to come to a vote means that pro-gun Democrats can vote against THAT measure but vote for something else (like background checks).
*** Breaking news: Economy contracted in the 4th quarter: But both guns and immigration might get eclipsed by this breaking news: The U.S. economy contracted in the 4th quarter. The AP: "The U.S. economy shrank from October through December for the first time since the recession ended, hurt by the biggest cut in defense spending in 40 years, fewer exports and sluggish growth in company stockpiles. The Commerce Department said Wednesday that the economy contracted at an annual rate of 0.1 percent in the fourth quarter. That's a sharp slowdown from the 3.1 percent growth rate in the July-September quarter."
*** More unrest in Egypt: What is taking place in Egypt is another big story. The New York Times: "A prominent Egyptian opposition leader called on President Mohamed Morsi on Wednesday to hold a national dialogue, a day after the nation's top general warned that the state itself was in danger of collapse because of violence verging on anarchy in three Suez Canal cities." In her exit interview with NBC's Andrea Mitchell, Clinton commented on Mubarak's ouster from Egypt, and she stood by what is the one of the most consequential foreign policy decisions the administration made that gets very little re-visiting: "It was an inevitable force of history that when the Egyptian people were rising up in such large numbers -- asking for what we believe in, freedom and opportunity, a chance to, you know, chart their own democratic future -- the United States cannot and should not be on the side of those who deny that." Clinton added to FOX about the current situation there: "We have to work for, along with the international community, as well as people inside Egypt, is not to see these revolutions hijacked by extremists, not to see the return of dictatorial rule, the absence of the rule of law. And it's hard. It's hard going from decades under one-party or one-man rule, as somebody said, waking up from a political coma and understanding democracy. So we have a lot at stake in trying to keep moving these transformations in the right direction."
*** Hillary and 2016: Of course, Clinton was also asked about 2016 in these exit interviews. And she used them to all of them to say not much new. Here's what she told NBC's Mitchell: "I don't have any decisions made. I have no real plans to make any such decisions. I'm looking forward to some very quiet time catching up on everything from sleep, to reading, to walking, with my family. I think it's hard to imagine for me what it will be like next week when I wake up and I have nowhere to go. Maybe I'll go back to sleep for a change!" Bottom line: If she had to make her decision today, she'd probably be a "no." But she's also not shutting the door, either.
*** Teeing up Hagel's confirmation hearing: Chuck Hagel's confirmation hearing to be Obama's next defense secretary is set for tomorrow. And per NBC's Kasie Hunt and Mike Viqueira, he'll be introduced by two former chairmen of the Senate Armed Services Committee, Democrat Sam Nunn and Republican John Warner. White House officials point to comments from Sen. Dick Durbin, the Democratic whip, who hasn't counted any "no" votes on Hagel among Democrats. Hunt and Viq add that the White House also points to friendly words from Republicans, including Susan Collins of Maine and Lisa Murkowski of Alaska. And now Roll Call is reporting that Republican Thad Cochran of Mississippi says he plans to vote for Hagel's confirmation. Our take: Barring Hagel somehow melting down during his hearings, he's on track for confirmation.
*** All eyes on Patrick, Scott Brown: After the Senate easily confirmed John Kerry to be secretary of state, by a 94-3 vote, all eyes are on Deval Patrick – as well as Scott Brown. Patrick's pick to fill name an interim senator to fill Kerry's Senate seat could come as early as today. And the AP reports that Brown is "leaning strongly toward" running the special election to replace Kerry.
*** Updating the cabinet shuffle: With Ray LaHood's announcement that he will be stepping down from his post as Transportation secretary after his successor is confirmed, here are the cabinet members leaving, plus their replacements if applicable:
Hillary Clinton at State (John Kerry confirmed)
Leon Panetta at Defense (Chuck Hagel nominated)
Tim Geithner at Treasury (Jack Lew nominated)
Hilda Solis at Labor
Lisa Jackson at EPA
Ken Salazar at Interior
Ray LaHood at Transportation
And here are the cabinet secretaries who are remaining:
Janet Napolitano (DHS)
Arne Duncan (Education)
Tom Vilsack (Agriculture)
Eric Holder (Justice)
Kathleen Sebelius (HHS)
Eric Shinseki (Veterans Affairs)
Click here to sign up for First Read emails.
Text FIRST to 622639, to sign up for First Read alerts to your mobile phone.
Check us out on Facebook and also on Twitter. Follow us @chucktodd, @mmurraypolitics, @DomenicoNBC, @brookebrower