Time for veepstakes watch… Our 3 veepstakes questions: 1) Does Romney play it safe or go bold?… 2) Does he select an insider or outsider?... 3) And when does he make his pick? Soon or next month? … The Romney-Bain story continues, while the Obama-Romney campaign takes an increasingly negative turn… Does the Romney camp really not have a problem with those Ralph Lauren Olympic uniforms being made in China?... On the trail: Obama holds a town hall in Cincinnati at 2:20 pm ET, while Romney raises money in Baton Rouge, LA and Jackson, MS… And profiling Rob Portman.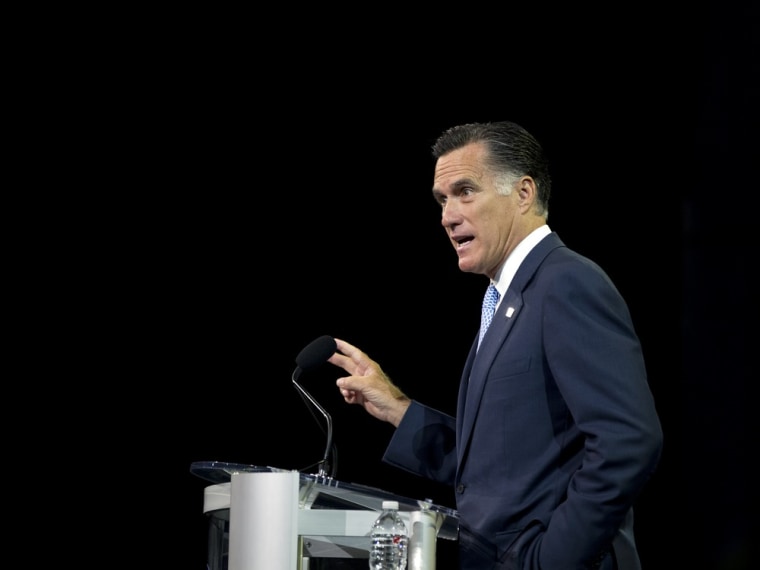 *** Veepstakes watch: As soon as this week and as late as the middle of next month, Mitt Romney will announce the selection of his vice-presidential running mate. And this week, there's a flurry of activity by Romney's potential VP picks. Today, Ohio Sen. Rob Portman will bracket President Obama's visit to Cincinnati with his own event and media availability in Lebanon, OH around noon ET. Also today, Romney attends a fundraiser with Louisiana Gov. Bobby Jindal at 12:15 pm ET. And on Tuesday and Wednesday, New Jersey Gov. Chris Christie headlines two other fundraisers for the presumptive GOP presidential nominee -- in Atlanta and DC. Over the next two weeks, we'll be taking an in-depth look at the strengths and weaknesses of Romney's top potential VP picks. Today's profile: Portman (which is below).
Related: Handicapping a potential veep shortlist
*** Three veepstakes questions: With veepstakes watch well underway, there are three key questions we have. First, unlike John McCain four years ago, does Romney play it safe (picking  someone like Portman, former Minnesota Gov. Tim Pawlenty, or even Jindal), or does he go for a bold pick (Christie, Florida Sen. Marco Rubio, or someone not on anyone's radar screen)? Second, does he select a DC insider (a la Portman or South Dakota Sen. John Thune), or does he go with a relative outsider (like Pawlenty or Jindal). And third, when does Romney make his pick -- as soon as this week (to change the subject away from Bain and Romney's taxes, and to have a surrogate ready to go when Romney heads abroad), or after Romney's overseas trip (to build anticipation before the convention)? There are a couple of signs that the pick MIGHT NOT be announced this week. For starters, the campaign announced a contest last Thursday to meet with Romney and his eventual choice "every week until the VP announcement is made," which implies this contest will last for more than a week. Also, Romney's schedule this week (a rally in Pennsylvania on Tuesday and a town hall in Bowling Green, OH isn't typical of a vice-presidential rollout.
*** When did Romney really leave Bain? So what did we learn from Romney's five Friday interviews on Bain Capital? In a Clintonian way, it all comes down to what the meaning of "ongoing activity" is."In February of 1999, I left Bain Capital and left all management authority and responsibility for the firm. I had no ongoing activity or involvement in the affairs of Bain Capital because I went out to run the Olympics," he told NBC's Peter Alexander, despite evidence that Romney hadn't entirely severed his ties to the company. And it also comes down to what "retired retroactively" means. "He actually retired retroactively at that point, David, because he ended up not going back to the firm," Romney senior adviser Ed Gillespie said on "Meet the Press" yesterday, even though Romney earned at least $100,000 as a Bain "executive" in 2001 and 2002. (A campaign official says that payment was part of his retirement compensation agreement.) And Romney made it crystal clear in his interviews that he WON'T release his tax returns prior to 2010-2011. "I understand that the opposition research people at the Obama campaign want more information that they can dig through," he said in his interview with NBC's Alexander. "You know what? I've put out as much as we're gonna put out once I've added this year, and that's the information that gives people more information than what is required by law."
*** More unanswered questions: As a matter of standard PR practice, you give interviews like Romney did on Friday to answer every question and angle -- so you can put the story behind you. But for the Romney campaign, Friday's interviews only raised more questions. For instance: Why did a Bain press release, in July '99 (so after that Feb. '99 date) describe Romney as the "Bain Capital CEO" who was on "a part-time leave," and why did it include a quote from him? Also: If he had no "ongoing activity at Bain," why did he travel back to Boston, per 2002 testimony, to sit on the board of Lifelike Co (a Bain investment at the time) and remain on the board of Staples (another Bain investment)? And if he ceded day-to-day management of Bain, did he disagree with any of the company's decisions or investments? If so, which ones? The problem for the Romney campaign is that any new revelation of some kind of tie between Romney and Bain -- whether another press release, another SEC document, etc. -- will only further this story.
*** The campaign takes an increasingly negative turn: The back-and-forth over Bain has only highlighted the increasingly negative tone in the presidential contest. Over the weekend, the Obama campaign went up with arguably its hardest-hitting TV ad of the campaign season, which repeated its charges of outsourcing and Romney's Swiss bank account as Romney sings "America the Beautiful." The Romney camp fired back with its third TV advertisement in a week accusing Obama of running negative ads. (But as we wrote last week, if you're accusing someone of running a negative campaign, it often means those attacks are working.) And today, while Obama campaigns in Cincinnati, he "will highlight a new report that estimates Mitt Romney's support for eliminating U.S. taxes on American companies' foreign incomes would create 800,000 jobs in other countries, including 73,000 jobs in China," per the campaign. For Team Romney's part, it's up with a new web video charging that Obama is helping his donor friends (and it plays Obama signing "Let's stay together").
*** Ralph Lauren's outsourcing to China: Here's one more point we want to make about the presidential contest, especially when it comes to the issue of outsourcing: On "Meet" yesterday, Ed Gillespie wouldn't say if Romney believes it's improper for the Ralph Lauren Olympic uniforms to be made in China. "I think what he said was that, you know, we shouldn't politicize the Olympics and that, you know, this is an American company that contracted out," Gillespie told NBC's David Gregory. "And the fact is, again, we need to make investment here in the United States more attractive, and make manufacturing in the United States more attractive." So it's OK for the Romney camp if a company outsources its work -- for the Olympic Games no less -- to China? This answer (or non-answer) only plays into the outsourcing narrative that the Obama campaign wants to highlight.
*** On the trail: As mentioned above, President Obama holds a town hall in Cincinnati, OH at 2:20 pm ET… Mitt Romney, meanwhile, raises money in Baton Rouge, LA and Jackson, MS.
*** Senate Dems play hardball on Bush tax cuts: The Washington Post reports that "Democrats are making increasingly explicit threats about their willingness to let nearly $600 billion worth of tax hikes and spending cuts take effect in January unless Republicans drop their opposition to higher taxes for the nation's wealthiest households." More: "In a speech Monday, Sen. Patty Murray (Wash.), the Senate's No. 4 Democrat and the leader of the caucus's campaign arm, plans to make the clearest case yet for going over what some have called the 'fiscal cliff.'" Murray is expected to say, per the Post: "If we can't get a good deal, a balanced deal that calls on the wealthy to pay their fair share, then I will absolutely continue this debate into 2013." A top Senate GOP communications aide emailed that story to reporters and asked: "Dems hold the economy hostage for tax hikes on small business?"
*** Rob Portman's strengths and weaknesses: Here is the first in our series of strengths/weaknesses for Romney's potential VP picks… STRENGTHS: Hails from the battleground of Ohio, which could very well decide the election… If you're looking for the exact opposite of Palin, it might be Portman -- a former congressman, OMB director, and U.S. trade representative; has also been the go-to guy for GOP debate preparation, having played Obama (in 2008), John Edwards (in 2004), Hillary Clinton (in 2000), and Joe Lieberman (in 2000) in mock debates…With the number of conservatives urging a "boring" pick, Portman certainly fits that bill -- in the positive sense of the word. WEAKNESSES: Romney currently has no direct ties to the Bush legacy, but Portman could take that away (having not only worked for the George W. Bush administration, but also owing much of his career to the Bush family)... As Bush's OMB director (from 2006-2007), Portman presided over a period of time when the federal government was running deficits… And he's not even two years into his first term as U.S. senator.
Countdown to GOP convention: 42 days
Countdown to Dem convention: 49 days
Countdown to Election Day: 113 days
Click here to sign up for First Read emails.
Text FIRST to 622639, to sign up for First Read alerts to your mobile phone.
Check us out on Facebook and also on Twitter. Follow us @chucktodd, @mmurraypolitics, @DomenicoNBC, @brookebrower