The Great American Disconnect: Wall Street vs. Main Street… JP Morgan Chase agrees to $13B settlement… Another day, another poll showing Obama's approval dropping to an all-time low. Can he recover? Spring 2014 will let us know… Christie: All the 2016 speculation isn't helping Obama… Extraordinary: Senate GOP filibusters against Obama's judicial picks have reached a new level of DC obstruction… And here's Alan Simpson on Liz Cheney: "It's almost like she'll do anything to win this race."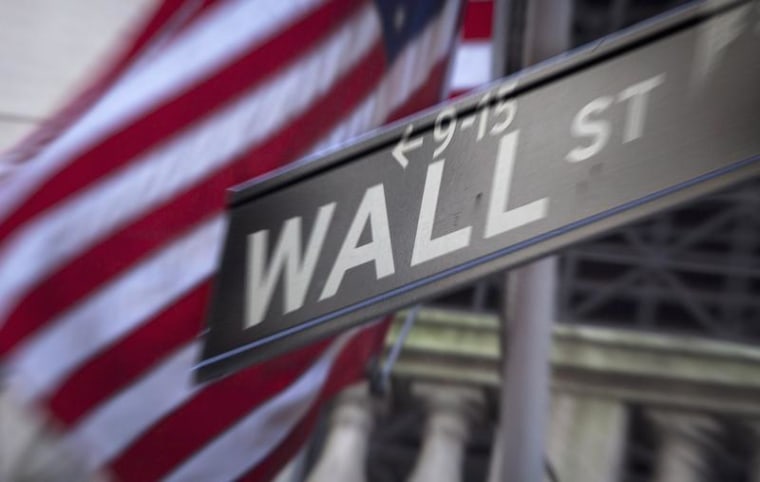 *** Wall Street vs. Main Street: As yesterday proved, it's been the best of times for Wall Street. On Monday, the Dow Jones Industrial Average soared -- for the first time ever -- above 16,000 before falling back down below that mark. But while Wall Street is rolling, the same isn't necessarily true for Main Street or any other street. The unemployment rate stands at a high 7.3%; 46.5 million Americans are living at or below the poverty line; and long-term unemployment is up 213% since 2007, as the New York Times has noted. On top of it all, the 1% of U.S. earners made up 19.3% of all household income in 2012. As we've written before, it's the Great American Disconnect: The folks at the top, especially those who work in finance are doing great; the folks who aren't at the top aren't doing as well. And make no mistake, this will have an impact on American politics -- in 2014, 2016, and possibly beyond. That was the essential point that Noam Scheiber made in his piece on Elizabeth Warren possibly challenging Hillary in 2016. It's not that Warren could really beat Clinton (or might even run against her); rather, it's hard to be a Democrat these days running as Wall Street's best friend. 
*** JPMorgan Chase agrees to $13 billion settlement: Given this Great Disconnect, this news is noteworthy: "JPMorgan Chase and the Department of Justice are near final agreement on a record $13 billion settlement over problem mortgage securities, and could publicly announce the deal as early as Tuesday, according to a person familiar with the negotiations," USA Today writes. "The nation's largest bank late last week agreed to take responsibility for problems with mortgage securities marketed by Washington Mutual, the failed bank JPMorgan acquired in 2008 during the financial crisis, said the person, who spoke on condition of anonymity because he was not authorized to discuss the issue publicly." How much of this money will make it to Main Street? That's going to be the challenge for the federal government; is this settlement used to help those impacted the most?  
*** Can Obama recover? Another day, another poll -- this time from the Washington Post/ABC -- showing President Obama hitting all-time low in approval, at 42%. (Of course, it's worth noting that our NBC/WSJ poll released in late October showed the president reaching 42%, so this has been going on for the past three weeks.) As NBC/WSJ co-pollster Bill McInturff (R) has emailed clients, history shows that it's difficult for presidents to recover from nosedives like this. And if that's true, Obama will be a liability in 2014, period. But it will be important to see where Obama's approval rating is come Spring 2014, assuming the health-care website gets fixed and the Affordable Care Act rollout becomes a distant memory. Barring something unforeseen, these next two months are perhaps the president's last shot at getting right before the midterms. He needs a working webssite and a State of the Union that somehow instills some hope that he's up to the job as a leader. How the public responds will tell us if Obama will be able to recover in time for the midterms. 
*** Christie: 2016 speculation isn't helping Obama: We found this comment from New Jersey Gov. Chris Christie at yesterday's Wall Street Journal CEO Council to be particularly interesting given Obama's declining numbers: All the 2016 speculation – this early – isn't helping the president. "We're three years away from the presidential election. In this sense, I feel bad for President Obama," Christie said, per the Wall Street Journal. "He just won a year ago, and everybody's like, 'Who's next?' There is work to be done in this country. As we shove him out the door, we minimize his ability to be an effective executive. We shouldn't do that."  While we haven't had enough examples to make this observation statistically relevant, it's hard not to wonder if the interest in 2016 from readers/viewers/editors/reporters is somehow correlated with the president's job rating slide. Obama today speaks at the same Wall Street Journal CEO Council meeting at 3:15 pm ET in DC.
*** Extraordinary: Folks, we've moved beyond the Miguel Estrada and Janice Rogers Brown judicial battles during the Bush years, when Senate Democrats filibustered those nominations due to concerns about ideology and qualifications. Now Senate Republicans are filibustering Obama's judicial picks not based on concerns about ideology or qualifications -- but rather Obama's ability to make ANY pick to fill the D.C. Circuit. Their arguments have varied from either: "The D.C. Circuit's caseload is small," or "It's important not to change the court's ideological balance," or "We need to focus on Obamacare instead!" Per NBC's Kasie Hunt, Senate Republicans yesterday blocked a fourth nominee to the key court -- Robert Wilkins -- on a 53-38 vote; he needed 60 votes to advance. In the past, Sen. John McCain (R-AZ) has said that he'd resort to filibusters if "extraordinary conditions" exist. But the only thing that's extraordinary here is the level of obstruction Senate Republicans are waging against up-or-down votes. The pressure on Harry Reid by some base Democrats to change the rules is ramping up again. And it seems like Republicans are daring them to do it. Of course, Republicans also believe the public doesn't care and won't punish them for this, especially now given the president's current approval rating. 
*** Alan Simpson on Liz Cheney:"It's almost like she'll do anything to win this race": Finally, the Liz Cheney vs. Mary Cheney spat is not going away anytime soon. Don't miss what former Sen. Alan Simpson (R-WY) told one us: "You're not even destroying friendships -- you're destroying family relationships just because of this race," Simpson said. "It's hard for all of us who know the Cheneys to see the things she's doing to win this race. It's almost like she'll do anything to win this race, because I cannot ever believe that there would be a breach between she and Mary." There's no doubt this story has created drama, but ask yourself: Are Wyoming voters interested in drama? Overall, this entire episode feels like a big net-negative for Liz's campaign.  
http://is.gd/ccxyrR%22%20%5Ct%20%22_blank">Click here to sign up for First Read emails.
Text FIRST to 622639, to sign up for First Read alerts to your mobile phone.
Check us out on http://is.gd/TzuR1b%22%20%5Ct%20%22_blank">Facebook and also on http://is.gd/hkhSDT%22%20%5Ct%20%22_blank">Twitter. Follow us @http://twitter.com/#!/chucktodd">chucktodd, @http://twitter.com/#!/mmurraypolitics">mmurraypolitics, @http://twitter.com/#!/DomenicoNBC">DomenicoNBC, @brookebrower