Watching the Democrats at today's House hearing on the Obamacare website woes… This website story will probably play out one of two ways -- a replay of the BP spill, or a replay of the first Obama-Romney debate… White House slides a health-care deadline… Immigration returns with Obama making a statement on the issue at 10:35 am ET… McCain: Mr. Popular (with the country) and Mr. Pariah (among Tea Party conservatives)… And the final McAuliffe-vs.-Cuccinelli debate takes place at 7:00 pm ET.
*** Watching the Democrats: One of the chief reasons why Democrats won the fight over the government shutdown was the party's impressive unity. Every Democrat stood together -- whether it was the White House, blue-state members, or red-state members. But that same 100% unity doesn't exist when it comes to the woes associated with the federal health-care website, especially among red- and purple-state Democrats. Sen. Joe Manchin (D-WV) says he has drafted legislation to delay the first year of penalties for consumers who don't have insurance, NBC's Kasie Hunt reports. Other red-state House Democrats (John Barrow, Kyrsten Sinema) have also called for a possible delay. And given that Democratic anxiety, maybe the most interesting story to watch is how Democrats react at today's 9:00 am ET House Energy and Commerce Committee hearing to get answers from the contractors who built the federal website. NBCNews.com sets the stage for today's hearing: "The executives can expect a rough reception, both from opponents of the law, who may try to get them to blame the website's woes on the complex law, and its defenders, who will likely try to deflect the blame onto the private firms." And the New York Times notes that the contractors are pointing fingers at others, but no one is accepting any blame. By the way, if the contractors act the way they did in this NYT piece, they are going to get destroyed in this hearing.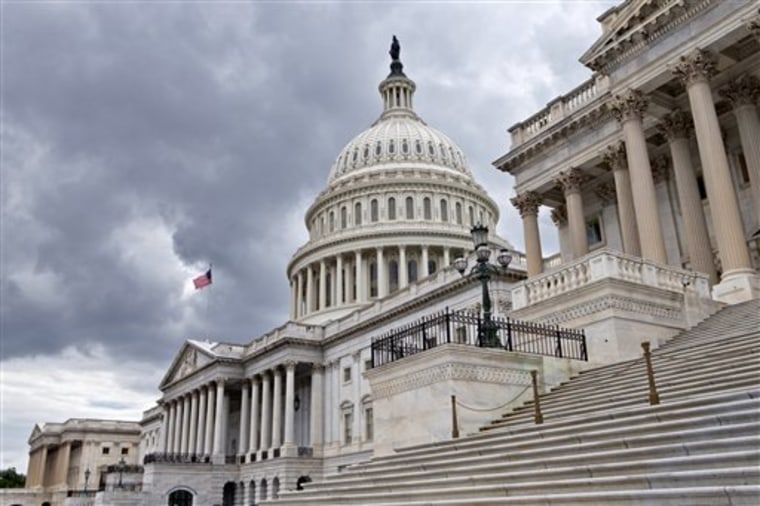 *** The website woes -- a replay of the BP spill or the first presidential debate? To us, this entire website story is going to turn out to be one of two things -- either a replay of the BP oil spill (a taxing three-month story that, even if it turns out well, will take a toll), or a replay of the first Obama-Romney debate (which received so much press and commentary, but mattered very little in the end). While the BP spill eventually got plugged, don't forget that it came during the spring and summer before the 2010 midterms, and it didn't help the Democrats in their effort to convince the country that things were headed in the right direction, or help them explain what the health-care law was about that had passed just weeks before the spill. But right now, we just don't know which way this website story will play out.
*** So why don't you slide: As we reported last night, the White House says that it intends to delay the enrollment deadline for individuals to be required to buy health insurance -- by as much as six weeks. To avoid a tax penalty, as the law currently stands, Americans would have needed to start the application process by Feb 15. But with this change, the administration is trying to make it so that people will need to have STARTED the enrollment process by March 31 to avoid any financial penalty. The White House insists that this "slide" of the enrollment deadline has nothing to do with the website issues, and was something that was simply a quirk in the law and one they have would clarified or synchronized regardless of what was happening with the website. But the timing, coming right when a slew of congressional Democrats are talking up some deadline sliding themselves, doesn't help their cause. And whether the White House likes this or not, it creates an IMPRESSION that these deadlines are potentially more moveable than they have insisted.
*** Immigration returns: Remember when immigration was the hot top topic in Washington -- back in the day before the government was shut down and the glitches associated with the federal Obamacare website had emerged? Well, President Obama returns to the topic today when he gives a statement on the need to pass immigration reform at 10:35 am ET. This event comes just a day after Speaker John Boehner raised the possibility of the House bringing up immigration reform at the end of the year. "I still think that immigration reform is an important subject that needs to be addressed, and I am hopeful," Boehner said in response to a question if he intends to bring up legislation by the end of the year. It also comes as Rep. Darrell Issa (R-CA) is introducing legislation to give undocumented immigrations legal status for six years, while House Majority Leader Eric Cantor is still pushing for his version of a DREAM Act. It's worth seeing if this immigration debate plays out like the shutdown did -- with House Republicans trying to find numerous alternatives to pass something with 218 votes to prove they do support a viable alternative, but also finding it difficult to do so (with Tea Party conservatives and Democrats voting no). Right now, it's hard to see if any of these GOP ideas can find 218 if Democrats continue to stay fairly unified on supporting the Senate bill. So perhaps the best way to view today's Obama event is to keep the pressure on, and hope there's another window (later this year or next spring) to get something passed.
*** McCain -- both Mr. Popular and Mr. Pariah: While Sen. John McCain (R-AZ) has become a lightning rod among conservative Republicans -- Senate candidate Liz Cheney, for example, called him "liberal" in a fundraising letter -- a recent CNN poll found him to be the most popular well-known politician on Capitol Hill. His fav/unfav in the poll was 48%-42% (from 46%-42% in September). Compare that with Ted Cruz's 23%-42% rating, House Speaker John Boehner's 27%-55%, House Minority Leader Nancy Pelosi's 37%-47%, Senate Majority Leader Harry Reid's 30%-40%, and Senate Minority Leader Mitch McConnell's 27%-39%. Here's a question to ponder: What does it say when perhaps the most popular Washington figure within the GOP has become a pariah with a significant chunk of its Tea Party base? Remember, getting support from independents and the middle of the country, as McCain has almost always done in these fav/unfav scores, is important.
*** The final McAuliffe-vs.-Cuccinelli debate: Tonight is the final debate in Virginia's gubernatorial contest. The Richmond Times-Dispatch sets the stage. "Democrat Terry McAuliffe and Republican Ken Cuccinelli square off at 7 p.m. at the Haymarket Theater" in Blacksburg, VA. "Recent polls show McAuliffe, a businessman from McLean and former Democratic National Committee chairman, with a lead among likely voters ranging from 7 to 9 percentage points over Cuccinelli, the current Virginia attorney general and former state senator who lives in Prince William County. Libertarian Robert Sarvis, who has been gaining support in recent polls, will not be allowed to participate in the debate. That's despite recent polls showing his support hovering around the 10 percent threshold that would qualify him for inclusion under rules set up by the campaigns and the television station."
Click here to sign up for First Read emails.
Text FIRST to 622639, to sign up for First Read alerts to your mobile phone.
Check us out on Facebook and also on Twitter. Follow us @chucktodd, @mmurraypolitics, @DomenicoNBC, @brookebrower