Watching the GOP's rhetoric vs. action on debt ceiling and immigration… GOP on health care: "We shouldn't go back to the way things were"… Smallest State of the Union TV audience since 2000… Obama heads to Wisconsin and Tennessee… Two NYT stories aren't helping Christie's case… WaPo/ABC poll: Christie is in middle of GOP's 2016 pack, while Hillary has HUGE lead in Dem field… And watching the unemployment rates in the states.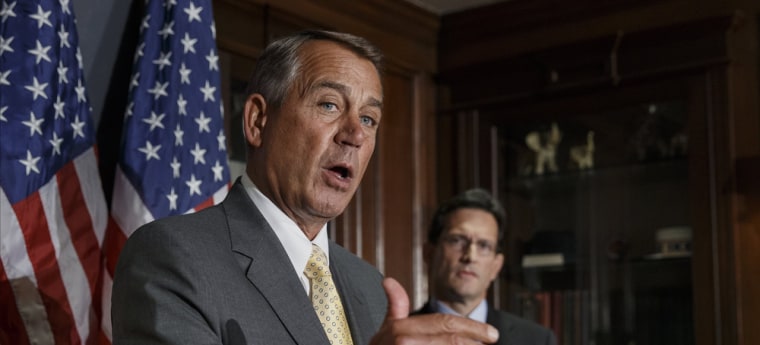 *** Watching the rhetoric vs. the action: As House Republicans are huddling on Maryland's Eastern Shore for their retreat, the GOP appears poised to move on at least two key issues -- the debt ceiling and immigration. But you'll be forgiven if it doesn't exactly SOUND that way. The rhetoric is going in one direction, while the action is going in another. Here was House Speaker John Boehner talking about the debt ceiling yesterday: "I don't think we Republicans want to default on our debt. Secondly, the president's made clear he doesn't want to negotiate. Third, it's become obvious to me, after having tried to work with the president for the last three years, that he will not deal with our long-term spending problems unless Republicans agree to raise taxes, and we are not going to raise taxes." Translation: Obama won't negotiate, Obama will demand tax increases. But we're not going to default. In other words, despite the anti-Obama rhetoric, a deal and a clean-ish debt-ceiling hike seems to be in the works. But Boehner can't sound like he's being conciliatory, or that could light the base on fire.
*** Ratcheting up the rhetoric at the very time they're working to find common ground: Boehner isn't alone in using this strategy of HOT rhetoric while quietly steering Republicans in another direction. Here was Rep. Paul Ryan on immigration yesterday to one of us: "You mentioned in your earlier remarks about the president going around Congress, about the president not enforcing the laws," he said on "Daily Rundown" yesterday. "That's a big concern of ours these days and as you can see from his statements, we have reason to be concerned, so we want to be sure that we write a law that he can't avoid." Translation: We can't trust Obama to write immigration rules on his own. So, we're going to work on a law that he's stuck enforcing. The point we're making: The rhetoric isn't matching the action. They are ratcheting up their rhetoric regarding the president at the very time they're close to finding common ground. This has become the standard operating procedure for getting things done in this political era. If Ryan simply started moving toward the Democrats and White House on immigration, it could light talk radio up and burn him and the GOP leadership. So he has to make it look like they are boxed in and the only way out is writing their own slightly tougher compromise law.
*** GOP on health care: "We shouldn't go back to the way things were": This news on Tuesday got buried due to all the attention on President Obama's State of the Union address and then on Rep. Michael Grimm (R-NY), but it bears repeating: The Republican Party has significantly changed how it talks about the health-care law. Here was Rep. Cathy McMorris Rodgers (R-WA) giving the GOP's official response on Tuesday: "We shouldn't go back to the way things were, but this law is not working. Republicans believe health-care choices should be yours, not the government's." Here was Sen. Mike Lee (R-UT) giving the Tea Party response: "When it comes to health care, we know the best way to repeal Obamacare is to deliver better solutions. We can't just return to the old system. Health-care policy used to give too much power to insurance companies; Obamacare now gives far too much power to government." We shouldn't go back to the way things were?We can't just return to the old system? Boehner spokesman Michael Steel tells First Read that this rhetoric doesn't mean the GOP is retreating on repeal. "We've always favored patient-centered reforms in addition to repeal," Steel says. The other development here is that Republicans now have their own health-care plan. The question is whether this is something they run on, or if this is simply a press release to give them cover over the next couple of months.
*** Smallest State of the Union TV audience since 2000: The audience numbers are in for President Obama's State of the Union: 33.3 million Americans watched the speech, the smallest number since 2000. That's the bad news for the White House. This was exactly what it feared, which is why they used every social media gadget they had to try and build a bigger audience. The glass-half-full news is that the numbers were down just slightly from last year's 33.5 million, despite all the indications that Obama was going to play small ball with the speech. The biggest takeaway: How do you know you're in your second term? When your State of the Union audience numbers start going down.  
*** Obama heads to Wisconsin, Tennessee: Meanwhile, the president embarks on the second day of his post-State of the Union tour. At 12:20 pm ET, he delivers remarks from Waukesha, WI, where the focus will be on job-training programs. And then at 5:20 pm ET, he speaks in Nashville, TN, where the subject is education.
*** Two NYT stories that aren't helping Christie's case: In the last two days, the New York Times has run stories that don't help New Jersey Gov. Chris Christie's case in the two scandals rocking his administration. First, the Times reported that Christie's political team had a "Top 100" list of towns and mayors put in a binder marked up, and given to Christie to look over in car rides. Included on that list: Fort Lee. (Flashback to Christie's Jan. 9 press conference: "The other part of this that just shocks me is as I've said to you all many times before, Mayor Sokolich was never on my radar screen. … So part of this is I never saw this as political retribution, because I didn't think he did anything to us. Now, we pursued lots of endorsements during the campaign from Democrats, and we didn't receive most of them. We received about 60 at the end of the day. We pursued hundreds.") Second, the Times reports that Hoboken Mayor Dawn Zimmer was DEFINITELY under intense pressure to approve that development project she alleges was tied to Hurricane Sandy relief aid. "The Christie administration has denied ever linking the Rockefeller project to hurricane relief, an accusation that is now under federal investigation. But whatever the outcome of the inquiries, the emails and interviews make clear that the development-wary mayor was coming under increasing and repeated pressure from politically connected lawyers working for Rockefeller Group and from the Christie administration."
*** Poll: Christie in the middle of GOP's 2016 pack, Hillary has big lead in Dem field: Speaking of Christie, he finds himself in the middle of the GOP pack in this early national Washington Post/ABC poll for the 2016 primaries. In the Republican trial heat, Rep. Paul Ryan (R-WI) leads with 20% followed by former Florida Gov. Jeb Bush 18%, then Christie at 13%, Sen. Ted Cruz 12%, Sen. Rand Paul 11%, and Sen. Marco Rubio 10%. On the Democratic side, Hillary Clinton gets 73% of Democrats, Biden gets 12%, and Elizabeth Warren at 8%. Also in the poll, Clinton would beat Christie by 12 points, 53%-41%. And more people, by a 46%-43% margin, think the bridge scandal is a sign of bigger problems rather than an isolated incident. And Christie has a net-negative fav/unfav now at 35%/40%. And while we're paying attention to Christie in this poll, don't overlook Ryan – he leads the GOP field and is second among Tea Party supporters. Nobody ever calls him the national GOP front-runner, but is he?
*** Watching the unemployment rates in the states: In another poll out today, Charlie Crist (D) holds an eight-point lead over Florida Gov. Rick Scott (R), 46%-38%, per Quinnipiac. The good news for Scott is that Florida's unemployment rate now stands at 6.2% -- when it was about five points higher in 2010. Here's a look at where the unemployment rate stands in some of the top gubernatorial contests for 2014, according to NBC's Natalie Cucchiara.
Colorado: 6.2% (down 2.8 points since Dec. 2010)
Wisconsin: 6.2% (down 1.6 points)
Michigan: 8.4% (down 2.9 points)
Ohio: 7.2% (down 2 points)
Pennsylvania: 6.9% (down 1.2 points)
Florida: 6.2% (down 4.9 points)
South Carolina: 6.6% (down 4.1 points)
Georgia: 7.4% (down 2.8 points)
Connecticut: 7.4% (down 2 points)
Maine: 6.2% (down 1.8 points)
Illinois: 8.6% (down 1.5 points)
And this is something to watch: Like we saw in 2012, you're going to hear A LOT of positive GOP rhetoric in states like Ohio, Wisconsin, Pennsylvania, and Florida. And don't be surprised if that impacts the overall national mood on the economy later this summer and into the fall. Just something to keep an eye on…
Click here to sign up for First Read emails.
Text FIRST to 622639, to sign up for First Read alerts to your mobile phone.
Check us out on Facebook and also on Twitter. Follow us @chucktodd, @mmurraypolitics, @DomenicoNBC