Watching the turnout in next week's Virginia race… Obama to campaign for McAuliffe on Sunday… Another poll shows Christie with a huge lead in New Jersey… The GOP establishment strikes back: McConnell goes after Bevin… And a health-care promise Obama couldn't keep.
*** Watching the turnout in Virginia: Make no mistake about it: Democrat Terry McAuliffe is the front-runner in next week's Virginia gubernatorial contest. A new Washington Post poll shows that he has opened up a 12-point lead among likely voters over Republican Ken Cuccinelli, 51%-39%. But if there's one thing that worries the McAuliffe camp -- and that gives the Cuccinelli hope -- is turnout on Nov. 5. This line of thinking goes that if turnout is so low, then Cuccinelli's ardent supporters could narrow the gap. That's perhaps why the GOP nominee yesterday was exhorting his campaign audience that the race was a referendum on the president's health-care law. And the potential for complacency among Democrats is highlighted by these numbers from the Washington Post poll: "Among those supporting [McAuliffe], 64% say they are voting against Cuccinelli rather than for McAuliffe. Meanwhile, among the attorney general's supporters, 50% say they are casting a positive vote for the candidate while 44% say they are voting against McAuliffe." (Of course, these numbers should not surprise McAuliffe, most of his campaign has been about "not being Cuccinelli.") So here is a look at past turnout in Virginia's gubernatorial contests going back some three decades, and note that turnout has dipped only twice from the previous election -- in 1985 and 1997. Interestingly, those two elections featured candidates who didn't become household names for the long haul (Baliles and Gilmore), and they came after presidential RE-ELECTs. Will we end up adding 2013 to that list?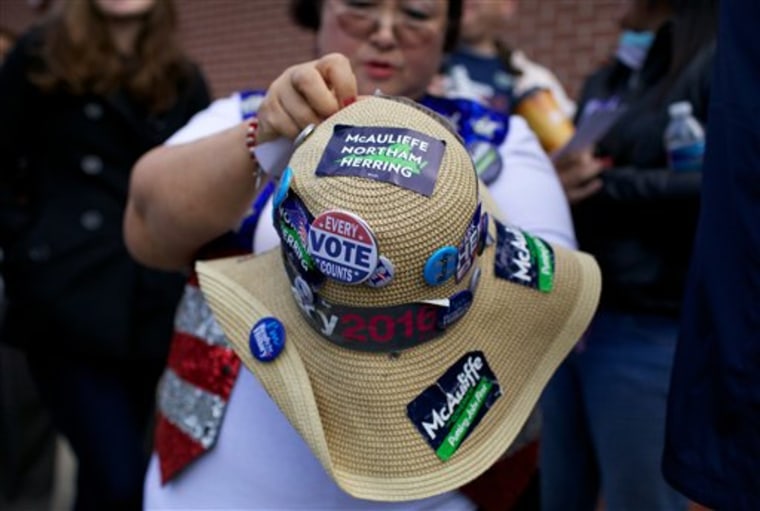 2009: 1,985,103 (McDonnell 1,163,651 to 818,950) (40% turnout)
2005: 1,983,778 (Kaine 1,025,942 to 912,327) (45% turnout)
2001: 1,886,721 (Warner 984,177 to 887,234)
1997: 1,736,314 (Gilmore 969,062 to 738,971)
1993: 1,793,916 (Allen 1,045,319 to 733,527)
1989: 1,789,078 (Wilder 896,936 to 890,195)
1985: 1,343,243 (Baliles 741,438-601,652)
1981: 1,420,611 (Robb 760,357 to 659,398)               
*** Obama to campaign for McAuliffe on Sunday: And turnout might explain this news we received overnight: President Obama will campaign with McAuliffe on Sunday in Democratic-rich Northern Virginia. This comes after McAuliffe's earlier events with Bill Clinton and Hillary Clinton.
*** Looking at Virginia's state AG race: We have one more point to make about Virginia: The very close race for state attorney general -- between Democrat Mark Herring and Republican Mark Obenshain -- is serving as a proxy for the kind of campaigns we're likely to see in 2014. Herring, a relatively unknown Democrat, has been running TV ads linking his GOP opponent to Cuccinelli and the Tea Party, with a heavy emphasis on social issues. Essentially, a generic Dem message, "Vote for me, I'm not a member of the party that likes the Tea Party." For his part, Obenshain has been running folksy ads trying to stay away from divisive issues and saying, "Washington stinks; I'm not from there; I'm a problem-solver." Of course, this AG race is definitely dependent on the turnout dynamics that are being set by the GOV candidates. 
*** Another poll shows Christie with a huge lead: Meanwhile, in New Jersey, a new Quinnipiac poll shows Gov. Chris Christie (R) leading his Democratic challenger Barbara Buono by a 2-to-1 margin, 64%-31%. The poll also has these figures:  By a 48-41% margin, they think he should run for president, but by just a 42-43% margin do they think he'd be a good one. Still, the fact that he could break 60, let alone 55%, is really stunning given the history of Republicans in New Jersey.
*** The GOP establishment strikes back: Turning to the 2014 midterms, one of the questions we've had is whether GOP establishment senators who are now facing Tea Party primary challenges -- like Mitch McConnell, Lamar Alexander, etc. -- start fighting back. Well, it looks like the answer is yes, according to the Lexington Herald-Leader. "McConnell caused widespread whiplash last week when he unleashed a blistering attack on Bevin, his Republican primary challenger, just days after the Kentucky senator had signaled he was looking past Bevin to likely Democratic opponent Alison Lundergan Grimes. Instead, several allies of McConnell and other Senate Republicans say the senator is now planning a two-front war: one against Grimes and the other against the fundraising groups that are supporting Bevin. McConnell's real targets are the Senate Conservatives Fund, which announced its endorsement of Bevin on Oct. 18, Heritage Action for America, Madison Project, FreedomWorks and other outside groups." More from the story: "McConnell, along with Sen. Lamar Alexander, R-Tenn., and other Senate Republicans up for reelection next year, hope to win so big in their primaries that they eviscerate their opponents' financial backers in the process."
*** This could play out one of two ways: On one hand, you can view the GOP establishment -- led by McConnell -- striking back at the Tea Party as a leadership moment. After the government shutdown, according to this thinking, Republican elders need to take the party back from the Tea Party. On the other hand, McConnell, Alexander, etc., could be matadors waving red flags and only emboldening (and possibly strengthening) the Tea Party. They are certainly DARING the right to come at them. And we won't have an answer to this until next year. By the way, the McConnell campaign has a new web video playing up how McConnell was leading during the government shutdown.
*** A health-care promise Obama couldn't keep: And on the subject of health care, NBC News reported this last night: "President Obama repeatedly assured Americans that after the Affordable Care Act became law, people who liked their health insurance would be able to keep it. But millions of Americans are getting or are about to get cancellation letters for their health insurance under Obamacare, say experts, and the Obama administration has known that for at least three years." It's important to note that the people who are receiving these letters -- those who have bought individual insurance -- make up just a SLIVER of the overall health-insurance market, and the law now gives these people more substantial insurance and protections than they had before. And these cancellation letters are not letters that say they won't be offering new policies; they are being offered new policies, but with a premium hike because bare minimum policies now have to cover more basics. But the story does highlight that Obama's words in 2009 and 2010 -- "If you like your health care plan, you'll be able to keep your health care plan, period" -- was a promise he couldn't keep. Bottom line with the health-care law: Some Americans (particularly those without insurance and those with pre-existing conditions) are going to be better off; some Americans (those who have purchased cheap catastrophic plans) are going to be worse off; and most Americans will see little to no change.  But the P.R. problem the White House is dealing with right now for the folks on the individual market is something they knew was coming, and yet they painted themselves into this rhetorical corner.
Click here to sign up for First Read emails.
Text FIRST to 622639, to sign up for First Read alerts to your mobile phone.
Check us out on Facebook and also on Twitter. Follow us @chucktodd, @mmurraypolitics, @DomenicoNBC, @brookebrower