What's the endgame for Syria?... And what happens next week at the G-8 summit in Northern Ireland… NBC/WSJ poll on a war-weary public… A tale of two different conferences today: Jeb Bush and Paul Ryan speak at Faith and Freedom in DC, while Chris Christie speaks at the Clinton Global Initiative… Bill Clinton grabbing headlines and Hillary Clinton defining TBD… And House GOP to hold immigration meeting on July 10.
*** What's the endgame for Syria? After months of internal deliberations, the Obama White House yesterday announced its first significant effort at trying to intervene in the Syrian civil war. The decision comes after the White House confirmed the Assad regime has been using chemical weapons, and it comes amid growing public pressure on the White House to do more -- from John McCain on the right to Bill Clinton on the left. But here's our question: What is the administration's ultimate policy toward Syria? And what's the endgame? While this issue isn't a domestic political problem for Team Obama, it has become an international one where its international credibility is on the line. It was striking to see the administration announce this change in policy on a conference call while the president was attending an LGBT event at the White House. Of course, with the G-8 summit in Northern Island coming up next week, it's very likely that President Obama uses it to announce some form of an international coalition to support the opposition.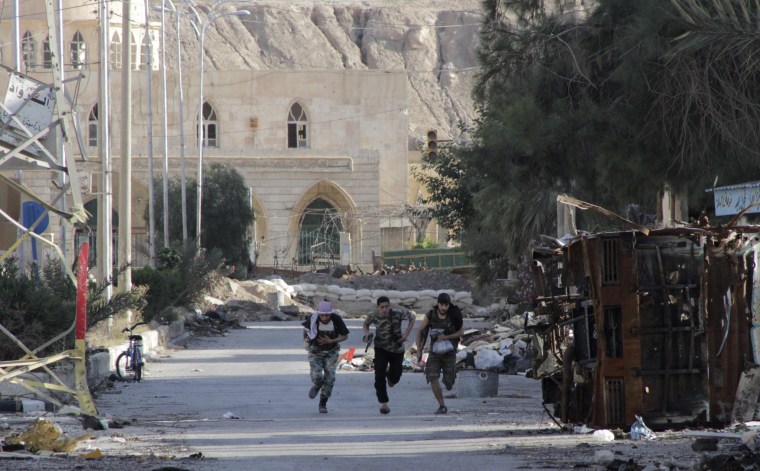 *** And what happens next week in Northern Island? But the G-8 isn't united against Assad. The old G-7 might be, but country No.8 -- Russia -- is in a different place. The end game the president HOPES is a reality is that the ramped up international effort to support the opposition in Syria convinces Russia to back off its support of Assad. But with Assad's forces winning, can a negotiated settlement be reached? What's the incentive? Maybe the best criticism of the president on this issue came from someone on the left, actually: former Carter NSA Zbigniew Brzezinski, who noted the lack of U.S. leadership globally in trying to force China and Russia to see this issue through the prism of the Western powers and key Arab allies. 
*** A war-weary public: The White House's change in Syria policy comes as the American public is EXTREMELY hesitant to intervene directly in Syria's civil war. According to our NBC/WSJ poll released last week, just 15 percent of respondents said they favor U.S. military action when asked to pick a response to stop the killing in Syria, and only 11 percent wanted to provide arms to the opposition. Folks, that's just one-in-four Americans who support the policy the White House announced yesterday. By comparison, a plurality of respondents -- 42 percent -- preferred to provide only humanitarian assistance, and 24 percent believe the U.S. shouldn't take any action. Perhaps more significantly, those attitudes cut across party lines and almost all demographic groups. "Whether you voted for Romney or Obama, they have the same opinion on Syria," said Republican pollster Bill McInturff, who conducted the survey with the Democratic firm Hart Research.
*** A tale of two conferences: Another round of potential 2016 Republican hopefuls today addresses the Ralph Reed-founded Faith and Freedom Coalition gathering in DC, including former Florida Gov. Jeb Bush and House Budget Committee Chairman Paul Ryan (R-WI). Among yesterday's Faith and Freedom speakers were Sens. Marco Rubio (R-FL) and Rand Paul (R-KY), as well as Rick Santorum. But more than 700 miles away, in Chicago, Republican New Jersey Gov. Chris Christie is speaking to a different audience -- the Clinton Global Initiative. At 5:00 pm ET, Christie shares the stage with former President Bill Clinton at a session entitled "Cooperation and Collaboration: A Conversation on Leadership." Of course, don't forget that Christie's participation at the Clinton Global Initiative comes just after his recent appearance with President Obama on the Jersey Shore. Yet don't miss Ralph Reed's very conciliatory remarks about Christie, which were VERY different than he got from the CPAC folks who didn't invite the New Jersey governor to their confab earlier this year. "We're sorry he didn't come, but Chris Christie is pro-life," Reed said. "We're hoping he'll be here a year from now."
*** Christie trailing the pack among Republicans and conservatives: But we'll remind you of these numbers: While Christie has plenty of crossover appeal per our most recent NBC/WSJ poll, he trails other Republican 2016ers in fav/unfav scores among GOP and conservative respondents. He's got a lot of work to do if he's going to win the support of the voters you need these days to secure the '16 GOP nod. No one has higher negative ratings among Republicans and core conservatives than Chris Christie. From our poll going back to December:
Among Republicans:
Paul Ryan (62%-13%)
Rand Paul (53%-6%)
Marco Rubio (49%-6%)
Jeb Bush (48%-7%)
Chris Christie: (40%-16%)
Scott Walker (21%-5%)
Ted Cruz (21%-6%)
Among conservative respondents:
Paul Ryan (58%-11%)
Rand Paul (47%-5%)
Marco Rubio (45%-6%)
Jeb Bush (44%-7%)
Chris Christie (33%-15%)
Ted Cruz (21%-6%)
Scott Walker (19%-5%).
*** Bill grabbing headlines and Hillary defining TBD: Yesterday, we wrote that Hillary Clinton -- over the past four years -- has emerged with her own brand that's distinct and separate from her husband's. But we certainly got a reminder how Bill Clinton can still grab headlines (on Syria), even on a day that was supposed to be about Hillary's debut with the Clinton Global Initiative. That must have given former Hillary campaign staffers a negative flashback back to '08, when they would constantly get frustrated at how the Big Dog could throw them off…. As for Hillary's speech yesterday, she is starting to define "TBD." She laid out the issues she wants to focus on (early childhood development, opportunities for women, economic mobility) And now she's launching "Too Small to Fail," which is her early childhood initiative.
*** House GOP to hold immigration meeting on July 10: Lastly, NBC's Frank Thorp reported yesterday that House Republicans will hold a "special GOP conference meeting" on July 10 to discuss immigration reform. Folks, if you wanted a sign that the Gang of Eight bill is probably going to pass the Senate and that it's likely headed to the floor of the House for a vote, it's this House GOP meeting. The meeting is also a sign that House Speaker John Boehner is trying to telegraph to his members that they need to come up with a solution to whatever the Senate ultimately passes. Bottom line: Boehner is laying the groundwork to show membership there is no House consensus, so they might be stuck with the Senate solution.  
Click here to sign up for First Read emails.
Text FIRST to 622639, to sign up for First Read alerts to your mobile phone.
Check us out on Facebook and also on Twitter. Follow us @chucktodd, @mmurraypolitics, @DomenicoNBC, @brookebrower