The White House's one-month sprint to fix the Obamacare website… The finger pointing begins… Flashback to 2005: The Medicare Part D rollout was equally rocky… September jobs report: 148,000 jobs added, unemployment rate drops to 7.2%... Arkansas -- a fascinating state to watch in 2014… De Blasio is leading NYC mayoral contest by 44 points (!!!)… And RIP, Lee Bandy.
*** The White House's one-month sprint: By now, we all know that the initial rollout of the federal Obamacare website has been a disaster. Here's some of the rough coverage, per NBC's Sarah Blackwill: "The Health Site's Chaotic Debut," says a New York Times editorial; "In Obamacare speech, Obama makes a desperate sales pitch," writes the Washington Post's Dana Milbank;  and Jon Stewart dished more stinging jokes about the site. The real question, of course, is how long it will take to fix the problems. And here's the answer: The Obama White House has about a month -- so until Thanksgiving -- to find a solution before the system is negatively impacted. Why Thanksgiving? Well, Dec. 15 is the last day people can enroll to have insurance start on Jan. 1, and the administration had always assumed that the young, healthy, uninsured Americans would begin purchasing insurance around Dec. 1. But if the site isn't ready by then -- or if the website is viewed as unworkable -- then there are going to real concerns whether enough young people will sign up to make the system work. And then there will be talk about whether the enrollment period (through March 31) should be extended, or even whether the penalty should be delayed. So the sprint to fix the website is on, and the White House has about a month in which to do it.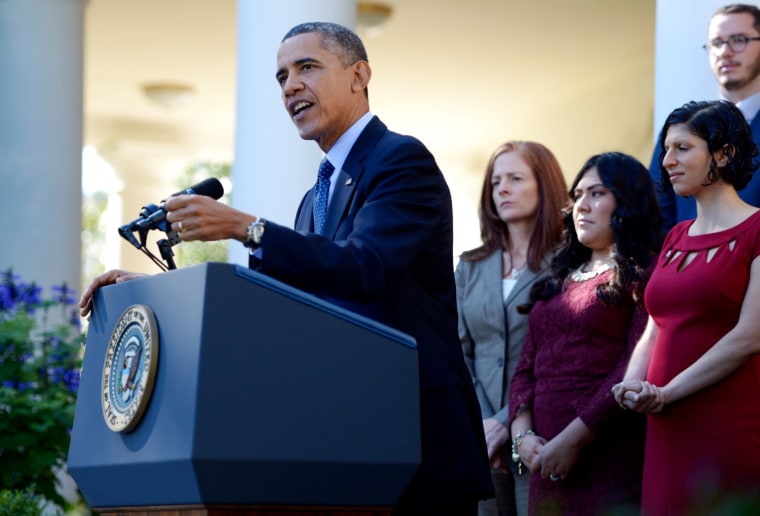 *** Finger-pointing begins: When the going gets tough in Washington, folks start pointing fingers. "There were ample warning signs that the system was not working properly, according to people familiar with the project," the Washington Post reports. "The Centers for Medicare and Medicaid Services (CMS), the federal agency in charge of running the health insurance exchange in 36 states, invited about 10 insurers to give advice and help test the Web site. About a month before the exchange opened, this testing group urged agency officials not to launch it nationwide because it was still riddled with problems, according to an insurance IT executive who was close to the rollout." So we've entered the deflect-and-blame period of the story.
*** Flashback to 2005 and the Medicare Part D rollout: But here's an important reminder for everyone covering this story: We went through something similar to this just eight years ago with the implementation of the Medicare prescription-drug benefit back in 2005. As a Nov. 8, 2005 Washington Post article noted, "The rollout of the new Medicare drug benefit has been anything but smooth. At a news briefing yesterday, Mark B. McClellan, head of the Centers for Medicare and Medicaid Services, provided a how-to demonstration of the much-awaited Medicare Prescription Drug Plan Finder, which he said would be available on www.medicare.gov by 3 p.m. It wasn't." More from the story: "The original debut date was Oct. 13, but officials delayed it, citing the Jewish holiday Yom Kippur. Next it was promised on Oct. 17, but that day, too, came and went without personalized plan comparisons being available. Late in the month, McClellan told reporters that the feature definitely would be ready before Nov. 15, the date when seniors can begin signing up for the drug benefit." And: "[T]he tool itself appeared to be in need of fixing yesterday. Visitors to the site could not access it for most of the first two hours. When it finally did come up around 5 p.m., it operated awfully slowly." (Hat tip for this 2005 WaPo piece: Jack Hoadley from Georgetown University's Health Policy Institute.) Of course, Obamacare is a MUCH bigger undertaking than the prescription-drug benefit, and it has become a MUCH bigger political hot potato.
*** September jobs report -- 148,000 jobs added, unemployment rate drops to 7.2%: The numbers from the September jobs report, which was delayed due to the government shutdown: "U.S. employers added just 148,000 jobs in September, suggesting the job market was weakening before a 16-day partial government shutdown," the AP says. "Still, the September gain was enough to lower the unemployment rate, which comes from a separate survey. The Labor Department says the rate fell to 7.2." A reminder, this data reflects the jobs environment BEFORE the government shutdown.
*** Woo pig sooie in 2014? Turning to the 2014 midterms, we wouldn't have said this a few months ago, but Arkansas is turning into one of the most important states to watch next year. The Senate race, where Sen. Mark Pryor (D) is running for re-election, is a must-win contest for Republicans; there's a competitive gubernatorial race; and now there will be two open -- and competitive -- House races after Rep. Tim Griffin (R) announced he was retiring and after the news that former Clinton FEMA head James Lee Witt is looking to run for Rep. Tom Cotton's (R) seat. To be sure, Arkansas hasn't been friendly territory for Democrats in the Obama Era; the president got just 37% of the vote in the state last year. But on the eve of the possible (and likely) Clinton comeback in American politics, it will be interesting to see if Arkansas Democrats can get their mojo back.
*** De Blasio leading by 44 points! As Bill de Blasio (D) and Joe Lhota (R) clash in their second New York mayoral debate tonight, a Quinnipiac poll found de Blasio leading the race by a whopping 44 (!!!) points among likely voters, 68%-24%.
*** RIP, Lee Bandy: Finally, we want to acknowledge the passing of a giant in political journalism -- the State's Lee Bandy. "Lee Bandy, a reporter who covered South Carolina politics and its congressional delegation for 40 years, has died," the AP writes. "Mark Lett, executive editor of The State newspaper of Columbia, said Bandy's family told the newspaper he died Monday of complications from Parkinson's disease. Bandy was 78. Several former colleagues were at his side… 'Lee Bandy's contribution to South Carolina politics was as significant as the newsmakers he covered. Bandy's reporting and analysis provided generations of South Carolinians with information and insight about the activities and ambitions of this state's statesmen and scoundrels,' Lett said." What David Yepsen was to Iowa, Lee Bandy was to South Carolina. RIP.
Click here to sign up for First Read emails.
Text FIRST to 622639, to sign up for First Read alerts to your mobile phone.
Check us out on Facebook and also on Twitter. Follow us @chucktodd, @mmurraypolitics, @DomenicoNBC, @brookebrower