Why Markey-Gomez probably isn't Coakley-Brown all over again… Comparing Jan. 2010 to now… Obama stumps for Markey at 1:45 pm ET… Wrapping up last night's MA SEN debate, as well as Biden's fundraiser for Markey… Immigration bill clears first full Senate hurdle, 82-15… Where's the RNC in this immigration debate?... Why isn't Issa releasing all of the IRS transcripts?... Noem passes on SD SEN run… And Northam, Herring win in VA.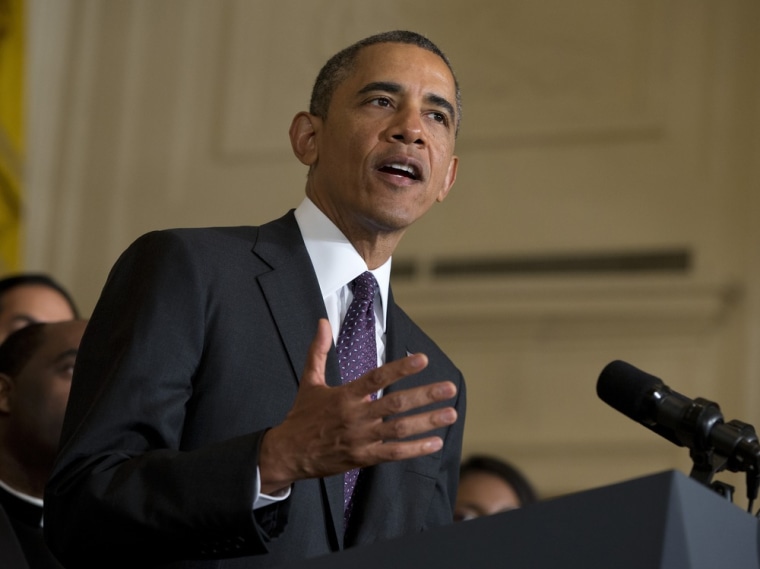 *** Why this isn't Jan. 2010 all over again: As President Obama travels to Massachusetts today to campaign for Democrat Ed Markey at 1:45 pm ET, he probably remembers this: The last time he stumped in a special Senate election in Massachusetts, it didn't turn out so well for his party. In Jan. 2010, you'll recall, Republican Scott Brown upset Democrat Martha Coakley in the race to fill Ted Kennedy's Senate seat, which ended the Democrats' filibuster-proof majority in the chamber. But a perfect storm of events and conditions helped Brown win his surprise Senate victory in 2010 (a feat he was unable to replicate last year) -- a national unemployment rate near 10%, the health-care legislation's unpopularity, a poor Democratic candidate, a charismatic  Republican one, a Democratic Party caught by surprise, and a Washington controlled solely by Democrats. Will lightning strike twice for Republicans when Markey faces off against Republican Gabriel Gomez less than two weeks from today on June 25? The answer: Probably not if you compare Jan. 2010 to now. 
*** Jan. 2010 vs. now: At least one of those perfect-storm conditions remains the same (the health-care law's unpopularity), but others aren't. Here's some data to chew on: 
-- Obama's approval rating in Massachusetts: THEN: 48%-43% (Suffolk poll); NOW: 57%-37% (Suffolk poll)
-- National unemployment rate: THEN: 9.8%; NOW: 7.6%
-- State unemployment rate: THEN: 8.7%; NOW: 6.4%
-- Health-care law's popularity: THEN: 33% good idea, 46% bad idea (NBC/WSJ); NOW: 37%-49% (NBC/WSJ)
-- Balance of power: THEN: Dems controlled WH, had filibuster-proof majority in Senate, controlled the House; NOW: Dems control WH, have 54 senators, and GOP controls the House.
-- Head-to-head matchup: Brown 50%, Coakley 46% (Suffolk poll); NOW: Markey 48%, Gomez 41% (Suffolk poll). Note: That 2010 poll was conducted a week before the election; 2013 poll was conducted two weeks-plus before election
*** Wrapping up last night's Markey-Gomez debate and Biden's fundraiser for Markey: Obama's visit to Massachusetts comes one day after Markey and Gomez clashed in their second debate. (In fact, that's yet ANOTHER difference between Jan. 2010 and now -- this White House is much more engaged in this race.) The Boston Globe's takeaway from the Tuesday night scuffle was that Markey would oppose elimination of the home-mortgage interest deduction in deficit talks, and Gomez was non-committal. The debate itself was again a bit testy and, well, small. There was one odd-YouTube-ish moment when Markey fumbled a rebuttal line claiming something Gomez said wasn't "math, it was arithmetic." Oops… Meanwhile, Joe Biden praised Markey at a fundraiser Tuesday, but delivered this warning: "There's a big difference in this race. Barack Obama's not at the head of the ticket. And that means those legions of African Americans and Latinos are not automatically going to come out. No one has energized them like Barack Obama. But he's not on the ticket. So don't take this one for granted." And this is something you probably wouldn't have seen a week ago: Sen. Ron Wyden (D-OR) sent a fundraising pitch for Markey with this subject: "Worried About Digital Privacy?" 
*** Immigration bill clears first full Senate hurdle, 82-15: If you're a supporter of the comprehensive immigration legislation that has now reached the Senate floor, you had to be encouraged by yesterday's 82-15 cloture vote on the motion to proceed on the legislation. Eighty-two is a PRETTY big number, especially considering that Sens. John McCain (R-AZ) and Lisa Murkowski (R-AK) didn't even vote on the measure. What's more, more than half of the GOP caucus (28) voted to invoke cloture. What this means: Supporters can still lose more than a dozen votes on the final vote and still get those symbolic 70 votes to pressure House Speaker John Boehner to move on the legislation. One curious "no" vote was Sen. Mark Kirk (R-IL); in 2012, 12% of all Illinois voters were Latino, and they broke for Obama, 81%-18%. By the way, here's a fun way to break down yesterday's GOP votes if you're thinking about how reformers get to 70 votes (this is just a look at the Republicans who voted to start debate, but also includes McCain and Murkowski): 
Likely yeses:
Ayotte (R-NH)
Chiesa (R-NJ)
Collins (R-ME)
Flake (R-AZ)
Graham (R-SC)
Hatch (R-UT)
Heller (R-NV)
Rubio (R-FL)
McCain (R-AZ)
Murkowski (R-AK)
Toomey (R-PA) 
Southern Swing Votes -- need 3-4 more yeses
Alexander (R-TN)
Burr (R-NC)
Chambliss (R-GA)
Cochran (R-MS)
Corker (R-TN)
Isakson (R-GA)
Wicker (R-MS)
Coburn (R-OK) 
Midwest Swing Votes – 2-3 here
Blunt (R-MO)
Coats (R-IN)
Fischer (R-NE)
Hoeven (R-ND)
Johanns (R-NE)
Johnson (R-WI)
Thune (R-SD)
Portman (R-OH) 
Most Fascinating Swing Vote Deserves own category:
Paul (R-KY)
Probable nos:
Cornyn (R-TX)
McConnell (R-KY)
Moran (R-KS)
*** The path to 70 appears easier than the path to citizenship? Don't miss the fascinating intra-party debates that are breaking out over the idea of trying to get 70 votes. Politico reports on Reid and Durbin being skeptical of Schumer's push for 70+ votes, believing it will lead to too many compromises. Meanwhile, the Daily Caller has conservative opponents of reform skeptical of Dem criticism of the Cornyn amendment on border security, believing it's a smokescreen as Dems want to make it seem like they don't like Cornyn's amendment but then when it passes, it ends up giving some GOP swing votes political cover.
*** Where's the RNC in this immigration debate? Staying with immigration, NBC's Mike O'Brien raises a good question: Where is the Republican National Committee in this debate? If you'll recall, that post-election RNC autopsy insisted that the GOP "must embrace and champion comprehensive immigration reform" or else risk that the GOP would "continue to shrink to its core constituencies only." But as O'Brien points out, "The RNC hasn't aired any ads or posted any videos looking to give Republican lawmakers the cover they need to support the immigration reform law now before the Senate; the RNC's most noteworthy announcement involved hiring Jennifer Sevilla Korn to oversee Hispanic engagement." RNC Chair Reince Priebus gave this statement to O'Brien: "We are encouraged by the leadership from Republicans in the House and Senate working to fix our broken immigration system and will continue to work with Republican leaders to ensure the GOP message reaches the Hispanic community," said RNC Chairman Reince Priebus. "As we continue to strengthen our relationship with the Hispanic community, we will address many of the issues Republicans are working on including immigration, jobs, and the economy." 
*** Why isn't Issa releasing all of the IRS transcripts? This likely doesn't help Darrell Issa's (R-CA) reputation as the congressional Republicans' top prosecutor on Capitol Hill. Bloomberg News: "Releasing the transcripts of interviews with Internal Revenue Service workers who scrutinized Tea Party groups would be reckless, the chairman of the U.S. House Oversight Committee wrote today. 'Your push to release entire transcripts from witness interviews while the investigation remains active was reckless and threatened to undermine the integrity of the committee's investigation,' chairman Darrell Issa, a Republican, wrote to Elijah Cummings of Maryland, the panel's top Democrat. Cummings has said he will release transcripts of interviews with IRS employees by the end of this week if Issa won't. Cummings said that in one interview, a self-identified 'conservative Republican' said the effort to scrutinize Tea Party groups was done to ensure consistency and that there wasn't White House or political involvement." 
*** Noem passes on SD SEN run: Well, this COULD have been an interesting 2014 primary. Roll Call: "Rep. Kristi Noem, R-S.D., announced Tuesday she will seek re-election rather than take on former Gov. Mike Rounds in the primary for the open seat. Her move clears a major hurdle in the GOP's path to picking up the seat of retiring Democratic Sen. Tim Johnson. 'I am grateful to everyone who has encouraged me and pledged support for a potential campaign for the U.S. Senate,' Noem said in a statement. 'However, after spending the weekend discussing our future with Bryon and our children, we decided that right now we are in the best position to serve South Dakota as a member of the U.S. House.'"  
*** Northam, Herring win in VA: Get to know the name Ralph Northam. Why? Because he's likely the front-runner for Virginia governor in 2017 -- assuming, of course, that he defeats E.W. Jackson in this fall's race for lieutenant governor. (Remember, Virginia is a one-term-and-done state.) Last night, Northam defeated Aneesh Chopra, 54%-46%, in the Lt. Gov. Democratic primary, while Mark Herring beat Justin Fairfax in the race to be the party's nominee for attorney general, per the Washington Post. And the Post also notes this development from last night: "Two Republican House incumbents who backed GOP Gov. Robert F. McDonnell's landmark transportation deal also lost in primaries Tuesday. Del. Beverly J. Sherwood (Frederick) fell to Mark J. Berg, andDel. Joe T. May (Loudoun) was toppled by Dave LaRock. The rest of the state's incumbents who faced primary challengers survived." By the way, add this primary to the list of stunningly low turnouts for 2013 elections… The phrase "historically low" has been used quite a bit to describe turnout in L.A. and New Jersey -- now add Virginia.
http://is.gd/ccxyrR%22%20%5Ct%20%22_blank">Click here to sign up for First Read emails.
Text FIRST to 622639, to sign up for First Read alerts to your mobile phone.
Check us out on http://is.gd/TzuR1b%22%20%5Ct%20%22_blank">Facebook and also on http://is.gd/hkhSDT%22%20%5Ct%20%22_blank">Twitter. Follow us @http://twitter.com/#!/chucktodd">chucktodd, @http://twitter.com/#!/mmurraypolitics">mmurraypolitics, @http://twitter.com/#!/DomenicoNBC">DomenicoNBC, @brookebrower