Five booksellers specializing in literature critical of China have disappeared in recent months, raising fears that officials on the mainland were tightening their grip on the semi-autonomous territory.
The latest, 65-year-old Lee Bo, vanished on Wednesday, the BBC reported.
Lee's wife Sophie Choi said her husband had since called her from Shenzhen, just over the border in mainland China, and told her he was "helping with an investigation," according to the BBC.
Lee was a shareholder in Causeway Bay Books, whose tabloid paperbacks are highly critical of the Chinese leadership, Reuters reported. Four other people associated with Mighty Current and its Causeway Bay Books have also vanished, according to The Associated Press.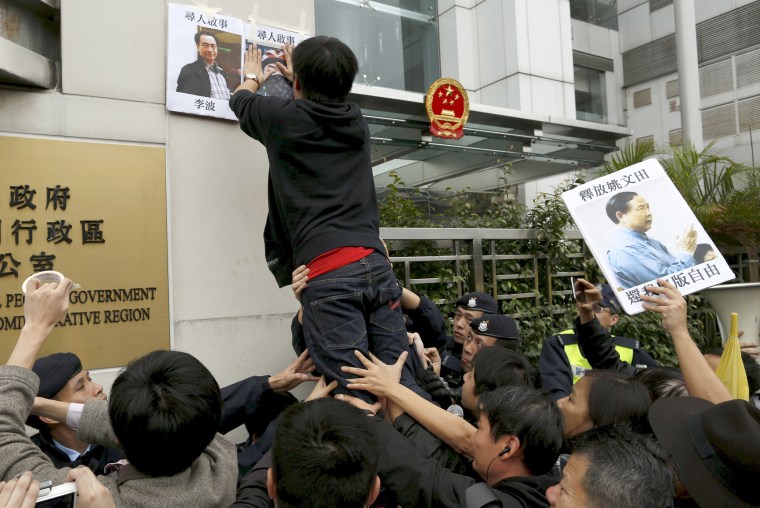 Lee's return permit, which Hong Kong residents need to enter China, was still at home, his wife said. This led at least one lawmaker, Albert Ho, and other analysts to speculate he had been taken by Chinese security agents.
On Monday, Hong Kong's Beijing-backed leader said he was "highly concerned" about the mysterious disappearances of the five.
Chief Executive Leung Chun-ying also told reporters that there was "no indication" that mainland security agents were involved in the cases, according to Reuters.
In a rare public defense of his city's autonomy, however, Leung added that "if mainland [Chinese] law enforcement personnel enforce the law in Hong Kong, this is unacceptable because it breaches the Basic Law," referring to the city's mini-constitution.
The Basic Law guarantees Hong Kong residents sweeping personal freedoms not present in mainland China, including freedom of speech, independent law enforcement and a capitalist economy.
The incidents have led to fears in Hong Kong that the freedom afforded to the city after it was transferred from British to Chinese rule in 1997 was coming under threat from shadowy tactics by Beijing.
When asked about the disappearance of Lee, Chinese Foreign Ministry spokeswoman Hua Chunying said at a daily news briefing that she had no information to offer, according to Reuters.
Hong Kong lawmakers have claimed that requests for information from their mainland counterparts have gone unanswered.
Causeway Bay Books has remained closed following the incidents. Visitors and supporters have hung tags on the door demanding their government secure the return of the missing men, according to the Hong Kong-based South China Morning Post.