Five soldiers were gunned down at a checkpoint and at least two other people killed as attacks continued across Egypt on Monday following one of the bloodiest days of violence since the toppling of Islamist President Mohamed Morsi.
Gunmen opened fire on the military men as they sat in a car at a checkpoint near the Suez Canal, a global trade route in the city of Ismalia, security sources told Reuters.  
In a separate incident, an explosion near a state security building in South Sinai killed two people and injured 48, according to medical sources.
A witness told Reuters the explosion was caused by a car bomb.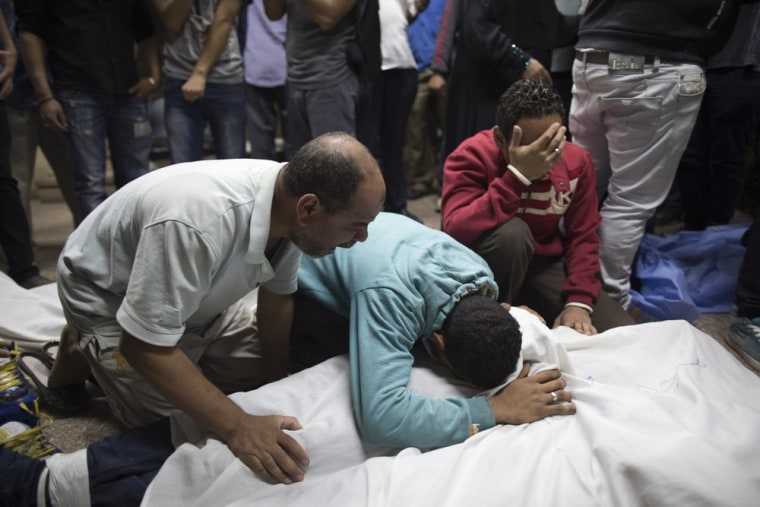 The country's capital Cairo, still reeling from Sunday's street clashes between pro-Morsi supporters and opponents of deposed leader of the Muslim Brotherhood was also attacked. 
Security officials said assailants wounded two people after launching a rocket-propelled grenade at a state-owned satellite station in the Maadi suburb.
The attack came less that 24 hours after street clashes between pro-Morsi supporters and opponents of deposed leader of the Muslim Brotherhood, claimed 53 lives.  
Most of Sunday's dead had gunshot wounds security sources told Reuters, adding that a large percentage of the casualties were Morsi supporters. The Health Ministry said 271 people had been wounded in the clashes. 
Morsi supporters took to the streets despite Saturday's warning from Egyptian authorities that anyone who protested against the army during ceremonies marking an attack on Israeli forces during the 1973 war would be regarded as an agent of foreign powers, not an activist.
An alliance that includes Morsi's Muslim Brotherhood has also urged Egyptians to stage more protests against the army takeover from Tuesday and gather on Cairo's Tahrir Square on Friday, prompting fears of further confrontations.
The square has been a focal point for many of the country's protests since January 2011, when mass protesters gathered there to demand the overthrow of the country's longtime leader Hosni Mubarak. 
The call to protest came despite a court banning the organisation last month and freezing its assets, pushing the group that had dominated elections held in Egypt after Mubarak's fall, further into the cold. 
But in an interview published Monday in in a privately owned Egyptian newspaper, al-Masry al-Youm, Army chief General Abdel Fattah al-Sisi said Egypt's national interests differed from those of the Brotherhood as an organization.
In the interview conducted before Sunday's violence he said Morsi had driven Egypt in the direction of civil war.  
"I told Morsi in February you failed and your project is finished," the paper quoted Sisi as saying. 
Reuters contributed to this report. 
Related: