MESA, Ariz. – Two of the Republican senators who helped craft the Senate immigration reform bill said Tuesday that they are still hopeful that the GOP-led House will ultimately approve a measure that includes a path to citizenship for undocumented immigrants.
"It's my view that the fundamental principle of this legislation has to contain a path to citizenship," said Sen. John McCain of Arizona, one of the "Gang of Eight" lawmakers who drafted the bill. "We remain amenable to negotiations on various aspects of it ... but a path to citizenship would have to be part of it."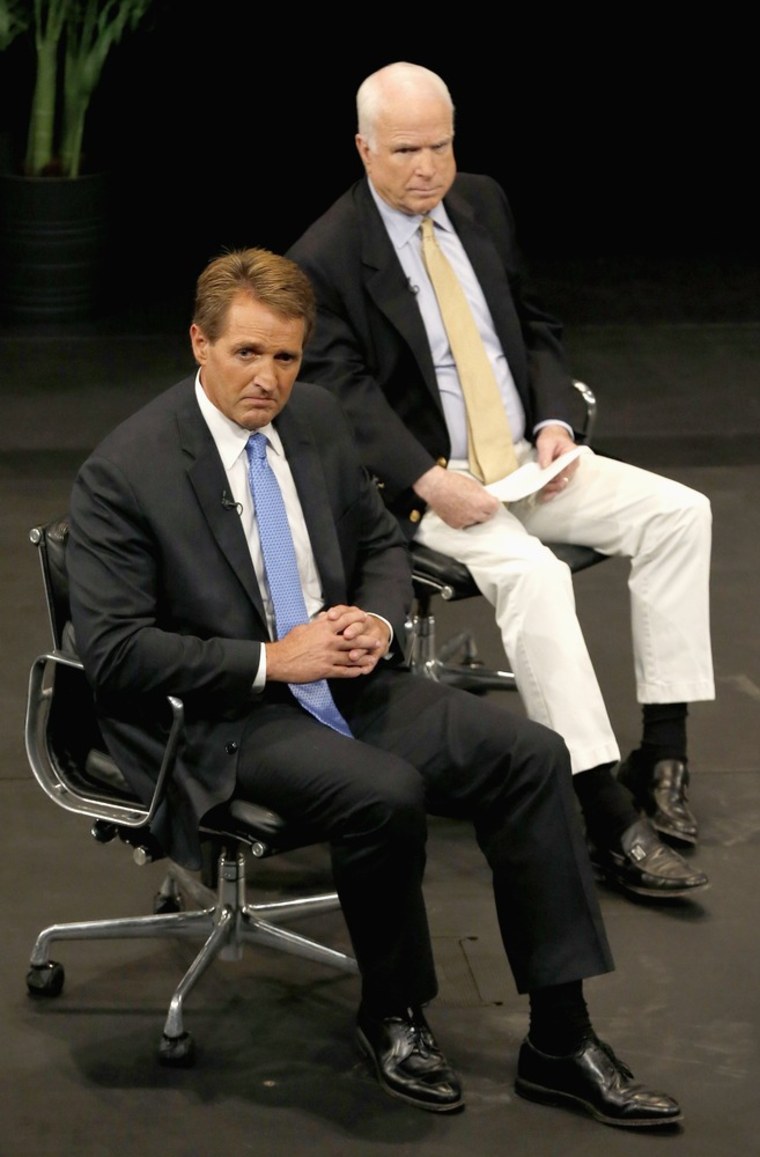 McCain and Gang of Eight colleague Sen. Jeff Flake – also from Arizona – defended the Senate immigration legislation at an event titled "A Conversation on Immigration Reform," saying that House leaders' stated opposition to the upper chamber's bill is more about optics than about policy principles.
"I think you have to say certain things for domestic emphasis, but on border security, this bill does a lot, and I think they'll recognize that," Flake said of House Republicans.
Key members of the House have insisted that it will not take up the Senate legislation, preferring a "step-by-step" approach that currently appears unlikely to include a path to citizenship for most undocumented immigrants. But McCain disputed the idea that the House will "absolutely reject" such a path, saying that the ultimate outcome of the dispute between the two chambers won't be known for "two or three" months.
Asked by NBC News why the two lawmakers are so optimistic in the face of such stringent opposition, Flake responded, "because the status quo is not acceptable."
McCain chimed in as well. "It's my hope we can sit down and find something, not supported by a unanimous vote but by a majority in both Houses," he said.
He pointed to House Speaker John Boehner and House Budget Committee Chairman Paul Ryan as fellow Republicans who are pushing their more reluctant colleagues in the direction of reform.
"Boehner and Ryan, I think they want to move something, it just comes down to whether they'll be able to overcome that block," McCain said.
While the passage of legislation so closely watched by the growing Latino segment of the electorate won't create an immediate influx of support for GOP candidates, the lawmakers argued that it would keep Republicans electorally competitive.
"This will put our Republican Party on a level playing field so we can compete for that vote," McCain said. "Without immigration reform it's very hard to get into the debate."
McCain spent much of the event -- which was sponsored by the Arizona Republic, KPNX-TV and USA Today – pushing back on Republican arguments against the bill that he, Flake and six other senators drafted earlier this year.
Emphasizing the amount of money and technology that the Senate bill puts toward border security, McCain cited its funding of radar used and developed for surveillance in Iraq and Afghanistan.
And he had a terse reply for those who claim the Senate's bill is not worth passing because the Department of Homeland Security would not enforce those amped-up border security measures.
 "If you use that logic, don't pass a law because the president won't enforce it, so then don't pass any laws. Ever," McCain said.
If some type of reform is to pass, House leaders will have to act fast once members return from their ongoing five-week recess.
The lower chamber will only be in session for nine legislative days in September and much of the attention will be focused on funding the government after funding expires on September 30th.
Soon after, the issue of extending the nation's debt limit will come to the forefront -- something that House Speaker John Boehner has said will be an all-out "brawl."
McCain wasn't fazed by that statement.
"I believe the Speaker," he said. "There may be a brawl, but it'll be resolved one way or another."