A flash of light that lit up the night sky above wartime Kyiv has led to widespread confusion, public speculation about what caused it, and lighthearted jokes about space aliens in a city more accustomed to Russian missile attacks.
Video clips posted on social media showed the sky over the Ukrainian capital suddenly illuminated by a bright light late on Wednesday. In one clip, a flaming object appeared to be crashing to the ground.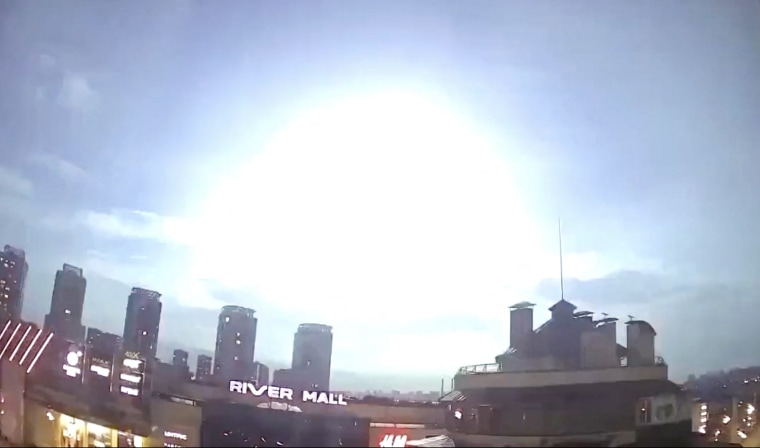 Kyiv authorities said an unknown aerial object had fallen from the sky at around 10 p.m. local time (2 p.m. ET) Wednesday, forcing them to announce an air alert in Kyiv and the surrounding region. Initial alarm gave way to questions about what had happened, which remained unanswered the next morning.
"After verification and clarification, the information regarding the possible use of enemy aircraft or an air strike with missile weapons was not confirmed," the Kyiv City Military Administration wrote on the Telegram messaging app.
Kyiv has regularly been struck by Russian missiles and drones that have hit civilian areas and forced residents to shelter underground. But residents including top officials seemed to enjoy speculating that the flash could be unrelated to the war.
Andriy Yermak, head of President Volodymyr Zelenskyy's office, jokingly posted an emoji of a UFO.
One theory, that the flash was caused by a falling U.S. satellite, was ruled out by the U.S. space agency NASA. Yuriy Ihnat, a spokesperson for Ukraine's air force, suggested a meteorite may have entered Earth's atmosphere.
He said the Ukrainian air force, in charge of air defenses, was not involved.