LONDON -- Flood-battered Britain is on course for its wettest winter in 250 years, officials said Tuesday as hundreds more homes were submerged in a crisis that could cost $1.85 billion.
Thousands of residents were evacuated from houses overnight after the River Thames burst its banks west of London, bringing the disaster closer to the door of Prime Minister David Cameron who has faced criticism over the government's response.
Parts of rural England had their wettest January on record, and more heavy rain is forecast this week.
"We're dealing with an enormous force of nature here, vast quantities of water and an unprecedented weather pattern," U.K. government minister Philip Hammond told reporters as he announced extra money and army assistance for victims.
It has been a very British weather crisis: not the result of one destructive storm, but the aftermath of week after week of relentless wet and windy Atlantic weather systems combined with high tides.
Across many parts of southwest England's green countryside, idyllic towns and villages have been transformed into muddy lagoons, farms are under water and historic homes have been inundated with contaminated water.
Nobody has been spared. One of the gardens at Hampton Court Palace –- the 16th-century one-time royal residence that sits alongside the Thames –- was filled with water, while swans floated across sodden grassland at Great Windsor Park, in the shadow of Queen Elizabeth II's castle.
The historic city of Worcester was effectively closed off because of swollen rivers, while some villages in Somerset have been cut off for weeks.
In Berkshire, there were fears that abandoned properties in affluent areas could be targeted by looters. Colin Rayner, 56, a local lawmaker in the evacuated town of Wraysbury, told ITV News that a looter targeting a property in the village had been chased off.
Recriminations over the slow government response has turned the weather into a political storm for Cameron, who has donned rubber boots and waded into flood waters in an effort to appear that he is on top of the problem.
The flood crisis is dominating the front pages of newspapers, and many of the victims live in Cameron's southern England political heartland.
The prime minister pledged he would do everything possible to help victims Tuesday, as he visited the coastal town of Dawlish, in Devon, where the key rail link between London and Cornwall was severed by a giant wave that washed away tracks.
That may not be enough to calm angry victims, who have complained of having to evacuate without assistance from authorities.
"There's nobody to help us, we have to do this ourselves," Wraysbury resident Su Murrows told The Times. She said the only assistance in the town on Monday had been from wardens working for an animal-welfare charity.
In Windsor, an amphibian vehicle normally used to carry tourists was pressed into use to evacuate residents from homes.
"As another weather front sweeps across the country [Tuesday] and the focus switches to some severe problems on the River Thames, the government's got a lot of work to do to convince those affected by the historic rainfall that it's on top of this crisis," ITV News political editor Chris Ship said.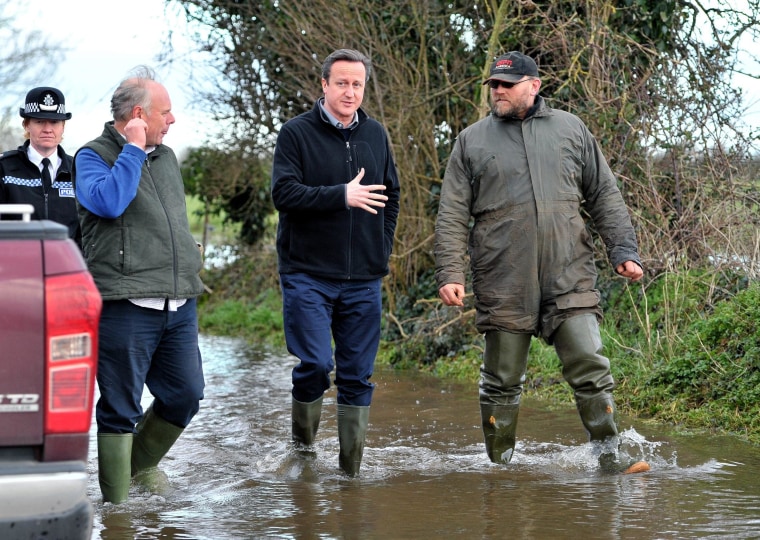 England's Environment Agency said Tuesday that, if the wet weather continues, the Britain is on track for its wettest winter for 250 years. Even without rain, it could by May before the risk of further flooding subsides, Andy McKenzie, a groundwater scientist at the British Geological Survey, told Sky News.
That could add a huge economic cost on top of the human tally. Accountants PriceWaterhouseCooper said the insurance bill and economic damage from the flooding could hit $1.85 billion (£1.13 billion), and many rural businesses face months of closure.
In Gloucestershire, one pub has been closed since Christmas. The Lower Lode Inn near Tewkesbury, can only be accessed by boat.