An American adventurer was rescued after getting stranded for 13 hours on a cliff in the Swiss Alps when his BASE jump went dramatically wrong, authorities said.
Coleman Sperando, a 21-year-old physics student at the University of Florida, was seriously injured in Sunday's ordeal in Switzerland's Lauterbrunnen Valley, a mountainous region known for its waterfalls.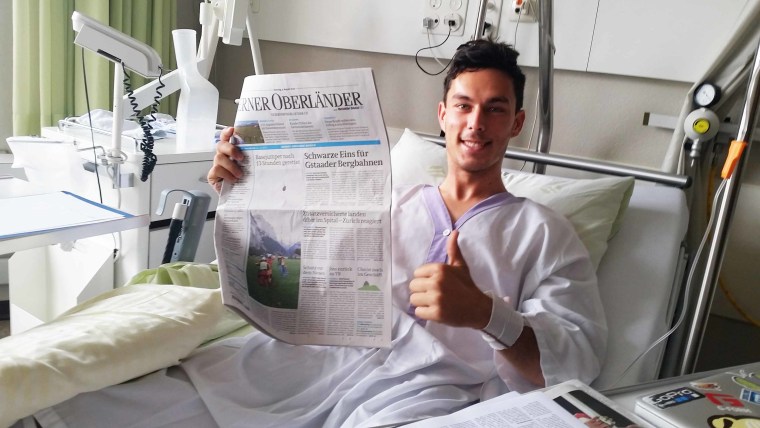 He told NBC News that he made "a mistake" on his second jump of the day and started to spin before colliding with a cliff.
BASE stands for buildings, antennas, spans (such as bridges) and Earth (such as cliffs) — places where thrill-seekers leap off of using parachutes.
Sperando's parachute snagged on the cliff, leaving him hanging by his harness nearly 1,700 feet above the ground.
The student said he was barely able to move from his injuries, but that after several hours, he was able to lower himself to a ledge where he could lay down.
Nearly two dozen rescue workers and three helicopters were deployed to search for him after other BASE jumpers raised the alarm, according to rescue chief Urs Shaefer.
One helicopter used a 1,600-watt searchlight to illuminate the mountain as darkness fell.
Shaefer told NBC News that Sperando was located on a ledge that couldn't be accessed using a rope.
A decision was taken to lower two rescuers with the most climbing experience to a higher elevation so that they could make contact with Sperando on foot in the darkness.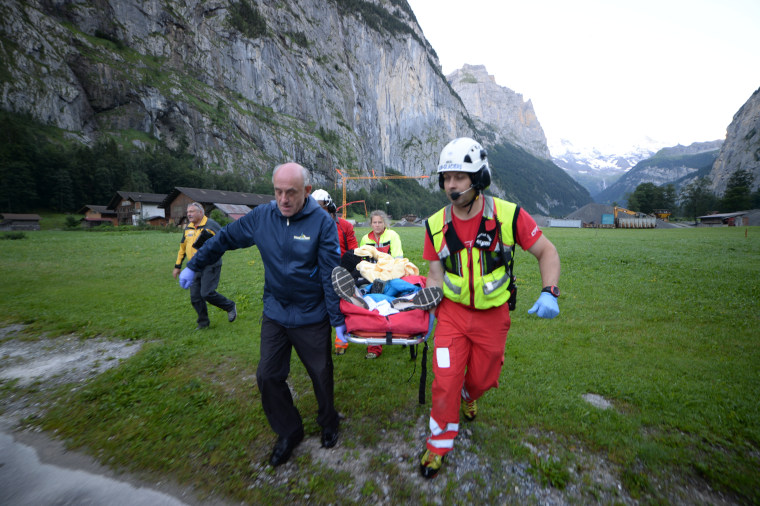 The rescuers had only small helmet lights and it took them nearly seven hours to reach the stranded Sperando on the steep mountainside, finally getting to him in the early hours of Monday.
Shaefer said Sperando was lowered to the ground at first light using a rope system and then flown to the hospital where he was awaiting surgery on his legs.
Sperando had completed about 100 BASE jumps prior to the accident, he said, adding that the traumatic turn of events hasn't sworn him off to the sport.
"I now need some time to fix things first," he said.