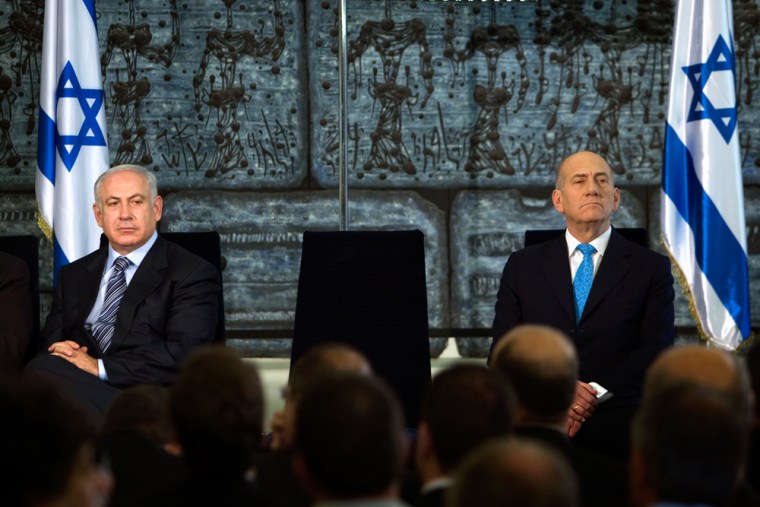 Former Israeli Prime Minister Ehud Olmert has joined a chorus of voices warning against rushing into war with Iran, telling a conference in New York City there was still time to stop Tehran's suspected nuclear program using sanctions and diplomacy.
"There is enough time to try different avenues of pressure to change the balance of power with Iran without the need for a direct military confrontation with Iran," Olmert told a crowd of 1,000 mostly American Jews at the a conference organized by the Jerusalem Post.
Iran says its nuclear program is for peaceful purposes. Israel, like the West, believes that Tehran is developing weapons technology, but there is intense debate over whether international economic sanctions accompanying the current round of negotiations might prevent Iran from developing a bomb, or whether at some point a military strike should be launched.
Olmert -- dogged during his time in office by a string of corruption scandals, which played a part in his resignation -- went further than criticizing Israel's stance on Iran.  He said that Prime Minister Benjamin Netanyahu was not prepared make a real compromise with the Palestinians, was disrespectful to the U.S. and disrespectful of the world community precisely at a time when the country needed international support, the newspaper reported.
"A nation has the right to determine what it should do to defend itself," The News York Times quoted Olmert as saying.  "But when at the same time we ask the United States and other countries to provide us with the means to do it, no one is entirely independent to act, irrespective of the positions and attitudes and policies of other countries."
Olmert's comments -- which elicited boos and shouts of "naive" and "Neville Chamberlain" -- come days after the former chief of the Israeli security agency indicated the government was lying about how effective a military strike would be.
The former head of Israel's Shin Bet security agency last week accused the country's political leaders of exaggerating the effectiveness of a possible military attack on Iran, in a striking indication of Israel's turmoil over how to deal with the Iranian nuclear program.
Israel ex-spy warns against 'messianic' Iran war
Yuval Diskin said Netanyahu and Defense Minister Ehud Barak-- who have been saber-rattling for months -- have their judgment clouded by "messianic feelings" and should not be trusted to lead policy on Iran. Diskin, who headed Shin Bet until last year, said a strike might actually accelerate the Iranian program.
"I don't have faith in the current leadership of Israel to lead us to an event of this magnitude, of war with Iran," Diskin said at a public meeting Friday, video of which was posted on the Internet the next day and quickly became the lead news item in Israel.
"I do not believe in a leadership that makes decisions based on Messianic feelings," he continued. "I have seen them up close. They are not messiahs, these two, and they are not the people that I personally trust to lead Israel into such an event."
Shin Bet addresses security in Israel and the Palestinian Territories only and is not involved in international affairs.
Duncan Golestani, NBC News, F. Brinley Bruton, msnbc.com, and The Associated Press contributed to this report.
More world news from msnbc.com and NBC News:
Follow us on Twitter: @msnbc_world