A group of former senior U.S. national security officials has held secret talks with prominent Russians believed to be close to the Kremlin — and, in at least one case, with the country's top diplomat — with the aim of laying the groundwork for negotiations to end the war in Ukraine, half a dozen people briefed on the discussions said. 
In a high-level example of the back-channel diplomacy taking place behind the scenes, Russian Foreign Affairs Minister Sergey Lavrov met with members of the group for several hours in April in New York, four former officials and two current officials said. 
On the agenda were some of the thorniest issues in the war in Ukraine, like the fate of Russian-held territory that Ukraine may never be able to liberate and the search for an elusive diplomatic off-ramp that could be tolerable to both sides. 
Meeting with Lavrov were Richard Haass, a former diplomat and the outgoing president of the Council on Foreign Relations, current and former officials said. The group was joined by Europe expert Charles Kupchan and Russia expert Thomas Graham, both former White House and State Department officials who are Council on Foreign Relations fellows.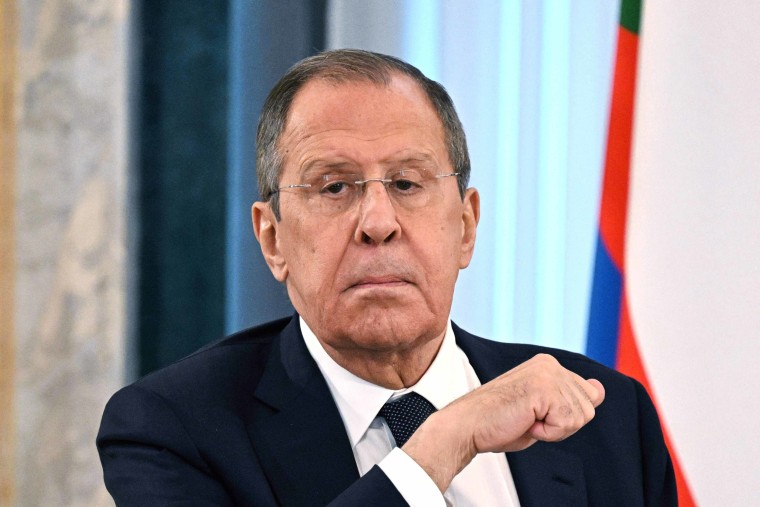 The former U.S. officials involved either did not respond to requests for comment or declined to comment on the record. All of the sources declined to be named in order to confirm talks that were intended to be kept confidential.
Among the goals, they said, is to keep channels of communication with Russia open when possible and to feel out where there might be room for future negotiation, compromise and diplomacy over ending the war.
The discussions have taken place with the knowledge of the Biden administration but not at its direction, and the former officials involved in the Lavrov meeting briefed the White House National Security Council afterward, two of the sources said.
The discussions are known in diplomatic parlance as "Track Two diplomacy," a form of unofficial engagement involving private citizens not in government — or, in the case of the Lavrov meeting, "Track 1.5," meaning current officials are involved on one end of the conversation. Formal, high-level diplomatic engagements between the U.S. and Russian governments over Ukraine have been few and far between.
It is not clear how frequently the back-channel discussions have taken place, nor whether they are part of a single, organized effort.
On the U.S. side, the discussions have involved some former Defense Department officials, including Mary Beth Long, a former assistant defense secretary with deep experience in NATO issues, according to two people briefed on the talks.
At least one former U.S. official has traveled to Russia for discussions involving the Ukraine war, two of the people said.
Aside from Lavrov on the Russian side, the discussions have involved academics, leaders from major think tanks or research institutes and others in the Russian foreign policy sphere perceived as having President Vladimir Putin's ear or as being in regular touch with Kremlin decision-makers, the sources said. The people declined to identify the Russian participants by name, citing concerns for their safety.
A spokesman for the White House National Security Council declined to comment.
Russia's embassy in Washington did not respond to a request for comment.
An official in the office of Ukrainian President Volodymyr Zelenskyy said that it would not comment on specific news reports based on unnamed sources but that its overall position remained the same. 
"Our position is unchanged — the fate of Ukraine cannot be decided without Ukraine. Many times the president and all our official speakers spoke about it. Not anonymously, but quite specifically and publicly," they said.
Signs are mounting that the U.S. and its allies are eager for Moscow and Kyiv to move toward peace talks in the fall after Ukraine's ongoing counteroffensive is completed.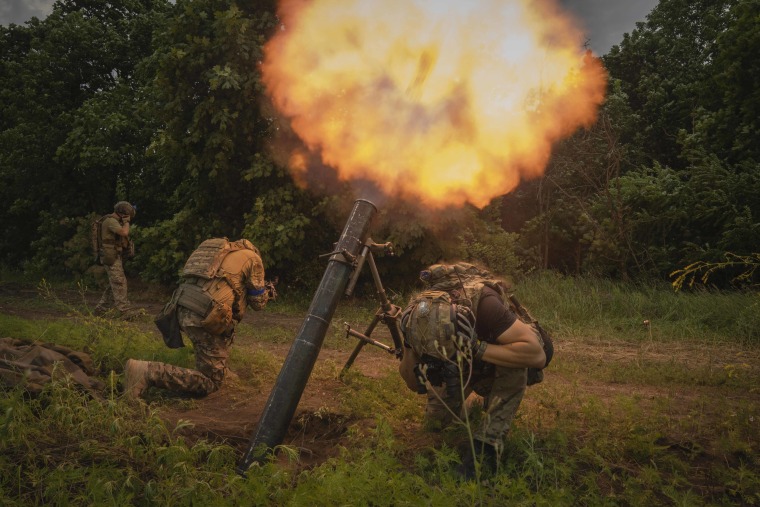 During a secret trip to Kyiv in May, CIA Director William Burns heard from Ukrainian officials about the prospect of pushing Moscow into peace talks by year's end, officials told The Washington Post. Next week, President Joe Biden will meet in Lithuania with fellow NATO leaders, who are signaling they are still not ready to admit Ukraine into the alliance. And the approaching U.S. presidential election has raised the urgency around the war's endgame amid concerns Republicans will reduce their support for Ukraine.
The meeting in April took place during a rare and brief visit by Lavrov to the U.S. to chair the U.N. Security Council, which has a rotating presidency. 
Around the same time, Haass and Kupchan wrote a lengthy article in Foreign Affairs, which is published by the Council on Foreign Relations, laying out what they described as "a plan for getting from the battlefield to the negotiating table."
In the piece, titled "The West Needs a New Strategy in Ukraine," Haass and Kupchan predicted a stalemate would most likely emerge after Ukraine's counteroffensive and recommended that the U.S. start laying the groundwork to propose a cease-fire in which both Russia and Ukraine would pull forces back from the front line, "effectively creating a demilitarized zone."
"A neutral organization — either the UN or the Organization for Security and Cooperation in Europe — would send in observers to monitor and enforce the cease-fire and pullback," the former U.S. officials wrote. "Assuming a cease-fire holds, peace talks should follow."
A key question is whether the former U.S. officials will continue talks after last month's armed rebellion against Putin's government by Wagner Group mercenary chief Yevgeny Prigozhin, which muddied the picture of how power and influence are flowing in Moscow. The discussions have also been occurring in parallel with direct U.S.-Russian conversations about detained U.S. journalist Evan Gershkovich, which Putin's spokesman revealed this week.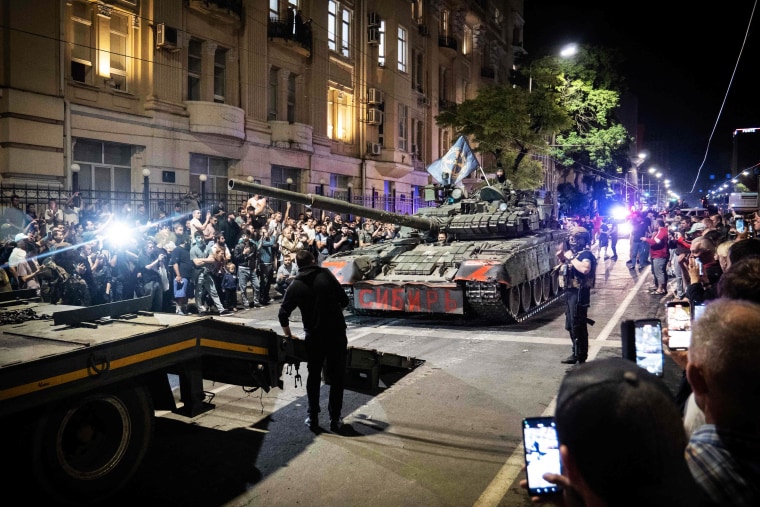 Track Two talks have long played an important role in U.S. diplomacy, including in connection with arms control, often providing a less formal opportunity to test out ideas and responses in parallel to official talks between governments.
In 1994, former President Jimmy Carter traveled to Pyongyang, North Korea, as a private citizen seeking to halt North Korea's nuclear program — a trip that became a major headache for the Clinton administration. Track Two talks between Israelis and Palestinians were also credited with creating the conditions that led to the 1993 Oslo Accords.
Yet in the context of the Ukraine war, the notion of former U.S. officials' engaging informally with Russians has caused a divide within the community of American diplomats, foreign policy scholars and national security professionals.
"I worry about what messages might be conveyed with that and the implicit signal that we're desperate for a deal," said Bradley Bowman, a former Army officer and Senate aide who studies political-military issues at the Washington-based Foundation for Defense of Democracies. "Right now what we really want to do is isolate and put pressure on Putin."
Michael McFaul, who was the U.S. ambassador to Russia in the Obama administration, said he was skeptical that there are any suitable Track Two surrogates in Russia these days who have direct access to Putin and could serve as informal intermediaries.
And discussing solutions to the war without Ukrainians at the table could undercut the Biden administration's insistence that Ukraine's future will not be decided by backroom deals between major powers, he said.
"If you're having Track Two negotiations about how to end the war, Ukrainians have to be there," said McFaul, who said he is not involved in the Track Two discussions.
Matt Dimmick, a former Russia and Eastern Europe director at the National Security Council, said that even discussing potential deals with Russia without Ukraine's taking the lead could ultimately undercut Kyiv's leverage.
"Ukraine doesn't need and want intermediaries to start coming in and crafting cease-fire solutions and then enticing Europe and the U.S. to elbow Ukraine in that direction," Dimmick said. "Ukraine realizes their path to a secure future is driving right through Russian defenses and leaving Russia no choice but to come up with their own way out of Ukraine."
Josh Lederman and Yuliya Talmazan reported from London, Carol E. Lee reported from Washington, and Daryna Mayer reported from Kyiv.