Thousands of evacuees who fled from their homes as a massive wildfire ravaged the Canadian city of Fort McMurray this week were being moved again Saturday — just as the blaze was on pace to double in size within 24 hours.
More than 25,000 of the 88,000 people who were forced from their neighborhoods as the flames flared uncontrollably had to be relocated, officials said. Many got a heartbreaking view of burned-out Fort McMurray as they were being transported from evacuation camps in the north — where the inferno appeared to be inching closer toward — to the south.
"If that fire should suddenly take a veer to the northwest, the people in those camps could be cut off and stranded," said Canadian Public Safety Minister Ralph Goodale. "If it continues to grow at present pace, it could double today," Goodale said early Saturday.
Officials couldn't predict when the flames burning in residential areas would be under control, but Chad Morrison, Alberta's manager of wildfire prevention, said the blaze scorching the forest would likely be burning for "a number of months."
"We expect to be out fighting in the forest areas for months to come," he said.
By midday, the blaze had grown to more than 600 square miles, up from 390 square miles Friday, according to the Alberta provincial government. The fire could exceed 1,000 square miles Saturday as hot, dry conditions continued to stoke the flames, Morrison said.
PHOTOS: Entire City Flees Raging Wildfire in Canada
Some of the 7,500 people moved on Friday were airlifted, while the Royal Canadian Mounted Police and military coordinated a larger migration on land which included about 1,500 vehicles, according to police. Crews hoped to finish transporting the remaining evacuees to the south by the end of the day Saturday, officials said. But the smoke, blocking visibility beyond 30 feet, was creating a challenge for drivers, said Royal Canadian Mounted Police Inspector Kevin Kunetzki.
The entire city of Fort McMurray was under mandatory evacuation orders and "should not expect to return home for an extended period of time," according to an Alberta government alert.
Kunetzki said police were seeing signs of looting in some of the vacant homes, but the criminal activity wasn't rampant. "We are definitely not seeing people running around with televisions and carrying them out of the area," he said.
The communities of Anzac, Gregoire Lake Estates and Fort McMurray First Nation were also under mandatory evacuation orders.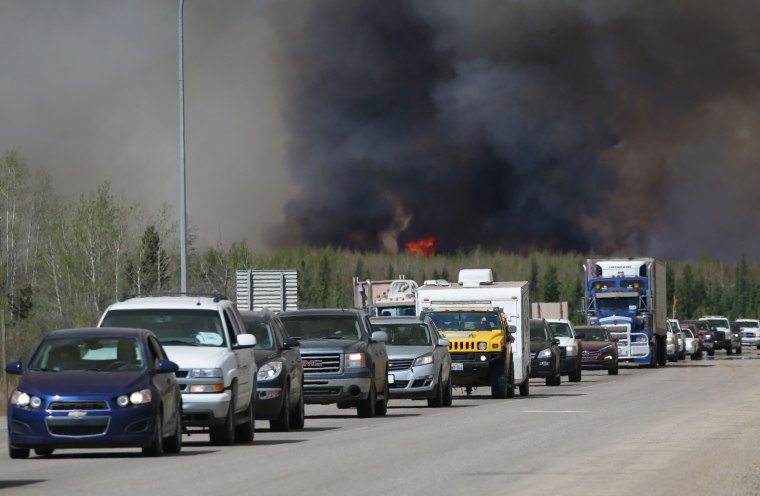 Although the fire was rapidly growing, officials said they didn't anticipate the need for additional evacuations because the flames were largely targeting rural areas and forests.
Investigators have not figured out what sparked the wildfires that erupted in the heart of Canada's oil sands region on Sunday. But officials believe there's only one thing that can quell the flames.
"All of the firefighters who have assessed this inferno have suggested only one solution to this — and that's a heavy downpour," Goodale said.
There was no chance of precipitation forecast in Fort McMurray on Saturday, according toWeather.com.
"We can't rule out a stray shower or snow shower Sunday into Wednesday or Thursday, but it won't likely be the kind of soaker most desperately needed to tamp down the flames," said Weather.com senior meteorologist Jonathan Erdman.
Fort McMurray has gone 10 straight days without any rain or snow, he added, with winds gusting at 20 mph and high temperatures in the 80s helping to fuel the blaze.
"It is a dangerous, unpredictable fire," Goodale said. "An absolutely vicious fire."
More than 1,600 homes and other buildings have been burned. Two traffic accidents related to the fire have led to fatalities, but no deaths have been tied to the fire itself, authorities said.
Related: Fort McMurray Wildfire in Alberta Grows, Firefighters Hope for Rain
Notley said her cabinet has approved a payment of $1,250 Canadian ($967) per evacuated adult and $500 Canadian ($387) per evacuated dependent at a cost to the province of $100 million Canadian ($77 million). She told a briefing in Edmonton that she wants people who were forced from their homes to know that the government "has their back."
The Canadian Red Cross has raised $44 million for those affected, and Prime Minister Justin Trudeau's government has pledged to match individual donations made until May 31 "without a cap."
Authorities were trying hard to minimize the risk of more fires sparking. The province of Alberta, which declared a state of emergency, announced a fire ban and a ban on off-highway vehicles.
Related: Fort McMurray Blaze: Syrian Refugees Step Up to Help Canadian Fire Escapees
The fires have dealt a blow to Canada's oil production industry, which was already hurting due to the dramatic fall in the price of oil.
Syncrude, a major oil sands mining company in Alberta, said Saturday that it was shutting down operations and removing all personnel from their site.
"Syncrude will bring units back online when there is no risk to personnel or operations," the company said in a statement.