Make no mistake: the great city of New Orleans is delighted to host Super Bowl XLVII. But does that also mean chasing the First Amendment out of town?  NOLA.com reports: 
A federal judge granted a temporary restraining order Thursday sharply reducing the boundaries of the "clean zone" set up by the city for the upcoming Super Bowl game. The "clean zone" -- which had included the French Quarter and Faubourg Marigny -- is an area in which only officially authorized vendors can sell souvenirs or other items. It also prohibits the display of unauthorized signs, banners and the like.
So what does that phrase, "clean zone" mean, exactly? The list:
"Inflatables, cold air balloons, banners, pennants, flags, building wraps, A-frame signs, projected image signs, electronic variable message signs, and light emitting diode signs of any kind shall be prohibited except for those sanctioned or authorized by the city. ... "General and mobile advertising (including, but not limited to, signs on or attached to a vehicle, portable device or person) shall be prohibited except for promotional displays sanctioned or authorized by the city (consisting of at least 60 percent Super Bowl/NFL branding, look and feel, and no more than 40 percent third-party commercial identification) and by the National Football League, including, but not limited to, those placed on existing public utility poles."
As a result, it said, within the "clean zone," no one could fly a flag of any kind, even a Mardi Gras banner or American flag, and signs such as "Restrooms for customers only," "Buy your king cake here" or "Roger Goodell will not be served here" were forbidden unless the person involved was an NFL sponsor, the NFL and the city approved the message and the content was at least 60 percent NFL branding.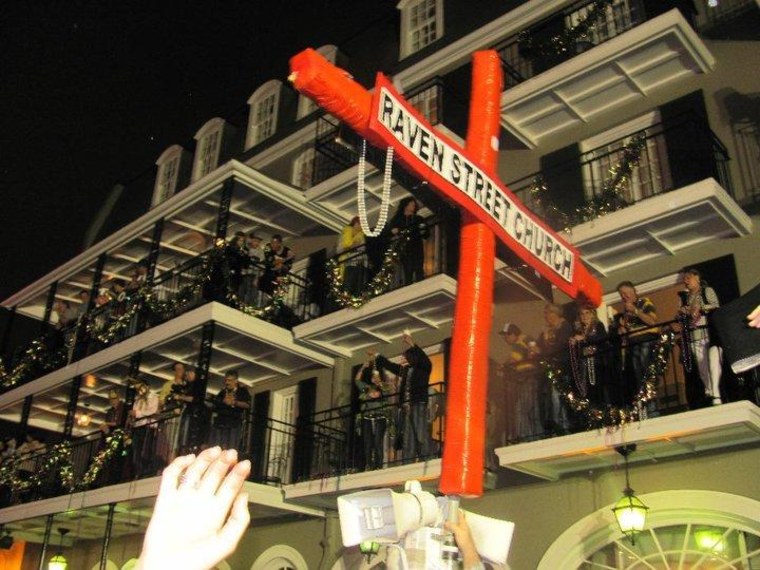 According to Marjorie Esman, executive director of the Louisiana ACLU: 
The other plaintiff, Pastor Tony Bohn of Raven Ministries, regularly preaches on Bourbon Street. He and his colleagues wear T-shirts and carry signs that read "I love Jesus," "Ask me how Jesus changed my life" or similar messages, and carry a large cross emblazoned with the words "Raven Street Church."  All of these messages would be prohibited by the "clean zone" ordinance, Esman said.
Finally...
"Even the Super Bowl isn't an excuse to suspend the First Amendment," Esman said.  "The founders of our country didn't intend our rights to be suspended for a football game."