Haitian officials say 15 people have been arrested and four were killed following the early morning assassination of Haitian President Jovenel Moïse, and at least one of those arrested — possibly two — are U.S. citizens.
Mathias Pierre, Haiti's minister of elections, told multiple news outlets on Thursday, including The New York Times and The Associated Press, that Haitian American James Solages was among six people arrested in the brazen killing of Moïse by gunmen at his home in the pre-dawn hours on Wednesday.
Pierre would not provide additional details about Solages' background, nor provide the name of the second Haitian American. The U.S. State Department said it was aware of reports that Haitian Americans were in custody, but could not confirm or comment.
The FBI said Friday it would be helping Haitian authorities investigate Moïse's murder. "The Haitian government requested assistance today from U.S. law enforcement with the investigation into President Moïse's assassination," said a spokesperson for the bureau. "The FBI is currently engaging with the U.S. Embassy in Haiti and our law enforcement partners to determine how we can best support this effort."
Thursday night, Haiti's national police said authorities were looking for nine people in connection with the assassination.
Police also said that four people were killed in an exchange of gunfire with police, and that automatic weapons were seized. Police had earlier said that seven suspects had been killed.
Police late Thursday said that of the 15 arrested, 13 were Colombians.
Léon Charles, Haiti's director of National Police, had said earlier that three police officers had been held hostage, but police freed them.
Haiti's government has blamed mercenaries for the attack.
Moïse was killed early Wednesday in what the country's acting prime minister, Claude Joseph, described as a "hateful, inhumane and barbaric act."
Joseph said a group of "highly trained and heavily armed" people attacked Moïse's residence around 1 a.m., shooting the president and his wife.
First lady Martine Moïse was flown to Florida and receiving medical attention in Miami, Haiti's ambassador to the United States said.
Moïse, who was 53 and took office in February 2017, was attacked in his home in a suburb of the nation's capital, Port-au-Prince.
Haiti is the poorest country in the Americas.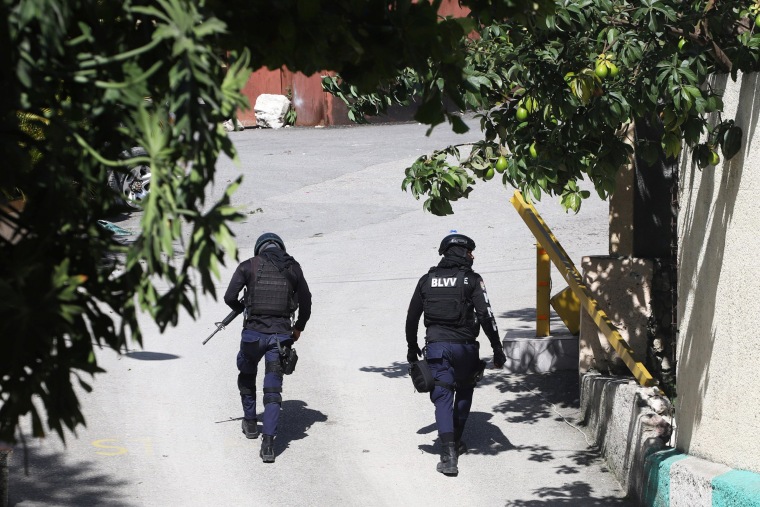 Joseph called for calm in the country. He told The Associated Press that elections scheduled for later this year should be held and pledged to work with Moïse's allies and opponents alike.
U.S. President Joe Biden said he was shocked and saddened to hear of the assassination of Moïse and the attack on his wife and called it a heinous act.
"The United States offers condolences to the people of Haiti, and we stand ready to assist as we continue to work for a safe and secure Haiti," Biden said in a statement.
United Nations Secretary-General António Guterres condemned the assassination in the strongest possible terms and said the U.N. will continue to stand with the government and people of Haiti.
"The Secretary-General calls on all Haitians to preserve the constitutional order, remain united in the face of this abhorrent act and reject all violence," a spokesperson for Guterres said in a statement.
Moïse had been resisting calls to step down from opponents who accused him of corruption and who insisted his term expired in February because the country's constitution starts the clock once a president is elected, rather than when he takes office.
He had been demanding to serve out the remainder of the year and threatening to amend the constitution to give himself more power.