LONDON — Four teens have been charged in connection with a violent attack on a lesbian couple on a London bus, police announced Thursday.
The couple, Melania Geymonat and her girlfriend, Chris, were assaulted on May 29 after refusing demands to kiss. A photo of the women, who were left bloodied and bruised, shared by Geymonat on her Facebook page sparked public outrage over the attack.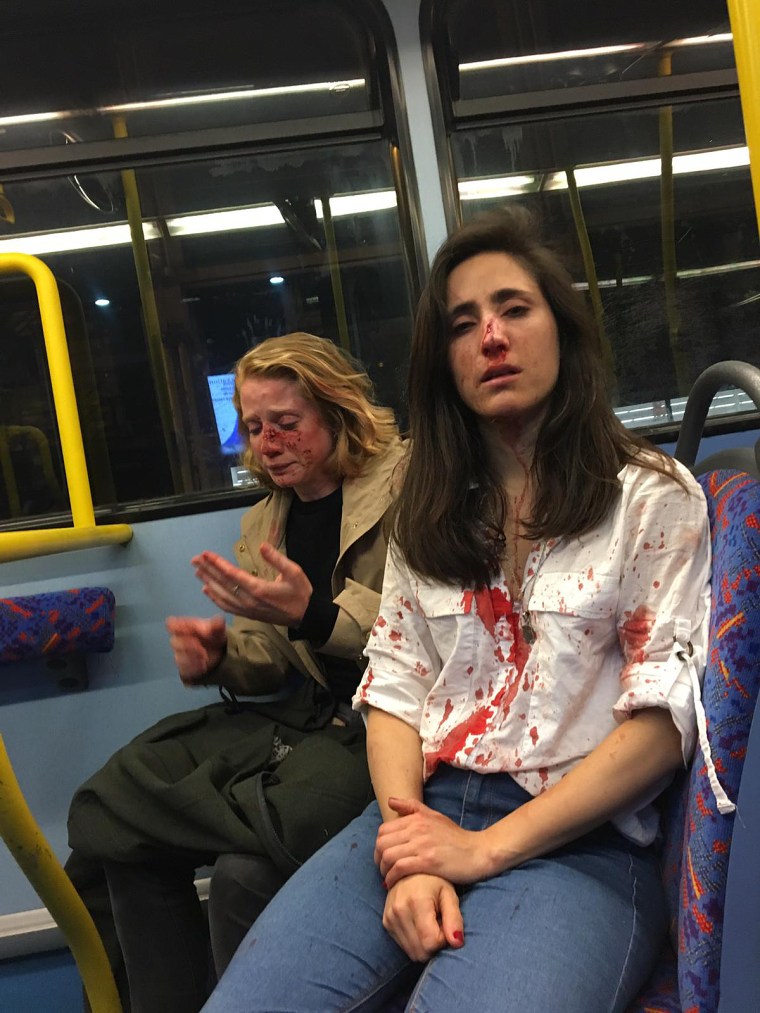 London's Met police released a statement saying four teenage boys aged 15 to 17 have now been charged for committing an aggravated hate crime. One 16-year-old was also charged with theft and handling stolen goods while another 16-year-old was charged for the possession of cannabis.
Geymonat said in a Facebook post that she and Chris were on a night bus just days before LGBTQ Pride Month began when a group of at least four guys insisted they kiss, "so they could enjoy watching."
The teens also started "describing sexual positions" and tossed coins at the women, Geymonat wrote.
Geymonat said the next thing she knew Chris was in the middle of the bus fighting with the men.
"On an impulse, I went over there only to find her face bleeding and three of them beating her up. The next thing I know is I'm being punched," she wrote.
A cellphone and a bag were stolen during the altercation, which was caught on surveillance camera, police had said. Both women, who are in their 20s, were taken to the hospital for injuries to their faces.
Police Detective Superintendent Andy Cox had condemned the assault, calling it a "disgusting attack" while London Mayor Sadiq Khan tweeted that "hate crimes against LGBT+ people will not be tolerated in London."
The teenagers are expected to appear in youth court on Aug. 21.