PARIS — "Yellow Jacket" protesters blocking access to 11 fuel depots belonging to one of the world's biggest oil companies have left gas stations running dry in France.
At least 75 of the company's 2,200 gas stations were out of fuel, a spokesman for energy giant Total said Monday.
For more than two weeks, protesters angry over gas taxes and the high cost of living have been blocking roads across France, impeding access to fuel depots, shopping malls and some airports.
Riot police were overrun on Saturday as protesters brought chaos to Paris' fanciest neighborhoods, torching dozens of cars, looting boutiques and smashing up luxury private homes and cafes in the worst disturbances the capital has seen since 1968.
More than 100 people were injured in the French capital and 412 arrested over the weekend.
The "Yellow Jacket" revolt erupted on Nov. 17 and poses a formidable challenge to President Emmanuel Macron as he tries to counter a plunge in popularity over his economic reforms, which are seen as favoring the wealthy.
The "Yellow Jacket" activists are named after the neon vests French drivers are obliged to carry in their vehicles in the case of roadside emergencies.
The movement began online as an impromptu rebellion against higher fuel prices but has morphed into a broader outpouring of anger over the squeeze that living costs are putting on middle-class household budgets.
Their core demand is a freeze on further planned tax increases on gas and diesel — the next is due in January — and measures to help bolster spending power.
But many have also called for Macron to quit.
Public support for the "Yellow Jackets" remains high, with seven-in-10 people backing their protest, according to a Harris Interactive opinion poll conducted after Saturday's unrest.
Macron says the increased fuel taxes are part of his effort to combat climate change, wanting to persuade French drivers to exchange diesel-fueled cars for less polluting models.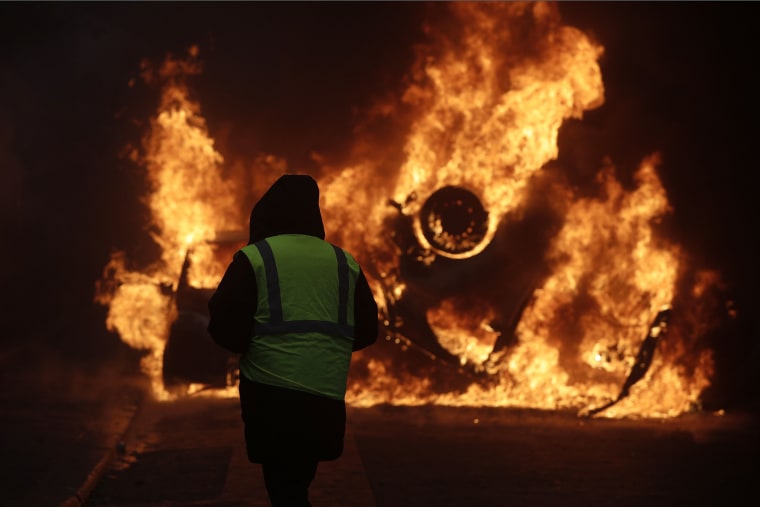 Saturday's unrest was the worst in central Paris since a student uprising five decades ago.
The Arc de Triomphe, a unifying national monument that houses the Tomb of the Unknown Soldier, was defaced.
Prime Minister Edouard Philippe is scheduled to speak with representatives of the movement on Tuesday to try to defuse tensions.