Less than two weeks before a state of emergency was set to expire in France, Thursday's deadly attack in Nice propelled President Francois Hollande to extend the measure for an additional three months, leaving many critics questioning the effectiveness of a state of emergency and the dangers it poses to civil liberties.
"It is clear that we must do everything we can to fight against this scourge of terrorism," Hollande said early Friday morning after a truck driver slammed into a crowd celebrating Bastille Day in Nice, resulting in the death of at least 84 people.
The rare state of emergency, which has been in place since late last year when Islamist militants killed 130 people in attacks in and around Paris, gives the executive branch sweeping powers to place people under house arrest and carry out police raids without warrants. It had been set to expire on July 26 after being extended two previous times.
"It has been pretty effective in terms of public reassurance—until now," said David Lea, a senior Europe analyst at security consultancy firm Control Risks. "…It reinforced the perception of security. But now people may be asking, 'Was this really necessary? We're having all these states of emergencies and they couldn't prevent what happened in Nice. While so far that's been on the pro-civil liberties end of society, it's possible in the next three months that [sentiment] will start spreading around to the wider end of the public."
PHOTOS: Scenes of Devastation After Truck Kills Revelers
Olivier Guitta, managing director of GlobalStrat, an international security and geopolitical risk consultancy firm, echoed that sentiment.
"There was a reaction after November [attacks]—most were willing to give up privacy and freedom in order for state to make them more secure," Guitta said. "For eight months, people started to feel much safer, and that may be the downfall that happened yesterday. The feeling of fake security."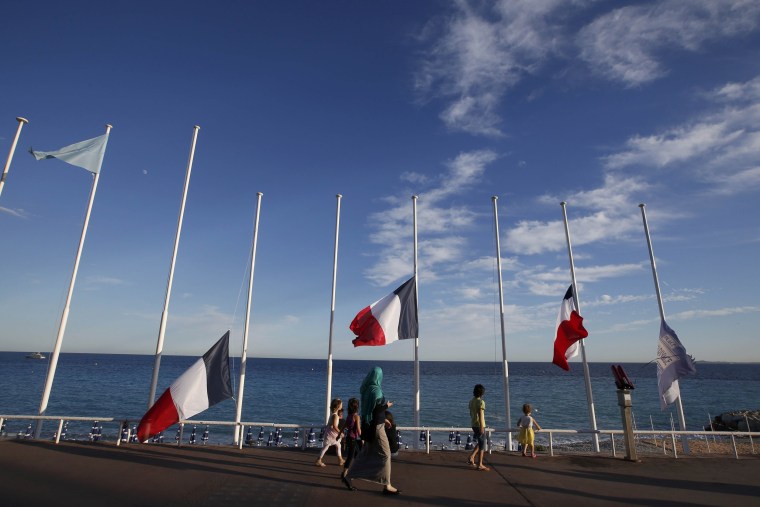 In Hollande's address to the country on Friday, he said the "terrorist character" of the attack "cannot be denied." Besides extending the state of emergency, Hollande said army reserves would be called upon to help police and that France would maintain its 10,000-person homeland security force to guard certain sites. "…It's clear we need to do all we can to fight against terrorism," the French president said.
But right wing politicians in France have also berated Hollande, insisting the measure has failed and is only cosmetic.
Clémence Bectarte, a lawyer at the International Federation for Human Rights in Paris, said the bloodbath in Nice was "the perfect proof that the state of emergency is not an effective tool," noting that more than 3,500 house raids have been carried out across the country since the state of emergency was instituted with little to show for it.
PHOTOS: World Shows Solidarity with Nice Rampage Victims
"We see now that our government and our administration acting upon emotion without giving the time to think about the real causes and what exactly happened…Its implementation has in great majority ordered against the Muslim population, which you risk stigmatizing," Bectarte said.
France has rarely used such states of emergency in modern history. There was one from November 2005 to January 2006 after the deaths of two immigrants resulted in riots. Before that, the last state of emergency was in the 1950s, with the goal of squashing the independence movement in Algeria.
The driver of the truck in the Nice terror attack has been identified as Mohamed Lahouaiej Bouhlel. While he was known to police for petty crimes, it's unclear if Bouhlel, who was killed by police, had ties to terrorist groups.