PARIS — Graffiti and broken windows were the only remnants Sunday of the violent protests that have roiled Paris in recent weeks. As residents of the City of Lights were returning to their daily routines, however, France's finance minister warned that the demonstrations will have catastrophic effects on the country's economy in the long term.
Bruno Le Maire visited business owners and walked by the shattered windows of a bookstore one day after riots brought the typically bustling city to a standstill on Saturday. The finance minister told Euronews these events will have negative implications on the "attractiveness of France" for business.
The demonstrations, led by the so-called yellow jacket protesters, saw an estimated 10,000 people flood the otherwise deserted streets of Paris with another 125,000 demonstrators marching around the country, according to government officials. Over 1,300 people were arrested on Saturday while 135 were injured, 17 of whom were police officers.
It follows weeks of demonstrations triggered by a proposed gas-tax hike and have come to represent general dissent against President Emmanuel Macron's economic reforms.
"It is really up to every citizen now to be aware that we need now to come back to peace and dialogue," Le Marie said. "Because we won't find a long-term solution to this crisis without coming back to the table and having a dialogue."
However, Macron is facing mounting criticism for not speaking publicly in more than a week, all while violence worsened. Le Maire said the president is due to make a statement in the coming days.
For some, that may be too little too late.
"He's not saying anything and the country's on fire," Meredith Saban, 38, a director of a human resources firm told NBC News during Saturday's protests. "He's mocking the people."
Macron has faced demonstrations since his election in May 2017, but the "Yellow Jacket" protests represent a more fundamental challenge to his authority with many people supporting the movement calling for his resignation.
A November poll found that only 26 percent of French people have a favorable opinion of their president.
The young centrist was elected to office on a reformist agenda, having pledged to overhaul the country's generous welfare state, which redistributes wealth across society with high taxes for the rich.
France has high levels of social security and workers' rights, making it difficult to enact business-friendly reforms in spite of persistent unemployment. Despite the fanfare around his election, Macron has since struggled to pass legislation at the heart of his domestic agenda.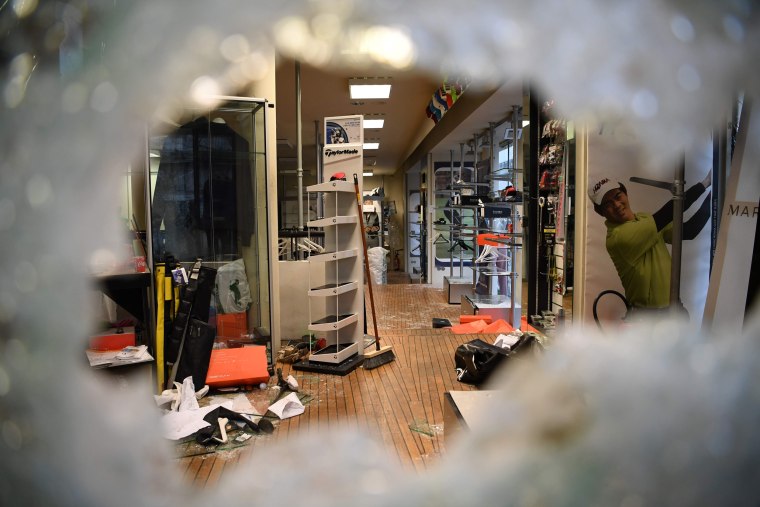 Last week, he attempted to quell the recent uproar by agreeing to drop the gas tax increase that was aimed at reducing France's dependence on fossil fuels. Truckers called off a strike that was supposed to take place Sunday night after unions were reassured by written commitments from employers and the government on overtime pay.
The gas tax concession did not seem to appease many recent protesters, however.
The value of the damages from Saturday's demonstrations have yet to be tallied, but demonstrations over one weekend in Paris last month will cost the city more than $1.1 million, the deputy mayor had said. It was followed by protests last weekend that left the Arc de Triomphe tagged with graffiti.
Le Maire said the bill will have to be picked up by the government, the public and insurers. "These protests had a significant impact on the economy," he said Sunday.
Meanwhile in Washington, President Donald Trump, tweeted in apparent support of the protests, saying it was "time to end the ridiculous and extremely expensive Paris Agreement" aimed at curbing climate change.
In another tweet, Trump suggested that protesters had chanted "We Want Trump!" although there has been no evidence to support the claim.
France's Interior Minister Jean-Yves Le Drian told French news broadcaster RTL on Sunday that Trump should stay out of their politics. The French don't weigh in on American domestic politics and U.S. officials should do likewise, he said.
Reflecting on the protests, Le Drian said it reveals a profound sense of inequality among the public and Macron needs to consider establishing "a new social contract."
Emmanuelle Saliba reported from Paris. Linda Givetash reported from London.