MEXICO CITY — Cheers erupted from more than 1,000 volunteers and officials after they pulled a survivor from the rubble of a textile factory more than two days after it was obliterated by Mexico's earthquake.
There was little time to celebrate, however. Shortly after the person pulled from the mangled concrete in Mexico City's Colonia Obrera neighborhood Thursday evening, the workers resumed their search.
At least 286 people have been killed by Tuesday's magnitude 7.1 quake.
The three-story textile factory was one of the largest of dozens of buildings that collapsed across the capital.
NBC News witnessed at least two people pulled alive from the rubble and taken away in ambulances late Thursday. Their conditions were not immediately known. One had been trapped for around 52 hours.
Their rescues marked jubilant moments in what was otherwise a desperate and often fruitless search.
Authorities said 21 people had been confirmed killed at the textile factory.
Volunteers, aid workers and officials have traveled from all over the world to Mexico to help with the recovery effort.
In Colonia Obrera, men and women formed human chains, wielded sledgehammers and drills, used infrared technology and specially-trained dogs to hunt for survivors.
They swarmed over the site in such numbers it was often hard to see the mounds of rubble and concrete beneath them.
Every so often this frenzy of activity came to a dramatic halt if those on the front line thought they may have found a sign of life.
The sea of hard hats then stood motionless and silent in unison, their generators and lights extinguished. During one of these eerie moments, one person fidgeting with their zipper was enough to make the entire crowd turn to look.
Another large rescue operation has concluded at the city's Enrique Rébsamen school, where 11 children were rescued and 19 children and six adults were confirmed killed.
A sense of urgency permeated the scene as more than 700 rescue workers — some from as far away as Taiwan and Israel — continued digging after two days without sleep. Authorities told NBC News they were working on the assumption that survivors would be able to last only about four days.
There was also confusion among the rubble and carnage.
The story of Frida Sofia, a 12-year-old supposedly trapped under the remains of the school, captivated Mexico and appeared on media outlets around the world — including NBC News. She reportedly wiggled her fingers and told rescuers her name.
Local broadcaster Televisa spoke with rescuers who said they spotted a girl and had even spoken with her. They said they were "pretty sure" there was a girl alive in the rubble but couldn't pinpoint her location.
But officials later suggested she may never have existed.
"We want to emphasize that we have no knowledge about the report that emerged with the name of a girl," navy Assistant Secretary Angel Enrique Sarmiento told the Associated Press on Thursday. "We never had any knowledge about that report, and we do not believe — we are sure — it was not a reality."
Sarmiento said a camera lowered into the rubble showed blood where an injured person may have dragged themselves out — but there were no wiggling fingers and no name.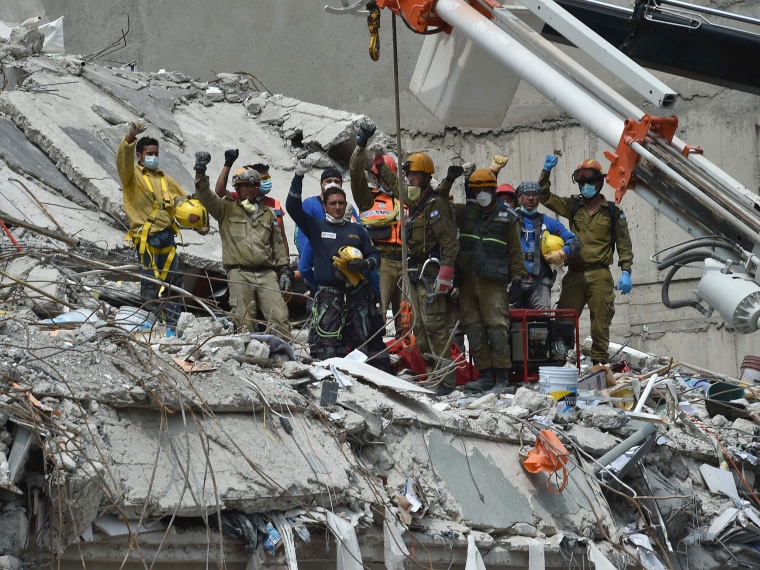 An elite disaster team organized by the U.S. Agency for International Development — including 60 Los Angeles County firefighters and five search dogs — arrived in Mexico City on a C-17 transport from Travis Air Force Base, California. U.S. authorities said the plane was delivering 62,000 pounds of equipment and medical supplies.
"Let there be no doubt: The search-and-rescue work in collapsed buildings continues," said President Enrique Peña Nieto, who visited hard-hit areas of Puebla, near the epicenter, on Thursday. "We are not going to suspend until the last of the survivors has been found."
Related: How to Help Victims of the Mexico Quake
In a heartening sign of progress, meanwhile, the Federal Electricity Commission said Thursday night that electricity had been restored to 95 percent of customers who were affected.
The Mexican soccer league, Liga MX, announced that all matches set for this weekend had been postponed until October.
"We're inviting all our fans to participate and help at different collection centers in support of those affected by the earthquake September 19," the league said in a statement.
Two of the national team's biggest stars, Javier Hernández, the striker known as Chicharito who plays for West Ham United in the England Premier League, and Miguel Layún, a defender for Porto in the Portuguese league, set up a fundraising effort called #YoXMéxico to coordinate contributions to relief efforts.
The actress Salma Hayek launched a similar campaign on Crowdrise to support UNICEF relief efforts and donated the first $100,000 herself.
Steve Patterson and John Cheang reported from Mexico City. Alexander Smith reported from London. Alex Johnson reported from Los Angeles.