Al Jazeera is calling for a Global Day of Action with a focus on social media Thursday to demand the immediate release of four of its journalists who have been locked up in Egypt's prisons for months.
Mohamed Fahmy, Peter Greste and Baher Mohamed, all journalists from the Qatar-based network, were detained on Dec. 29, 2013, and accused of spreading false news and belonging to a terrorist group. They were scheduled to stand trial on Feb. 21, but the trial was adjourned until March 5. Abdullah Al Shamy was also detained more than six months ago without charge and has been on a hunger strike since Jan. 23.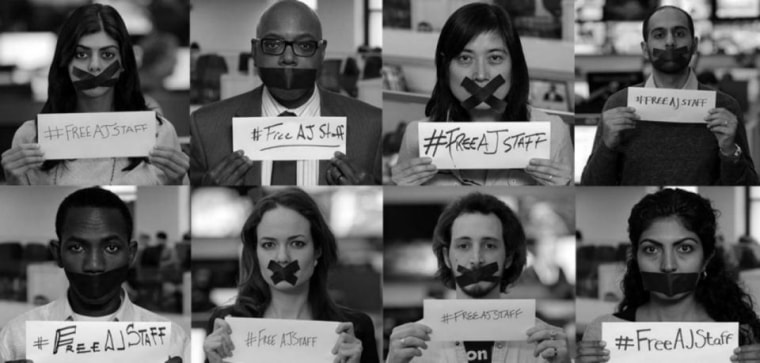 "Al Jazeera hopes through the attention of the world's media and partners, pressure can be brought to bear on the Egyptian authorities to hasten the release of Peter Greste, Mohammed Fahmy, Baher Mohamed and Abdullah Al Shamy by reminding them in a united voice, that journalism is not a crime," the media network said in a statement issued on Wednesday.
Journalists around the world are showing support on Twitter using the hashtag #FreeAJStaff, and Al Jazeera is encouraging participation through the social media amplification tool Thunderclap.