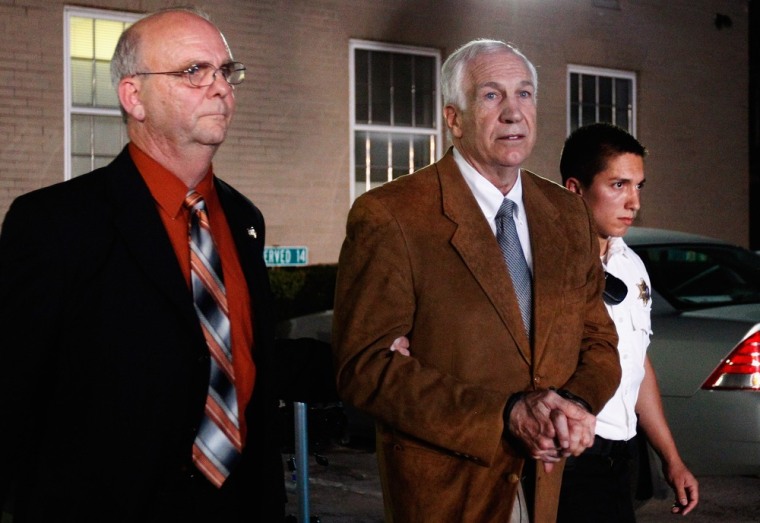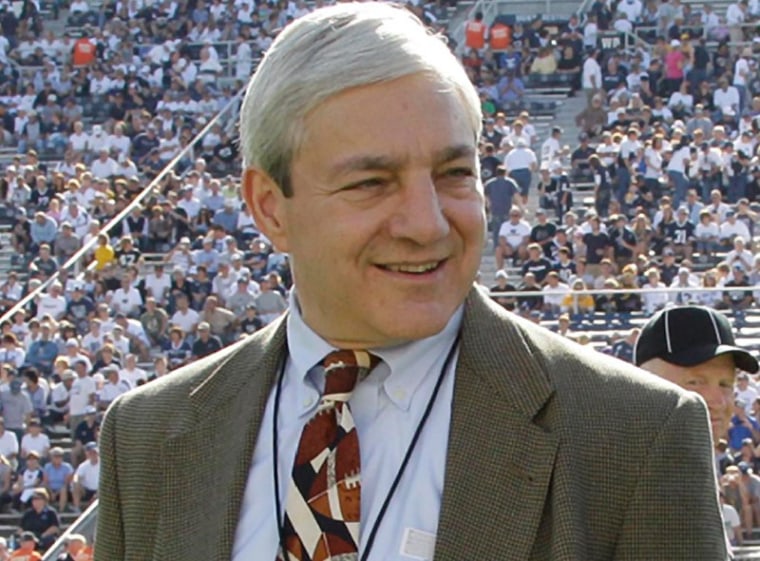 The following is a timeline of significant events laid out in Louis Freeh's report on Penn State's involvement in the Jerry Sandusky sexual abuse case. The victims are referred to in the same manner as the grand jury presentment. The Freeh timeline can be found on pages 19-30 of his report (.pdf file).
Following the Freeh timeline are events laid out in an NBC Sports timeline.
1969: Sandusky joins the Penn State football coaching staff.
Feb. 1998: After learning that Paterno has told Sandusky that he would not become the next head football coach, athletic director Tim Curley begins discussions with Sandusky about other positions at the University, including an Assistant AD position that Sandusky turns down. Curley keeps University President Graham Spanier and Vice President Gary Schultz informed by email.
May 3, 1998: Sandusky assaults Victim 6 in Lasch Building shower.
May 4-30, 1998:
Victim 6's mother reports to the University Police Department that Sandusky showered with her 11‐year-old son in the Lasch Building on the Penn State campus. The police promptly begin an investigation.
Schultz is immediately informed of the investigation and notifies Spanier and Curley. Schultz's confidential May 4, 1998 notes about Sandusky state: "Behavior – at best inappropriate @ worst sexual improprieties" and "At min – Poor Judgment." Schultz also notes: "Is this opening of pandora's box?" and "Other children?"
University Police Department Chief Harmon emails Schultz: "Weʹre going to hold off on making any crime log entry. At this point in time I can justify that decision because of the lack of clear evidence of a crime."
Curley notifies Schultz and Spanier that he has "touched base with" Paterno about the incident. Days later, Curley emails Schultz: "Anything new in this department? Coach is anxious to know where it stands."
Board meeting on May 15: Spanier does not notify the Board of the ongoing investigation.
Report: Paterno, others hid Sandusky sexual abuse
June 1998:
District Attorney declines to bring charges against Sandusky.
University Police detective and Department of Public Welfare case worker interview Sandusky in Lasch Building so as not to put Sandusky "on the defensive." Sandusky admits hugging Victim 6 in the shower but says there was nothing "sexual about it." The detective advised Sandusky not to shower with any child. Sandusky stated he "wouldn't."
Harmon emails Schultz: officers "met discreetly" with Sandusky and "his account of the matter was essentially the same as the child's." Sandusky said "he had done this with other children in the past. Sandusky was advised that there was no criminal behavior established and that the matter was closed as an investigation."
Schultz emails Curley and Spanier: "I think the matter has been appropriately investigated and I hope it is now behind us."
Read the the full investigative report here
June 1998: Curley emails Spanier and Schultz: Sandusky wants to coach one more year and then transition to an outreach program.
May-August 1999:
Sandusky writes a letter to Curley saying, because he will not be next head football coach, he is considering retirement. Sandusky also seeks "to maintain a long‐term relationship with the University."
Curley emails Spanier and Schultz, discussing Sandusky's retirement options: "Joe did give him the option to continue to coach as long as he was the coach." Suggests possibility of Sandusky "coaching three more seasons."
Sandusky proposes continuing connection with Penn State, including running a middle school youth football camp and finding "ways for [Sandusky] to continue to work with young people through Penn State." Paterno handwriting on the note states: "Volunteer Position Director – Positive Action for Youth."
A retirement agreement with Sandusky is reached in June 1999, including an unusual lump sum payment of $168,000, an agreement for the University to "work collaboratively" with Sandusky on Second Mile and other community activities, and free lifetime use of East Area Locker Room facilities.
As the retirement package is being finalized, Curley requests the emergency re‐hire of Sandusky for the 1999 football season, which is approved.
In August 1999, Sandusky is granted "emeritus" rank, which carries several privileges, including access to University recreational facilities. Documents show the unusual request for emeritus rank originated from Schultz, was approved by Spanier, and granted by the Provost, who expressed some uneasiness about the decision given Sandusky's low academic rank and the precedent that would be set.
Stay informed with the latest headlines; sign up for our newsletter
December 1999: 
Sandusky brings Victim 4 to 1999 Alamo Bowl in Texas.
Sandusky assaults Victim 4 at team hotel.
November 2000:
Sandusky assaults Victim 8 in Lasch Building shower.
Janitor observes assault by Sandusky, but does not report the assault for fear that "they'll get rid of all of us." Another janitor concludes that the University will close ranks to protect the football program.
Feb. 9, 2001:
Sandusky assaults Victim 2 in Lasch Building Shower.
McQueary witnesses the assault by Sandusky.
Feb. 10-12, 2001:
McQueary reports the assault to Paterno on Saturday, February 10; Paterno tells McQueary, "you did what you had to do. It's my job now to figure out what we want to do."
Paterno reports the incident to Curley and Schultz on Sunday, February 11 as Paterno did not "want to interfere with their weekends."
On Sunday, February 11, Schultz consults with university outside counsel Wendell Courtney "re reporting of suspected child abuse."
On Monday, Spanier, Schultz and Curley meet to discuss a situation that Spanier describes as "unique", and a "heads‐up" meeting; Schultz's confidential notes indicate he spoke to Curley, reviewed the history of the 1998 incident, and agreed that Curley would discuss the incident with Paterno and recommend that Curley meet with Sandusky. Schultz notes state: "Unless he confesses to having a problem, [Curley] will indicate we need to have DPW review the matter as an independent agency concerned w child welfare."
Schultz asks University Police Department Chief Harmon if the report of the1998 incident is in police files; Harmon responds that it is.
Feb. 25 - 26, 2001:
Spanier, Schultz and Curley meet and devise an action plan, reflected in Schultz's notes: "3) Tell chair* of Board of Second Mile 2) Report to Dept of Welfare. 1) Tell JS [Sandusky] to avoid bringing children alone into Lasch Bldg *who's the chair??" The plan is confirmed in a subsequent email from Schultz to Curley.
Feb. 27 - 28, 2001:
Curley emails Schultz and Spanier and says he [Curley] has changed his mind about the plan "after giving it more thought and talking it over with Joe [Paterno] yesterday." Curley now proposes to tell Sandusky "we feel there is a problem" and offer him "professional help." "If he is cooperative we would work with him to handle informing" the Second Mile; if Sandusky does not cooperate, "we don't have a choice and will inform"DPW and the Second Mile. "Additionally, I will let him know that his guests are not permitted to use our facilities."
Spanier emails Curley and Schultz: "This approach is acceptable to me."He adds: "The only downside for us is if the message isnʹt 'heard' and acted upon, and we then become vulnerable for not having reported it. But that can be assessed down the road. The approach you outline is humane and a reasonable way to proceed."
Schultz concurs with the plan in an email to Curley and Spanier: "this is a more humane and upfront way to handle this." Schultz adds, "we can play it by ear" about informing DPW of the assault.
Ghosts of Sandusky's dreams haunt empty home where his charity was born
March 5, 2001:
Scheduled date of meeting between Curley and Sandusky. In his 2011 Grand Jury testimony, Curley said he told Sandusky "we were uncomfortable" about the incident and would report it to the Second Mile. Curley says he also told Sandusky to stop bringing children to the athletic facilities. Sandusky's counsel later reports that no accusation of sexual abuse was made at this meeting and that Sandusky offered to provide the name of the boy to Curley, but Curley did not want the boy's name.
March 16, 2001: Board of Trustees meeting: Spanier does not report the Sandusky incident tothe Board.
March 19, 2001: Curley meets with the executive director of the Second Mile and "shared the information we had with him." The Second Mile leadership concludes the matter is a "non‐incident," and takes no further action.
July 24, 2001: Schultz leads a transaction to sell a parcel of University property to TheSecond Mile for $168,500 – the same as the University's 1999 acquisition cost.
August 2001: Sandusky assaults Victim 5 in Lasch Building shower.
Sept. 21, 2001: Board of Trustees meeting: Board approves land sale to The Second Mile; neither Spanier nor Schultz disclose any issue concerning Sandusky.
Jan. 7, 2010: The University receives subpoenas from the Pennsylvania Attorney General for personnel records and correspondence regarding Sandusky.
Sept. 16, 2010: Patriot‐News reporter contacts Spanier; the two exchange emails as to Spanier's knowledge of an investigation of Sandusky for suspected criminal activity while he was a Penn State employee.
Dec. 28, 2010 - Jan. 11, 2011:
Then‐Penn State General Counsel Cynthia Baldwin speaks to the Attorney General's Office staff about Grand Jury subpoenas for Schultz, Paterno and Curley; alerts Spanier of subpoenas; meets with Schultz, Paterno and Curley to discuss Sandusky; and calls former University outside counsel Wendell Courtney about his knowledge of Sandusky.
Courtney emails Schultz: Baldwin "called me today to ask what I remembered about JS issue I spoke with you and Tim about circa eight years ago. I told her what I remembered. She did not offer why she was asking, nor did I ask her. Nor did I disclose that you and I chatted about this."
Courtney emails Baldwin that "someone … contacted Children and Youth Services to advise of the situation so that they could do whatever they thought was appropriate under the circumstances, while being apprised of what PSU actions were, i.e., advising JS to no longer bring kids to PSUʹs football locker rooms."
Jan. 12, 2011: Schultz, Paterno and Curley testify before the grand jury.
March 31, 2011: Patriot‐News publishes article on Sandusky investigation.
April 1, 2011: A Trustee emails Spanier, asking if the Board will be briefed about the Sandusky investigation reported in the paper. Spanier tells the Trustee: "Grand Jury matters are by law secret, and I'm not sure what one is permitted to say, if anything. I'll need to ask Cynthia [Baldwin] if it would be permissible for her to brief the Board on the matter."
April 13, 2011: The Trustee emails Spanier again: "despite grand jury secrecy, when high ranking people at the university are appearing before a grand jury, the university should communicate something about this to its Board ofTrustees." Spanier responds, downplaying the significance of the investigation: "Iʹm not sure it is entirely our place to speak about this when we are only on the periphery of this." Spanier asks Baldwin to call theTrustee.
Spanier appears before the Grand Jury.
Spanier separately emails Baldwin, noting "[the Trustee] desires near total transparency. He will be uncomfortable and feel put off until he gets a report."
Matt Sandusky: From staunch defender to father's most damning accuser
April 17, 2011: Spanier, Baldwin and then Board Chair Garban have a conference call to discuss the Sandusky Grand Jury.
May 12, 2011: Board of Trustees meeting: Spanier and Baldwin brief Board on status of Grand Jury investigation; Spanier and Baldwin downplay importance of the investigation to Penn State. The Board asks a few limited questions.
July 15, 2011: Board of Trustees meeting: Spanier and Baldwin do not update the Boardon the Sandusky investigation. The Board does not ask about the Sandusky investigation.
Sept. 9, 2011: Board of Trustees meeting: Spanier and Baldwin do not update the Boardon the Sandusky investigation. The Board does not ask about the Sandusky investigation.
Oct. 27-28, 2011:
Baldwin receives information on upcoming Grand Jury indictment.
Baldwin, Spanier and Curley meet; Baldwin and Spanier also meet with Garban.
Spanier, Baldwin, Garban and staff draft press statement expressing"unconditional support" for Schultz and Curley.
Oct. 29, 2011: Sandusky attends Penn State home football game and sits in Nittany Lion Club in Beaver Stadium.
Nov. 4, 2011: Courtney emails Schultz a newspaper story about the Sandusky charges.Schultz replies: "I was never aware that 'Penn State police investigated inappropriate touching in a shower' in 1998."
Criminal charges filed against Sandusky in Centre County; Grand Jury presentment attached as Exhibit A to criminal complaint.
Criminal charges are filed against Schultz and Curley in Dauphin County;Grand Jury presentment attached as Exhibit A to criminal complaint.
Nov. 5, 2011:
Sandusky is arrested.
Grand Jury presentment released, noting there was no "attempt to investigate, to identify Victim 2 or to protect that child or any others from similar conduct, except as related to preventing its re‐occurrence on University property."
A trustee asks Spanier, "What is going on, and is there any plan to brief the Board before our meeting next week?" Baldwin advises Spanier to tell theTrustee, "you are briefing the chair and the Board will be briefed next week."
Spanier issues a press release expressing "unconditional support" forSchultz and Curley; with regard to child victims, Spanier only states,"Protecting children requires the utmost vigilance."
Spanier emails Baldwin: Spanier says that if the Board is briefed, "it will be nothing more than what we said publicly." The Board meets on a conference call that evening.
A senior administrator suggests an independent review of Penn State's intercollegiate athletics. Baldwin replies, "If we do this, we will never get rid of this group in some shape or form. The Board will then think that they should have such a group." Spanier agrees.
November 6, 2011: Board of Trustee meeting: Board places Curley on administrative leave; Schultz re‐retires. Spanier issues a second press release stating that Curley and Schultz voluntarily changed their employment status. Board members disagree and express frustration at changed tone of press release. Spanier says he only made "grammatical" edits to the press release.
Nov. 7, 2011:
Pennsylvania Attorney General and Pennsylvania State Police Commissioner announce charges against Sandusky, Schultz and Curley at a press conference.
A Trustee writes to other Board members: "Unfortunately the statement that was issued last night, in my opinion, did not reflect the sense of the Board."
Nov. 8, 2011: Board of Trustees conference call: Third press release issued, expressing"outrage" at the "horrifying details" of the Grand Jury presentment, and announcing the formation of an investigative task force to review issues relating to the criminal charges.
Nov. 9, 2011: 
Board of Trustees meeting: Board removes Spanier as President; names Rodney Erickson as Interim President (becomes permanent President on November 17, 2011); removes Paterno as Head Football Coach.
Board sends message to Paterno to phone the Board Vice Chair, who telephonically notifies Paterno that he is no longer Penn State's Head Football Coach.
Board holds press conference announcing its actions.
Students demonstrate in protest on Penn State campus.
From NBC Sports timeline of events that followed:
Nov. 18, 2011: One of Paterno's sons says the ousted coach has been diagnosed with a treatable form of lung cancer.
Nov. 30, 2011: A new accuser files the first lawsuit against Sandusky, The Second Mile and Penn State. The 29-year-old man says Sandusky sexually abused him more than 100 times. Sandusky has not been criminally charged in this particular case.
Dec. 7, 2011: The Pennsylvania Attorney General's office and state police, acting on recommendations from a statewide grand jury, charge Sandusky - already indicted on 40 counts for abusing eight boys - with a further 12 counts of abusing two more boys. Sandusky is arrested again and held on bail of $250,000 in cash.
Analysis: Prosecution presented strong case against Jerry Sandusky
Dec. 8, 2011: Sandusky posts bail and is released on house arrest, wearing an electronic monitoring device. His wife, Dorothy, issues a statement saying the allegations against Sandusky are "absolutely untrue."
Dec. 13, 2011: Sandusky abruptly waives his right to a preliminary hearing, meaning his case will go to trial unless there is a plea agreement.
Jan. 22, 2012: Paterno, 85, dies of lung cancer. Days later, his funeral procession through State College attracts thousands. Months later, the Paterno estate receives $5.5 million in severance and Paterno's pension from Penn State is calculated to be $13.4 million.
Feb. 1-13, 2012: Prosecutors tell the court they want the trial to be heard by a jury from another part of Pennsylvania, not Centre County where Sandusky lives. McKean County Senior Judge John Cleland, who took over the case after Centre County judges recused themselves citing ties to Penn State, denies that request.
March 9, 2012: Federal Insurance Company, hired by The Second Miles to insure its officers, files suit in federal court to stop paying Sandusky's claims to cover his legal defense. Federal Insurance has so far paid $125,000 to Sandusky's attorney, Joe Amendola.
March 22 - April 9, 2012: Sandusky petitions the court to dismiss all charges against him. Judge Cleland pushes start of trial to June 5 and issues a "gag order" that prevents both sides from talking to the media about the case.
May 3, 2012: Amendola reveals in court filings that more than 18 people have made allegations that they were sexually abused by Sandusky.
May 8-June 1, 2012: Sandusky asks for a further delay in the start of his trial, scheduled to begin with jury selection on June 5, but the judge denies the request. Sandusky also asks for dismissal of charges tied to the alleged abuse of victims 2, 6 and 8.
Stay informed with the latest headlines; sign up for our newsletter
May 25, 2012: The Second Mile announces plans to close and shift $2.5 million in assets to a Texas charity, Arrow Child & Family Ministries.
June 5, 2012:- Trial begins with jury selection.
June 6, 2012: Selection of a jury of seven women and five men plus four alternates is completed.
June 11, 2012: Opening arguments begin.
June 21, 2012: The jury begins deliberation after closing arguments from the defense and prosecution.
June 22, 2012: The jury finds Sandusky guilty of 45 of the 48 charges against him: 25 felonies and 20 misdemeanors. He is led from the courthouse in handcuffs and driven away in a police cruiser.
More content from msnbc.com and NBC News: