The son of Equatorial Guinea's president used money plundered from his country to buy property and luxury cars, according to a French court which found him guilty in absentia on Monday.
Teodorin Obiang, eldest son of President Teodoro Obiang and a vice-president himself, was also handed a three-year suspended prison sentence and a suspended $35 million fine.
The Paris court found Obiang, 48, guilty of embezzlement, and ordered the confiscation of more than 100 million euros worth of his French assets. He denied the charges.
Obiang is also accused of spending millions of dollars allegedly linked to corruption, embezzlement and extortion in his oil-rich African nation to feed his opulent lifestyle of fast cars, designer clothes, works of art and high-end real estate.
The case is the first of several to reach court in a broader judicial investigation into allegations of illicit acquisitions in France by long-time leaders and family relatives in several African countries including Gabon and Congo Republic.
Obiang — also named Teodoro like his father but known as Teodorin — was first put on trial in January but the case, 10 years in the works, was postponed after his lawyers argued they had not had enough time to prepare his defense.
Prosecutors at the time said Obiang's assets do not tally with his salary. According to a parallel U.S. inquiry, he earned $80,000 a year as farming and forestry minister, a post that obliged him to refrain from other business dealings.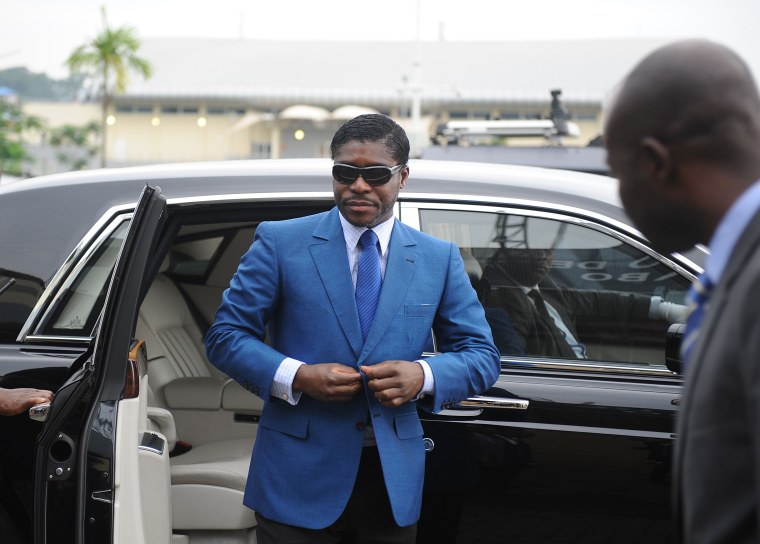 Obiang's luxury residence on Paris' Avenue Foch — a grand, sweeping road near the Arc de Triomphe often favored by wealthy African expatriates and politicians — was among the assets scrutinized during the trial.
The property, bought for $29 million in 2005, had a gym, hair-dressing studio and disco with cinema screen.
According to court documents, Obiang bought up to 15 cars in France for $6.6 million and once splashed nearly $23 million at an art auction. A governess and others employed by him in Paris told investigators that their boss came to France with suitcases full of cash and paid mainly in cash for luxury goods.
Paris prosecutor Jean-Yves Lourgouilloux said Obiang's "fraudulent spending" amounted to more than $174 million.
But Obiang's lawyer accused France of meddling in Equatorial Guinea's domestic affairs.
Obiang's father, President Teodoro Obiang Nguema Mbasogo, has ruled Equatorial Guinea, a former Spanish colony, for more than three decades, making him one of Africa's longest-serving leaders, and rights groups have labeled his administration as one of the world's most corrupt.
The case highlighted the well-known corruption and mismanagement of the economy of Equatorial Guinea and the dramatic gap between the privileged ruling class of the central African country and much of its population, which thrives mainly on subsistence farming.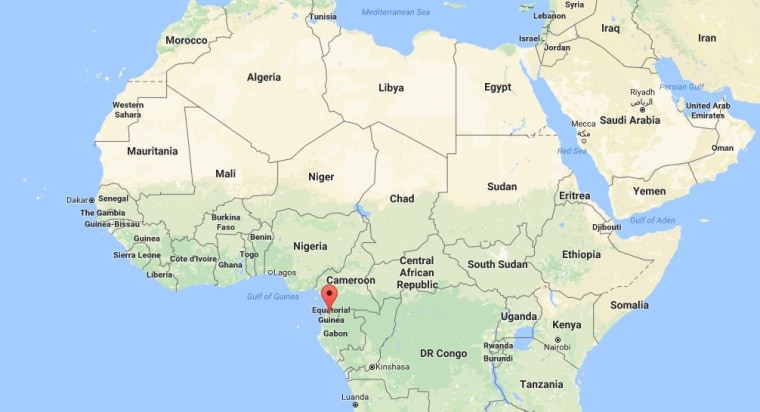 Representing Transparency International, which helped bring the case, lawyer William Bourdon praised the court for issuing a "historic verdict."
"It is the beginning of the end for this rule of impunity and immunity that these kleptocrats imagined was eternal and universal," Bourdon said. "This court, with independence and courage, clearly states that the counts of laundering were made possible because of a form of tolerance at three levels. The tolerance of the Societe Generale bank. The tolerance of the Bank of France. The tolerance of French authorities."