PARIS — Emmanuel Macron's decisive victory brought huge relief in Europe Monday, but Marine Le Pen's almost 11 million votes — more than 1 in 3 of the total cast — was a record-setting peak for her far-right party.
Le Pen, whom a French court once ruled can be referred to as a "fascist," immediately vowed to consolidate the Front National (FN) into a permanent "new political force."
The 39-year-old Macron's triumph, by an even greater margin than polls had dared to predict, gave markets an early lift and sent the euro currency to a six-month high against the dollar.
He notched up 66 percent of votes cast for candidates, against just under 34 percent for Le Pen.
However, some 16 million voters either stayed away — the highest abstention rate since 1969 — or submitted blank ballot papers in a rejection of both second-round candidates.
Related: Young 'Knight' Defeated Far Right — and Married His Teacher
Le Pen, 48, declared she was now the main opposition in France and called on "patriots" to join her and the FN in a renewed effort to fight "globalists," suggesting she sees no sign of the populist wave cresting.
Her performance marked the transformation of an anti-European Union, anti-immigration party widely viewed as racist, xenophobic and anti-Muslim.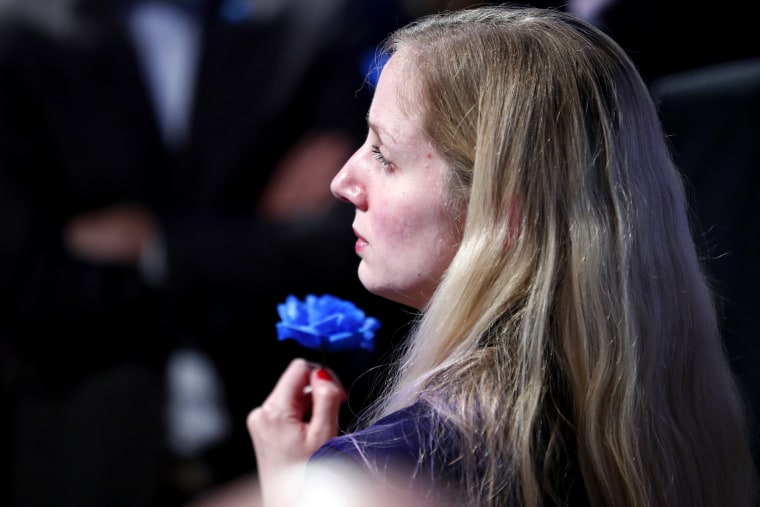 Le Pen's tally was almost double the score that her father Jean-Marie, the last far-right candidate to make the presidential runoff, achieved in 2002. His surge led to violent protests, but there has been no such sentiment after Sunday's poll.
And while Macron defeated Le Pen in every age group, she achieved higher support among younger voters, according to early analysis of voting by polling group Ipsos.
Mathieu Brichard, 39, said the election outcome was "very bad news" and that he had reluctantly voted for Macron.
"I'm pissed, for two reasons: First, we had to vote for a president that we do not want, and second because Marine Le Pen scored twice as much as her father in 2002," he said. "There are people who need more protection than I do and who would have been impacted in a very bad way if Le Pen had become president."
"I feel relief in this moment, but I feel that in 5 or 10 years, we will have a problem in France," teacher Dora Marques, 43, told NBC News in Paris. "We have to continue to fight against fascism. It's painful."
Le Pen' s FN is now focused on nationwide parliamentary elections, to be held in two rounds on June 11 and 18, and on the next presidential campaign in 2022.
In a defiant concession speech, Le Pen said she would reform the party to reach a broader wider spectrum of voters — her deputy even floated a possible change of name — and pledged to seek support from "those who choose France, defend its independence, its freedom, its prosperity, its security, its identity and its social model."
"I will be at the head of this fight," she added.
Her 27-year-old niece, Marion Marechal-Le Pen, called for "reflection" after the result.
FN currently has only two lawmakers out of 577 in the French national assembly, but hopes to capitalize on the inexperience of Macron's fledgling "En Marche!" movement, which must quickly field hundreds of untested candidates.
"Macron as president can essentially sign off on his reforms by executive order, but that's not really the way to govern," said Vivienne Walt, a Paris-based analyst and correspondent for TIME. "If he doesn't get a majority in the legislature then he will have problems."
Walt said the FN was hoping to get "dozens" of lawmakers elected on the back of Le Pen's performance, most likely in her strongholds of the northern rust belt and southeast France.
However, she added that "if you don't have a certain critical mass then you can make very little impact, you just become a voice of protest."
In an address at his campaign headquarters, Macron said he understood voters' unhappiness.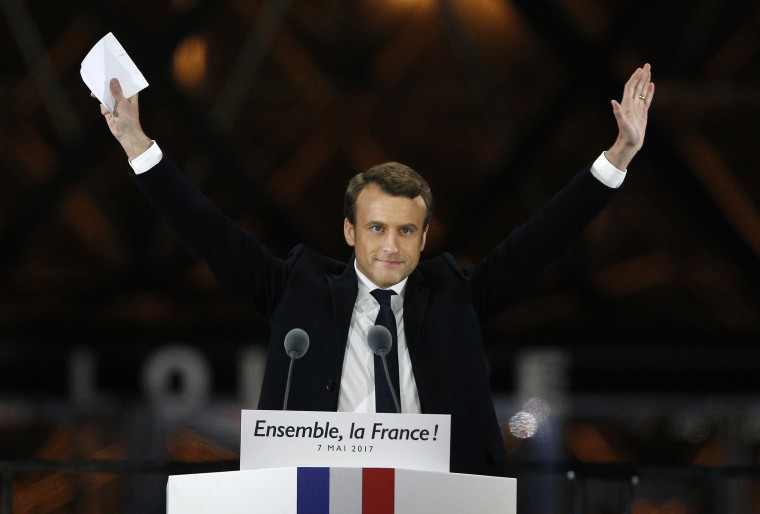 "I know the divisions in our nation, which have led some to vote for the extremes. I respect them," he said. "I know the anger, the anxiety, the doubts that very many of you have also expressed. It's my responsibility to hear them."
James Shields, professor of French politics and modern history at Britain's Aston University, said Le Pen position herself as "the natural candidate of a reconfigured right in 2022," adding that her millions of votes "would also show how far the once-toxic FN has been normalized."
Sunday's result also underscores a deep geographical divide in France. In Paris, 90 percent of voters backed Macron — in contrast to rural areas, far from the capital, where Le Pen enjoyed the greatest support. Paris Mayor Anne Hidalgo tweeted that she was "very proud" of Parisians.
No matter the rocky future in French politics, Macron's election was greeted with relief by other European leaders.
Related: Protest Vote for 'Nobody' Was Highest Since 1969
Le Pen had pledged to pull France out of the EU, mirroring Britain's Brexit vote last year, and ditch the euro currency in favour of a return to the French franc.
Instead, European integrationist Macron took a victory walk around the courtyard outside the Louvre to the sound of the EU anthem, Beethoven's "Ode to Joy," and said he would "work to recreate the link between Europe and its peoples, between Europe and citizens."
TIME's Walt said Macron was poised to represent a new European future.
"[German Chancellor Angela] Merkel could win her election this year but she won't be around forever and Macron is very young," she said. "He could represent a new era of leadership now just in France but also in Europe."
Karine Filhoulaud, a communications consultant who became an online hit thanks to her dance moves during Macron's first-round rally, said the president-elect "is dynamic, very open to dialogue as he proved it during his campaign."
She added "He also wants to put France forward diplomatically, ecologically and economically."