French President Emmanuel Macron became the latest world leader to contract coronavirus Thursday, as countries across Europe struggle to suppress a spike in infections in the run-up to Christmas.
The Élysée Palace, Macron's official residence, confirmed the news in a statement that said he was tested as soon as his symptoms appeared. All his planned trips have been cancelled, including a trip to Lebanon.
British Prime Minister Boris Johnson became the first Western leader to get the virus in April and spent a week in a London hospital. Other presidents followed, including President Donald Trump who received hospital treatment in October.
Macron will isolate for seven days and continue to work remotely, the according to the Élysée statement.
The French president has led a typically busy schedule in the last past week, putting him in close contact with senior French and European politicians.
On Wednesday, he met Portugal's prime minister, António Costa, for a joint press conference and working lunch at the Élysée. Pictures from the meeting show both men in close contact.
The prime minister of Spain, Pedro Sanchez, will isolate for 10 days after meeting with Macron at an event in Paris on Monday, his office said.
Brigitte Macron, the president's wife, is isolating but not experiencing symptoms, her office confirmed in a statement.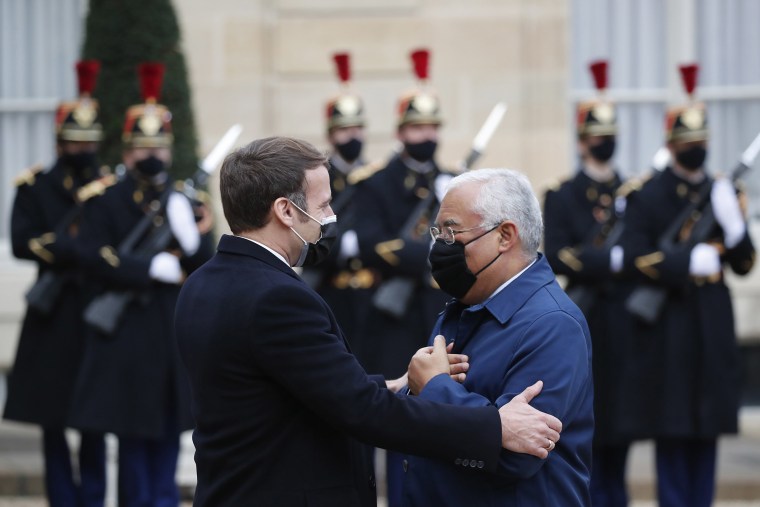 Just six days ago Macron, one of the European Union's key figures, was at a European Council meeting in Brussels with the bloc's most senior figures and the leaders of all 26 member states. The Élysée' statement does not say when Macron began experiencing symptoms.
The European Commission said Thursday that its president, Ursula Von Der Leyen would not isolate as a result of Macron's positive test.
France, in common with the rest of Western Europe, has suffered severely during the pandemic with more than 2.4 million cases and almost 60,000 deaths in a country of 67 million people.
Macron announced a strict lockdown in October, with the hope of bringing new daily cases down to 5,000 a day, warning that 400,000 people could die if further measures were not taken.
Download the NBC News app for breaking news and politics
Data from Oxford University showed that new infections on Wednesday were more than twice that at over 12,000.
Mass testing centers have been set up in two towns in the hope of stemming the flow of new cases.
Reuters contributed to this report.