The bloody uprising in Syria, which marked its first anniversary Thursday, has been markedly different to other Arab Spring revolts. It has also been documented in a different way.
In contrast to the popular protests that toppled leaders in Tunisia, Egypt, Libya and Yemen last year, the flow of information and images out of Syria has been severely restricted. President Bashar al-Assad's regime has denied visas to many journalists and insists those it does let in be accompanied by government escorts.
To fill this void, photographs have come from a variety of sources. Citizen journalists and activist groups upload videos and reports to YouTube and Facebook. The state-controlled Syrian Arab News Agency distributes photographs. Anonymous photographers work as "stringers" inside Syria, supplying images to foreign news agencies. Finally, a small group of international photojournalists have been smuggled in and out of the country, often with the help of opposition groups.
One of the latter group, Italian photographer Alessio Romenzi, produced a series of photos showing how activists have used their cellphones and laptops to document the uprising. Their amateur videos, often impossible to verify, have nevertheless become the primary source of images of the year-long conflict.
At times the same images have been appropriated by both the government and the opposition , each aiming to pin the blame for massacres on the other.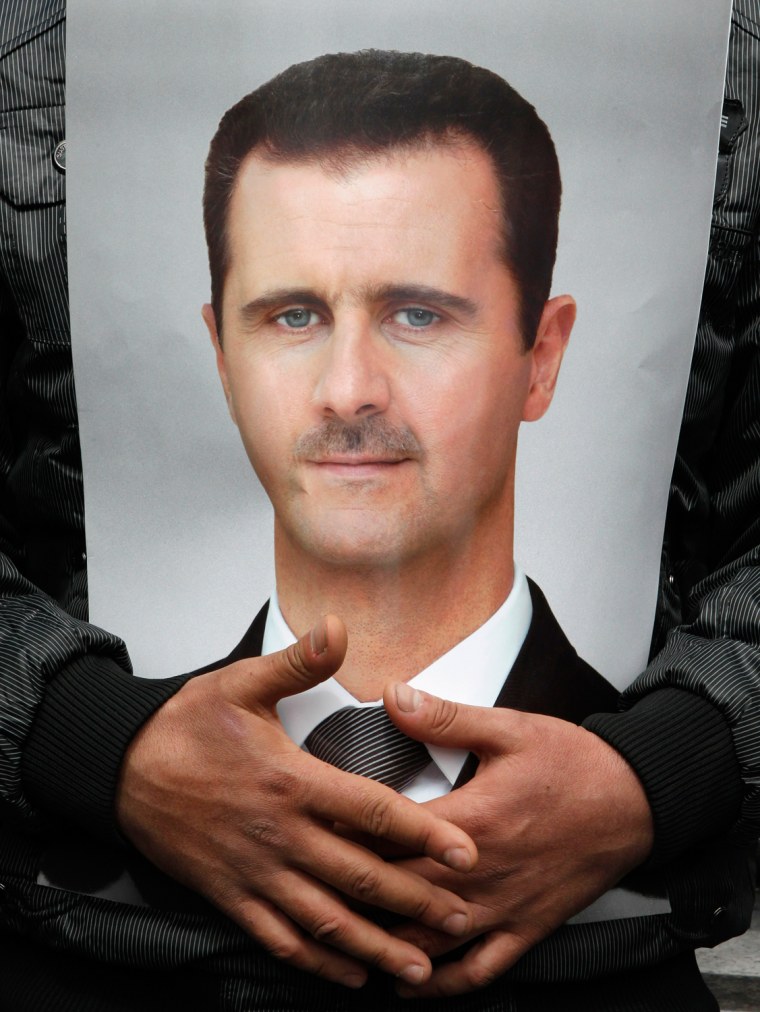 Like the activists, journalists working in Syria face substantial risks. Last month, French photographer Remi Ochlik and American reporter Marie Colvin were killed in army shelling of an opposition stronghold in Homs.
Syrian journalists and bloggers continue to be arrested, according to Reporters Without Borders, which ranked Syria 176th out of 179 countries in its press freedom index.  On Saturday the Syrian Information Ministry issued a warning that journalists who enter the country illegally "are accompanying terrorists, promoting their crimes and fabricating baseless news."
Associated Press photographer Rodrigo Abd, whose pictures of the conflict have been featured on PhotoBlog over the last three weeks, acknowledged the dangers he had faced in taking this path, but said "it was the only way to cover the story properly, without being at the mercy of government minders who try to control what you see and whom you meet."
Another photojournalist, Zohra Bensemra of Reuters, described how the car she was traveling in came under direct attack:
Rockets whizzed above our heads and assault rifles rattled in our direction. But we drove slowly, afraid to speed up lest we draw more attention. Finally, we stopped in an olive grove, where we lay face down in the mud. We could hear shelling, far away and close by. Dusk was falling and we could make out the red tracer of anti-aircraft fire lighting up the sky. They were firing heavy weaponry at journalists. We were not armed. Nor was our guide.
A year on from the first, daring demonstration held by a few dozen protesters in Damascus, the Syrian uprising has become one of the most protracted and bloodiest of all the Arab revolts. 
Photographs, which hold the power to shock, outrage and to shift international opinion, will continue to play a pivotal role in the global response to the conflict, a fact of which Assad seems only too aware. The stifling of independent reporting will almost certainly remain a part of his regime's strategy for survival.