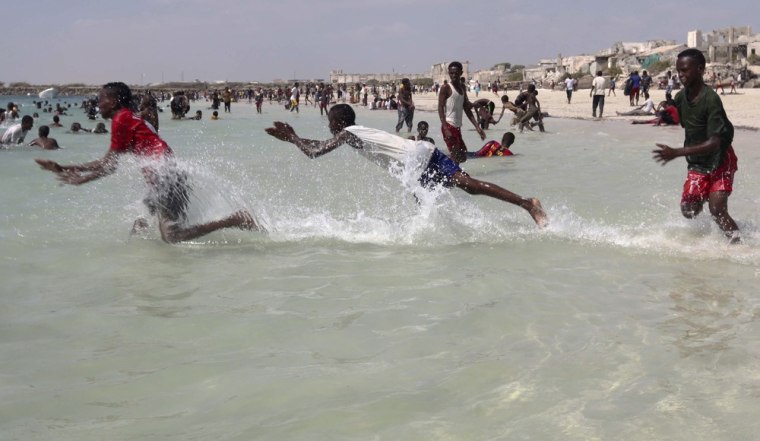 REPORTER'S NOTEBOOK
MOGADISHU, Somalia – I have just returned from a strangely enchanting city. It is a capital city with a chaotic charm, a coastal city with white beaches nearby and stunning architecture everywhere.
You might be surprised to read that I am referring to Mogadishu, Somalia.
It is quite rightly known for being one of the most dangerous places in the world, synonymous with al Qaida-inspired militants, kidnappings, roadside bombs and hunger.
Even when al-Shabaab fighters withdrew from Mogadishu last summer and the fragile national government claimed control, many of the former battlefields were soon reclaimed by squalid camps for starving refugees.
And pockets of violent resistance remained; two Somalis were killed when a bomb exploded at a refugee camp in the city on Thursday, minutes after a visit by journalists and officials from the United Nations.
But look beyond the fear and bloodshed – difficult as that may be – and you can see another side to this city, a side which is largely unknown. I first saw it as I flew in on one of the few commercial flights operating in and out of the ramshackle airport.
Beneath us, as we approached from neighboring Kenya, were sparkling seas and a stunning coastline, minutes from downtown "Mog." It is easy to think of the potential for piracy as you look down on the waters, but it is difficult to ignore the natural beauty, too.
Soon after landing we were quickly confronted with the flip-side: a city that has been brought low by conflict and lower still by famine.
Flimsy shelters have been set up by starving people in the shells of destroyed buildings. Refugees take shade from the sun beneath bullet-marked rooftops. I wondered what the city might have been like had it not been for the years of conflict, insecurity and food crises.
We traveled around the city in a convoy with armed guards protecting us – after all, it is still an incredibly dangerous place. We made our way around the busy streets, traveling farther and for longer than would have been possible six months ago.
We left the camps behind us and voyaged into downtown. People did not seem as consumed by danger or warfare as I had expected. They trade, they chat, they jog and they certainly smile. In fact, I was surprised by how positive they seemed given all that they have endured.
A local told me to visit Bakaara Market, the scene of fighting in recent years but a bustling meeting place, too. He said that the liveliest gatherings are elsewhere at night-time music events. "We do everything in the evening here," he said, though we are told that it is not yet safe enough for us to truly put that claim to the test.
Later, a woman tried to sell us some souvenirs – a T-shirt with the slogan "Beautiful Mogadishu." I was told that tomorrow she would return with picture postcards from the city: a postcard from Mogadishu seems like such a strange idea, but it really shouldn't.
A visit to Mogadishu was never meant to be "normal," and it wasn't. But perhaps this could have been an exotic, idyllic place had it not been for the manmade crises that it has endured over the decades.
One day we might all be able to look at this city again and see the "Beautiful Mogadishu" celebrated on my new T-shirt.
Until then, the impact of lawlessness, terrorism, starvation, poverty, hostage-takings and clan violence continues to destroy it.