MAINZ, Germany – Traditional German folklore will greet President Barack Obama and his counterparts from Canada, France, Italy, Japan and the U.K. when they arrive at Munich's airport to attend the G-7 summit this weekend.
But don't be fooled by the oom-pah band, dirndl dresses, men in Lederhosen and traditional mountain marksmen — the host nation's program is decidedly international in its scope.
As German chancellor Angela Merkel told reporters in Berlin this week in typical understatement: "We have an ambitious agenda for the intensive talks."
WHAT ARE THE MAIN TOPICS ON THE AGENDA?
Officials say that the two-day G-7 summit, which starts on Sunday, will focus on issues such as the fight against terrorism (in particular combating ISIS in Iraq and Syria), the nuclear pact being negotiated with Iran, the Russia-Ukraine conflict and international trade agreements — such as Transatlantic Trade and Investment Partnership (TTIP) between Europe and the United States and Asia-U.S. Trans-Pacific Partnership (TPP).
"The question [of] how to contain, to press Russia, to have a more lenient approach in Ukraine is the most important topic," Henning Riecke from the German Council of Foreign Relations in Berlin told NBC News.
"Another issue is of course Iran, where [the U.S. and Germany] work side by side to bring about a compromise," he added.
The refugee crisis in the Mediterranean and the wars in Syria and Iraq will also be discussed.
Related: Alpine Lockdown: 17,000 Cops Guard G-7 Summit
WILL OTHER ISSUES BE HIGHLIGHTED?
So called sustainable development goals are also on the agenda, according to a recent editorial penned by Merkel, as is worldwide hunger.
"I am convinced that the G-7 should now commit to eliminating hunger and absolute poverty by 2030," she wrote.
Protecting the world's environment is also a major goal for the host nation, with Germany looking to limit the increase in average global temperature to two degrees with binding agreements to reduce emissions worldwide.
Health-related issues are also central points for Germany, like a special focus on tropical diseases and the growing problem of antibiotic resistance.
Merkel has also pledged to discuss how to increase work and professional possibilities for women, saying they should be given the chance of vocational training, especially in developing countries.
WHY IS PUTIN NOT INVITED?
Until last year, the G-7 included Russia and was thus called the G-8. But the June, 2014, summit was held without President Vladimir Putin to protest the country's annexation of Ukraine's Crimea region. With little sign of the fighting in eastern Ukraine ending despite a ceasefire deal agreed in Minsk more than three months ago, the exclusion has continued for a second year.
Not everyone agrees that Russia should be dealt with in this way, and German business groups are calling for Russia to return the leadership meetings.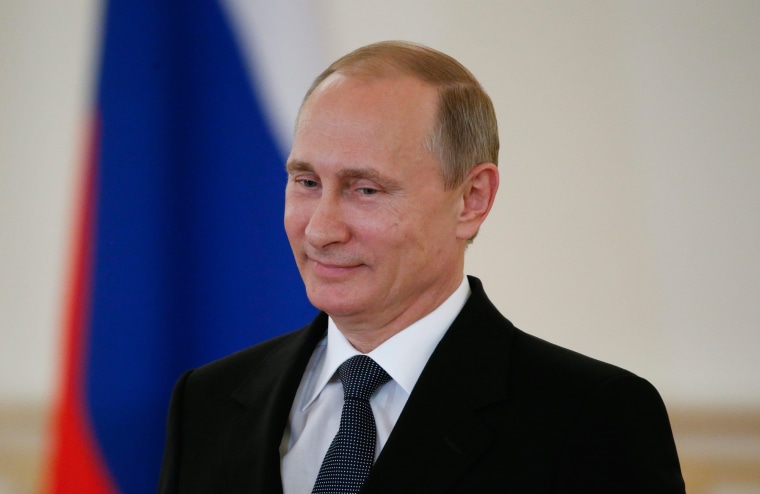 "A G-7 meeting with Russia could contribute to solving crises and stir Russia into constructive steps in the Ukraine conflict," Eckhard Cordes, chairman of Germany's Committee on Eastern Economic relations, told the Welt am Sonntag newspaper. It was always better to talk with each other than about each other, he said.
The German Council of Foreign Relations' Riecke disagreed, saying that a return to G-8 would be difficult given the ongoing bloodshed in Ukraine.
"The G-7 is a forum of strong economic countries, of heads of states who can actually change things in the world, who can forge international relations," he said. "If they included Putin [they would talk] ... about the Russian behavior in Ukraine, about sanctions yes or no [which] would actually take away a lot of potential of the G-7."
WILL THEY TALK ABOUT THE STATE OF TRANSATLANTIC RELATIONS?
The slew of spying scandals that has rocked German-U.S. relations is widely expected to be part of conversations between President Barack Obama and Merkel on the summit's sidelines.
Most recent reports allege that Germany's foreign intelligence service, the BND, carried out extensive surveillance at the request of the U.S. National Security Agency, with targets allegedly including European companies and officials as far back as 2008.
Merkel's approval ratings fell sharply in the wake of the scandals.
"The Germans have the experience of two dictatorships and oppressive regimes in their mind, and this is why they react so harshly," said Riecke, an expert for transatlantic relations. "The problem is that Americans and Germans do not see the surveillance issue as their joint undertaking, that the German secret services, who have cooperated with the NSA — smartly so — are now seen as more or less comrades of the dark side of the force."
But with talks focusing on the "backbone of transatlantic relations" — the economic ties between the U.S. and Germany — Merkel and Obama hope to also improve relations.