To keep the lights on and the machines working at the only blood bank in the Gaza Strip, Palestinians are tapping the one natural resource they have in abundance: sunlight.
Just how vital this energy source is became apparent earlier this month when the power plant in the teeming territory was shut down by the most recent exchange of missile and rocket attacks between Israel and Islamic Jihad in northern Gaza.
But the Central Blood Bank Society, whose rooftop is covered with solar panels, kept operating despite the bombardment that caused widespread power outages across the rest of Gaza.
"Our project helped them, and this escalation was a first test," Sami Matar told NBC News over Zoom from the Gaza Strip.
Matar, who works with the U.S. nonprofit agency American Near East Refugee Aid, or Anera, on solar projects throughout Gaza, said the solar power system installation helped the blood bank operate longer in working hours. He said the generator is often the second alternative when the standard power supply through the fuel-sourced power plant goes out. The whole project cost $46,000, and the panels are estimated to last about 20 years.
Next week, Matar said Anera plans to start the process of submitting a tender for a construction company to install solar panels to power a reverse osmosis unit for an agricultural water well to serve at least seven farms in Rafah. The purpose is to remove salt from the water and assist them with growing more crops. It's anticipated to be completed by the end of September.
A round of violence broke out in Gaza earlier this month, leaving 46 Palestinians dead, including 15 children and four women. Additionally, 360 Palestinians and 70 Israelis were injured in the fighting.
During the attacks, the Gaza power plant shut down, which resulted in power outages for over 20 hours a day. It was only after a cease-fire was declared Aug. 7 that Israelis allowed fuel deliveries to resume via the Kerem Shalom border crossing so the plant could start generating power again.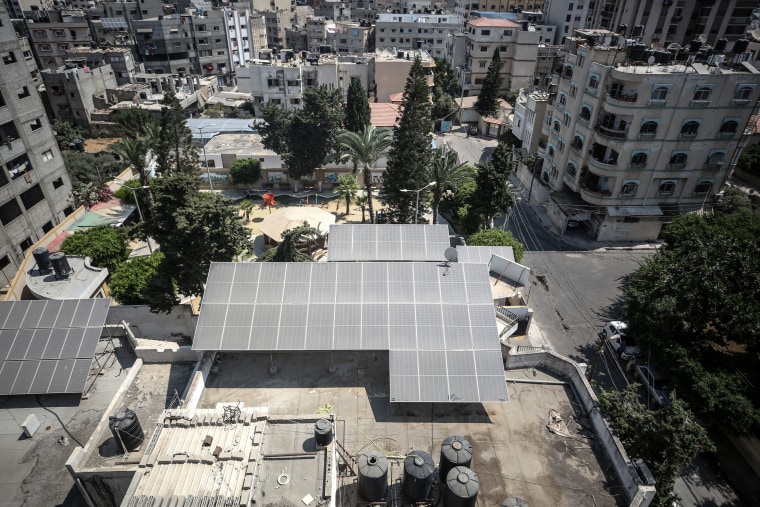 "During an emergency, the health care facilities in Gaza have to work more than 18 hours," Matar said. And the blood bank works to meet the needs of area hospitals and patients.
Basma Abu Hattab, who served as a supervisor on the solar panel installation for the blood blank, said the solar panels add at least 10 more hours of capacity but still advised that the blood bank keep a generator on standby.
"In the escalation, we have a special case because the electricity outage is for 16 hours," Abu Hattab said.
Dr. Mostafa Al-Ghosain is also a part of the Anera team working to remedy this issue. He said Anera fills an urgent need for medical supplies across 26 clinics and hospitals.
Recently, Anera provided about $70,000 worth of blood bag donations for the blood bank that arrived before the latest fighting with Israel, Al-Ghosain said.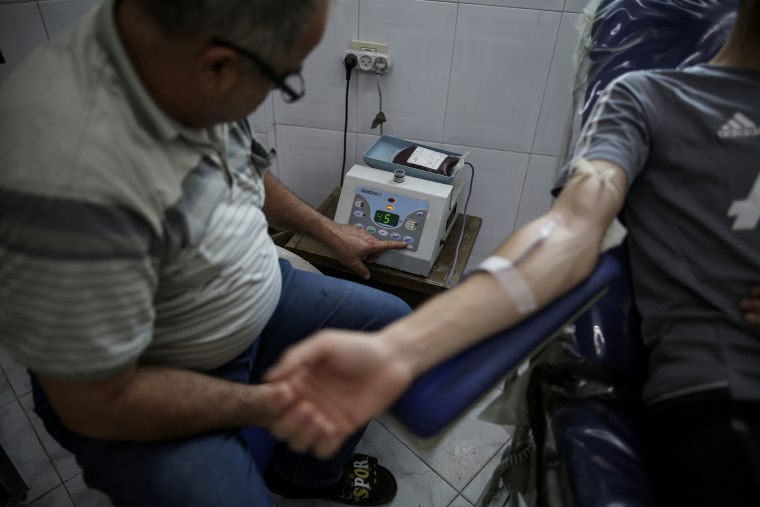 Mohamed Thabet, a spokesman for the Gaza Electricity Distribution Company, said Palestinians are enduring six hours of electricity followed by 12 hours without it since the latest violence. Before, it was eight hours of electricity followed by eight hours with none.
"We try to manage all the energy we have in Gaza, and we need renewable energy in Gaza to reduce the shortage," Thabet told NBC News over Zoom from the Gaza Strip.
Electricity to the Gaza Strip typically comes from three sources, which include 120 megawatts from the Israeli electric company, 60 megawatts from the fuel-dependent Gaza power plant and 30 megawatts from Egypt, but the lines from the Egyptian side have been disconnected since February 2018, Thabet said.
Gaza needs between 500 and 600 megawatts depending on the weather every day, Thabet said. It is receiving less than 40% of its needed energy.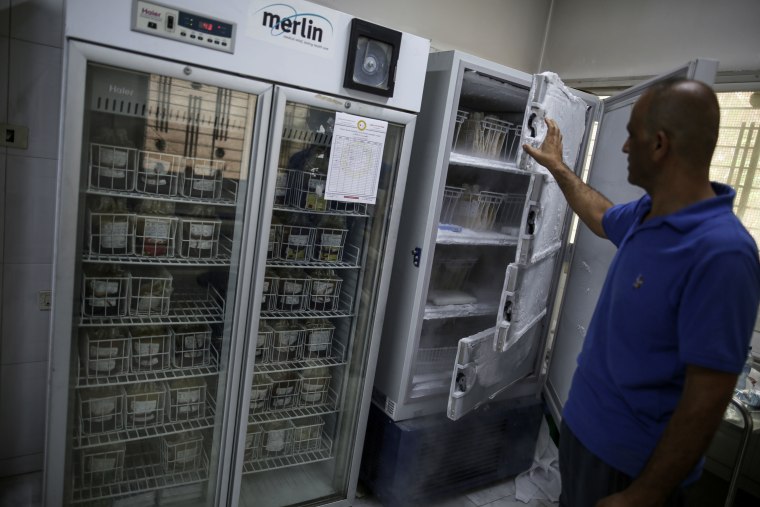 Khaled Elgindy, a senior fellow and program director at the Middle East Institute, said the fuel shortages, blockade and frequent attacks with Israel all affect how the power plant functions in Gaza and the amount of electricity people receive.
In an area where there's a lot more sunlight that could be used for energy, Elgindy said sunlight alone is not enough.
"Theoretically, the sun is an unlimited resource, but of course you need the infrastructure," Elgindy said. "You need solar panels."
The U.S. State Department's Office of Palestinian Affairs said this summer that renewable resources like solar "would also improve Palestinians' access to energy as well as serve environmental goals."
Solar panel investment isn't new to the occupied Palestinian territories, but organizations like Anera are helping the Palestinian territory get access to alternative energy sources and use donations to meet that demand.
The World Bank announced a $23.5 million grant earlier this year to invest in alternative energy sources like solar to advance sustainability in the Palestinian energy sector.
"Obviously, it cannot be used as a base load in a sense because at night, you don't create electricity," Kanthan Shankar, World Bank country director for the West Bank and Gaza, said. "It's an addition to the existing electricity needs, but what happens is that your costs come down if you're able to use more of solar, especially in a situation where costs of fuel keep going up and it's intermittent."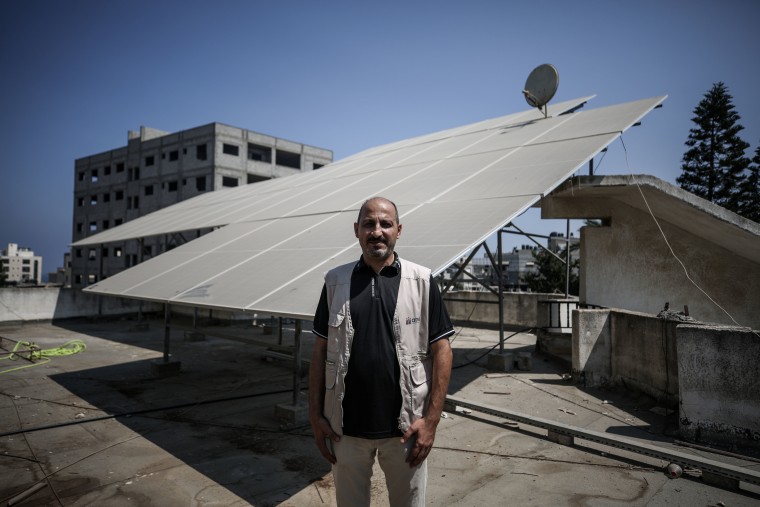 Permission and approval for materials like solar panels and batteries has to come from Israel before they can enter Gaza, which leads to lengthy wait times — as long as a year in some cases, Matar said.
Political instability, however, will continue to impede a long-term solution to the West Bank's and Gaza's energy problems, Elgindy said.
"As long as Gaza is separated from the West Bank, as long as Palestinian leadership is divided, as long as the occupation and blockade continue, the ability of Palestinians to function normally is severely inhibited," he said.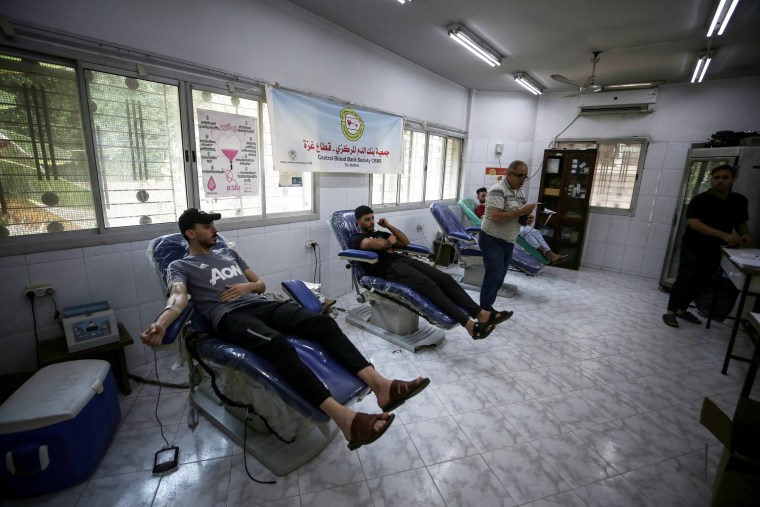 In addition to setting up the blood bank with solar energy, Anera has assisted with bringing solar energy to schools and other facilities in Gaza and the West Bank and parts of Lebanon. It hopes to secure more funds in the future to implement more solar projects and target additional health centers and educational institutions.
"Insha'Allah I hope to see that all the daily challenges that we have, it will end soon, especially the power cut, the water problem, and to live normal like other people in the world," Matar said, smiling. "This is the basics of life, like electricity. It's a big challenge for Gazans."