TEL AVIV — As Israel's assault on the Gaza Strip intensifies, so has the rhetoric from some members of the country's government.
From raising the idea of dropping an atomic bomb on Gaza to ensuring that the present crisis results in a "Nakba 2023," a number of right-wing ministers have made public comments that compound the fears some have for the 2.3 million Palestinians in the enclave.
"Some of that rhetoric can be seen as potentially genocidal from the way that it dehumanizes Palestinian civilians," Dov Waxman, director of UCLA's Y&S Nazarian Center for Israel Studies, said in a phone interview with NBC News.
He noted that the right-wing ministers who made the comments are "not in the war cabinet," so their words can only have so much impact on Israeli policy. But, he said hearing ministers make suggestions like "flattening Gaza" with a nuclear bomb was concerning nonetheless.
'The Gaza Nakba'
Agriculture Minister Avi Dichter told Israeli Channel 12 over the weekend that the war would be "Gaza's Nakba," using the Arabic word for "catastrophe" that many use to describe the 1948 displacement of roughly 700,000 Palestinians who were expelled from their land in what became Israel.
"We are now rolling out the Gaza Nakba," Dichter, a member of the right-wing Likud party, said Saturday, in comments widely reported by Israeli media. "From an operational point of view, there is no way to wage a war — as the Israeli army seeks to do in Gaza — with masses between the tanks and the soldiers," he said. Pressed on his use of the word "Nakba" to describe the situation in Gaza, he said again: "Gaza Nakba 2023. That's how it'll end."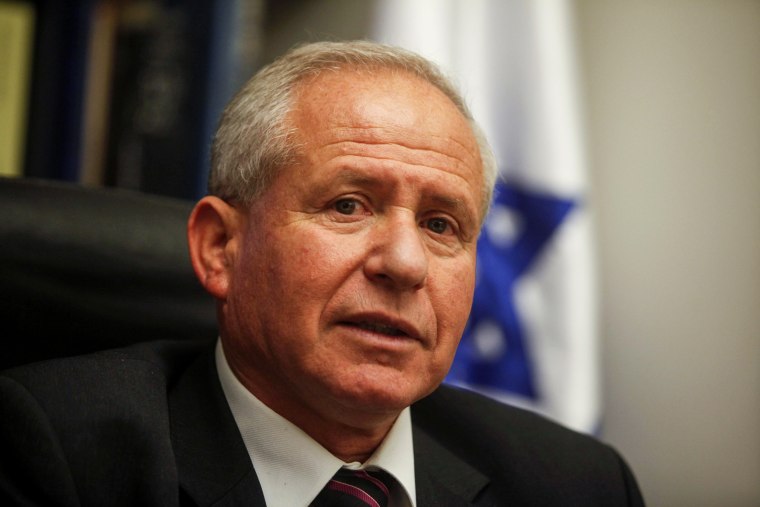 After widespread backlash to the comments, a senior Israeli government official told NBC News: "Israel has no such policy."
"Palestinian leadership in 1948 made every mistake possible that led to what they refer to as the 'Nakba,' the official said. "Hamas is making every mistake possible today that is costing Palestinians dearly in 2023."
Israeli Prime Minister Benjamin Netanyahu, who is facing a trial on corruption charges he denies, is at the helm of the most far-right government in Israeli history after forming a fragile coalition reliant on extremist pro-settler figures.
Dichter is just one of several ministers in his Cabinet to stray from government messaging that the war isn't with Gaza, but with Hamas. As the death toll continues to mount in Gaza, experts on the region say the increasingly extreme rhetoric is only serving to undermine Israel's justification for its war itself.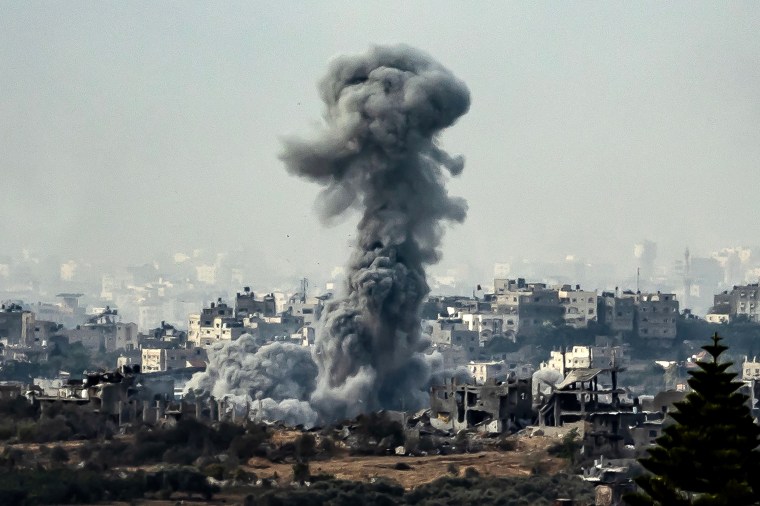 A week before Dichter's comments, Israeli Heritage Minister Amihai Eliyahu sparked outcry after he suggested that dropping a nuclear bomb on the Gaza Strip was "one of the possibilities" in the current conflict.
Eliyahu was quickly suspended from Cabinet meetings, as Netanyahu said in a post on X that the minister's words were not "based in reality."
Netanyahu said in a statement shared by his office that the military was operating in line with "the highest standards of international law" so as to not hurt "innocents."
United Nations experts have repeatedly warned that they believe "the Palestinian people are at grave risk of genocide" and experts say comments like these are only compounding those fears.
"It's dangerous on so many levels," Shahin Berenji, an assistant professor in the strategy and policy department at the U.S. Naval War College and an expert on the Arab-Israeli conflict, said of Eliyahu's comments. He added that not only do they suggest wiping out an entire population, but it also represents a departure from Israel's long-held stance of nuclear ambiguity.
Israel has long chosen to neither officially deny nor admit to having nuclear weapons, he said, yet: "Here, you have a member of Israel's government openly officially acknowledging that Israel has nuclear weapons and is threatening their use."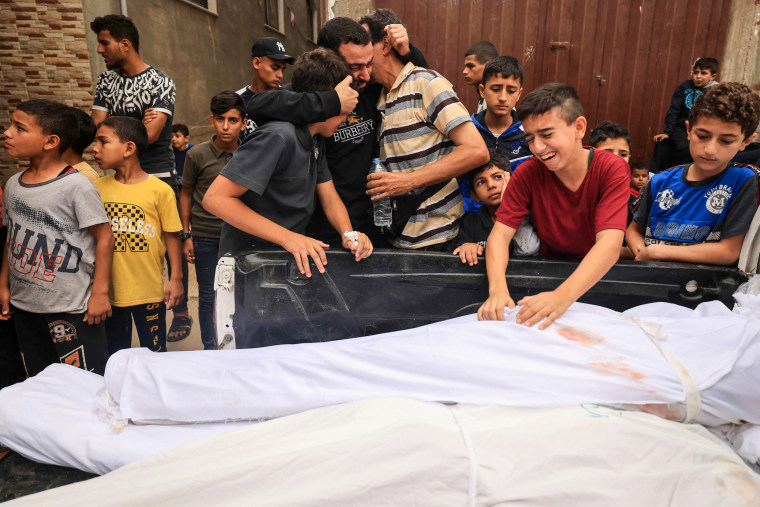 That point was not lost on countries that have been critical of Israel throughout the war, with both Russia and Turkey calling out the apparent admission. The Russian Foreign Ministry said the remark raised "a huge number of questions."
At Monday's opening of a U.N. conference whose goal is to establish a nuclear-free zone in the Middle East, speaker after speaker said the Israeli statement posed a threat to the region and the wider international community.
China's deputy U.N. ambassador Geng Shuang said Beijing was "shocked" at what "Israeli officials said about the use of nuclear weapons in the Gaza Strip," calling the statements "extremely irresponsible and disturbing" and saying they should be universally condemned.
West Bank 'sterile zones'
The increasingly hostile rhetoric from Israel's far-right Cabinet ministers has not only centered around Gaza. but also on the occupied West Bank.
Israeli Finance Minister Bezalel Smotrich, a prominent settler activist, raised alarm himself earlier this month after calling for the creation of "sterile" zones in the West Bank in a letter he sent to Netanyahu and Defense Minister Yoav Gallant that was shared with Israeli media. Such zones, he said, would block Palestinians from entering certain areas and bar them from harvesting olives close to Israeli settlements in the enclave.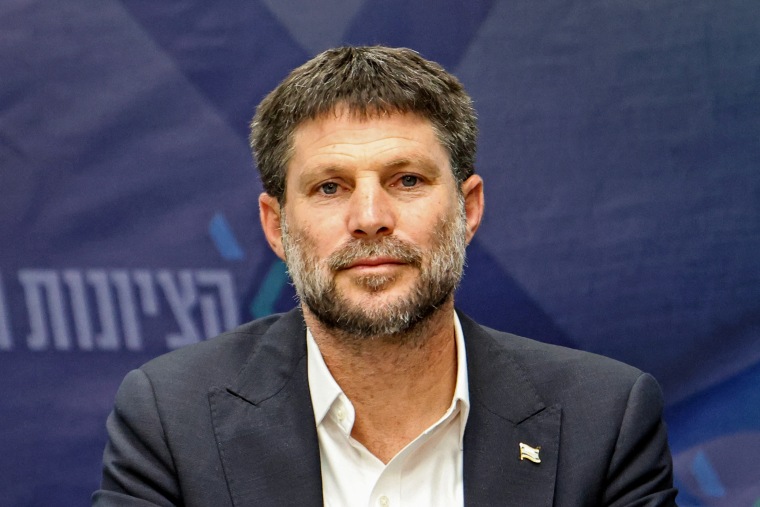 The letter came during the annual olive harvest, with olive farming a primary source of income for many Palestinian farmers in the West Bank. They also came during a surge in settler violence against Palestinians in the area that has drawn growing expressions of concern from the United States and the U.N.
In one such case, an olive farmer, Bilal Saleh, was killed while tending to his olive trees earlier this month, his family told NBC News. An elderly couple also told NBC News they were attacked by settlers last month without provocation while collecting olives in the West Bank.
Waxman said he feared that comments like those made by Smotrich would only embolden those attacking Palestinians.
"It's a really, really tense situation" already, he said.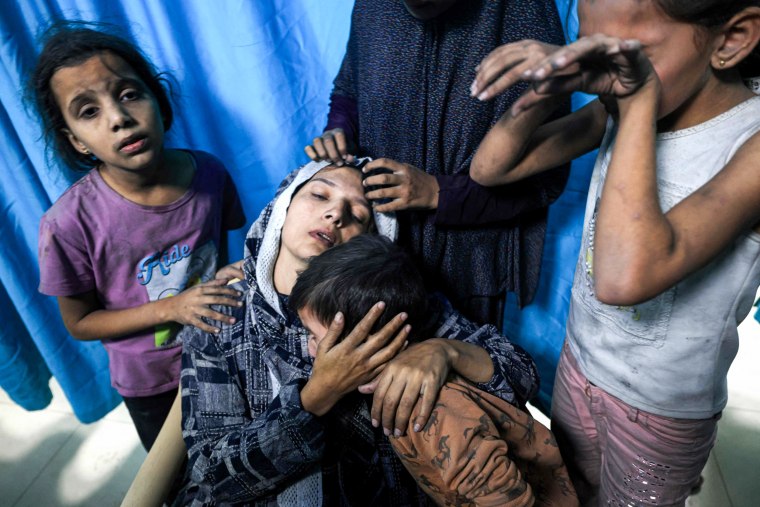 "Everything that these extremist ministers say, just kind of adds fuel to the fire," Waxman added.