An injured girl screams in pain as five men lift her off the hospital floor using bloodied sheets.
A young boy with a dust-covered oxygen pump lies helplessly, focusing on his breath.
A baby whose head is wrapped in a blood-soaked bandage is wheeled on a stretcher, receiving oxygen hand-pumped through a tube.
These are the scenes inside the Dar Al-Shifa Hospital in Gaza — a facility so overwhelmed by the flood of injured people that medical workers are treating many on the floor. Because of the volume of patients, bedsheets were substituted for stretchers. 
An NBC News camera crew gained access to the hospital on the brink of collapse, finding young children with bloody limbs and corridors lined with anxious family members awaiting updates about their loved ones. One woman sat on the floor, crying with her face in her hands — her legs covered by bloodied bedsheets and her feet coated in debris.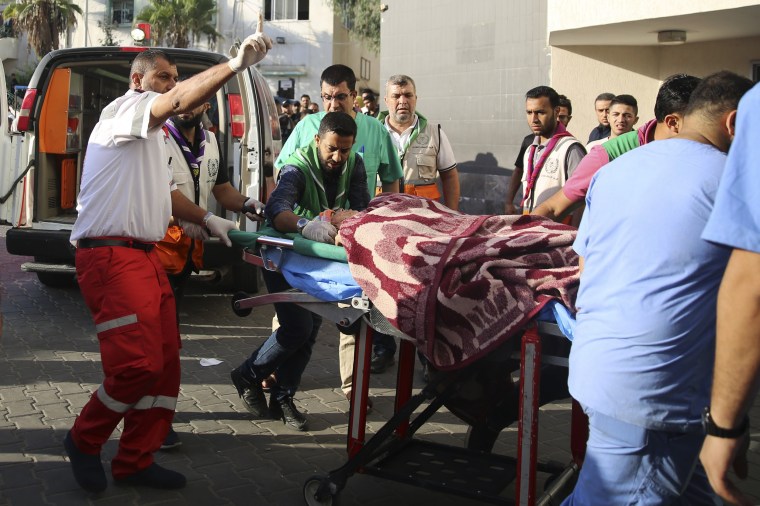 By the elevators, Hakmet Mohamed Eltom stood waiting to find out the fate of a young girl. 
"We don't know her condition," he said, his eyes glassy, as shouts and screams reverberated through the hospital.
Eltom said he was among a group of three convoys that got hit by Israeli airstrikes Friday as they were carrying evacuees toward the southern Gaza Valley.
"On the way from Gaza to the south, they attacked us with bombs," he said. As many as 70 people — many women and children — were killed in the strikes, and more than 200 were injured, according to a statement from Al Qassam Brigades, Hamas' military wing.
Eltom said his mother died as a result of the strike.
Dr. Mohamed Ziara, a 37-year-old plastic surgeon, told NBC News in a message from the hospital that the scene there was "complete chaos."
"Tens of thousands" of people were still arriving, he said, and the hospital had gotten so packed that there was "no place to leave a foot."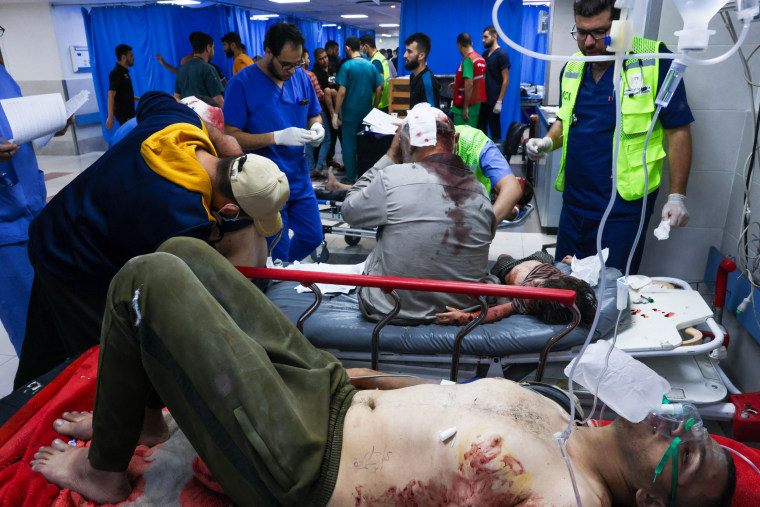 Nearly a week after Hamas' unprecedented attacks on Israel and days of forceful Israeli airstrikes on Gaza, Israel on Friday called for civilians in northern Gaza — an area that houses 1.1 million people, amounting to half the strip's population — to evacuate and go south within 24 hours.
Already, 1,900 people have been killed in Gaza and nearly 7,700 injured. In Israel, the death toll stands at 1,300, with 3,300 wounded.
Israel's order put hospitals in an impossible position. Patients continue to arrive, and many of those already receiving treatment are too weak or wounded to flee. 
In a statement, the World Health Organization called on Israel to rescind the evacuation order, given that it heightens myriad health risks and endangers vulnerable hospital patients.
"Vulnerable patients include those who are critically injured or dependent on life support. Moving them amid hostilities puts their lives at immediate risk," the WHO said.
On Friday, a spokesperson for the Israel Defense Forces shared a map in a post on X showing what he described as a safe route out of northern Gaza.
"The Israeli army will refrain from touching the route marked on the map" until 8 p.m. local time, the post said. The convoy airstrike, however, appears to have occurred soon after the map was published.
Doctors Without Borders said Israel's evacuation directive "represents an attack on medical care and on humanity." 
"We are talking about more than a million human beings," General Director Meinie Nicolai wrote in a statement. "'Unprecedented' doesn't even cover the medical humanitarian impact of this."
Meanwhile at Nasser Hospital, the second largest hospital in Gaza City, Dr. Mohammed Qandil told NBC News' camera crew that staff created "tents" outside to accommodate the influx of patients and triage them. 
"We will decide in the next few hours if these tents will have to be for the critical patients, patient post-op, or the patient who will go after finishing their management," said Qandil, 35, who serves as head of the hospital's emergency department.
He said medical supplies are lacking and the packed intensive care unit is forcing doctors to choose which patients deserve a ventilator. 
"This is like a humanity crisis," Qandil said, adding: "We are treating civilians — most of the ICU beds are now occupied by kids less than 10 years." 
The anticipated loss of fuel and internet access will only exacerbate the challenge of treating Gaza's wounded, Qandil continued. 
"Even in the next few hours we might lose the last store of fuel, so the hospital will shut down completely," he said. "And then even the Wi-Fi connection, which is very weak, we will lose it so we will be severed totally from the world."
CORRECTION (Oct. 14, 2023, 10:32 a.m. ET): A previous version of this article misspelled the last name of the Doctors Without Borders general director. She is Meinie Nicolai, not Nicholas.