Families in Gaza were burying their dead Tuesday, a day after Israeli forces killed dozens of Palestinians by opening fire during protests as the United States opened its new embassy in Jerusalem.
Tuesday is the 70th anniversary of what the Palestinians call the "nakba," or catastrophe, when hundreds of thousands of people were uprooted during Israel's creation in 1948. It was also due to be the culmination of seven weeks of demonstrations near the fence between Gaza and Israel.
But Khaled Batsh, the head of the grass-roots organizing committee behind the protests, told The Associated Press that the "day of the catastrophe" would instead be set aside for funerals and a general strike.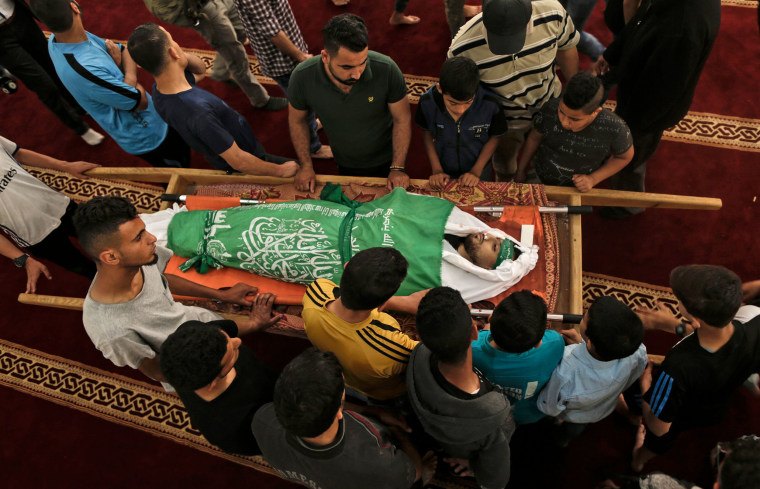 Throughout Gaza, mourners waved Palestinian flags and called for revenge. "With souls and blood we redeem you martyrs," they shouted.
Among those buried was 8-month-old Layla al-Ghandour, who inhaled tear gas at a tented protest encampment. "Let her stay with me. It is too early for her to go," her mother cried, pressing the baby's body to her chest.
The violence Monday also left 2,771 Palestinians wounded, including more than 300 women and children, according to the Gaza Health Ministry.
Tens of thousands have rallied in recent weeks near the fence, demanding that Israels allow the millions of Palestinians whose families left or were forcibly removed from Israel at its founding to return. Refugees and their descendants make up more than two-thirds of Gaza's population.
"It is unbearable to witness such a massive number of unarmed people being shot in such a short time."
A total of 109 people have been killed and around 12,300 others wounded since the protests began on March 30, according to Gaza's Health Ministry.
On Monday, Israeli troops opened fire on protesters approaching the fence. The military accused the militant group Hamas — which has ruled Gaza since it won elections in 2006 — of "leading a terrorist operation under the cover of masses of people." Israel said its forces were defending the border. It said that 24 protesters with "a documented terror background" were among Monday's dead.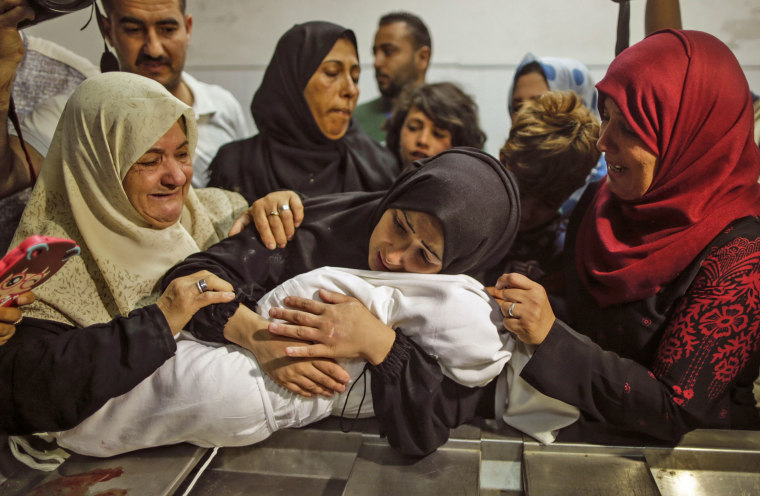 The White House blamed Hamas for the deaths, but the United Nations agency in Gaza expressed "dismay" at "the excessive use of force" against demonstrators.
Turkey ordered the Israeli ambassador to Ankara to return to Israel, Reuters reported; it has already recalled its ambassadors to Washington and Tel Aviv.
Doctors Without Borders compared the scale of the bloodshed with the 2014 war.
Marie-Elisabeth Ingres, the aid group's representative in the Palestinian territories, said: "It is unbearable to witness such a massive number of unarmed people being shot in such a short time. ... This bloodbath is the continuation of the Israeli army's policy during the last seven weeks: shooting with live ammunition at demonstrators, on the assumption that anyone approaching the separation fence is a legitimate target."
She added that most the wounded would "suffer lifelong injuries."
Hundreds of children, some as young as 8, have been shot by live ammunition since March 30, according to an analysis by the aid group Save the Children.
On Tuesday, the Israeli military said its aircraft had struck 11 Hamas targets in the Gaza Strip, while tanks targeted another two Hamas posts.
Clashes also erupted in the West Bank. In Ramallah, Palestinian protesters — some armed with slingshots — threw stones toward Israeli soldiers and set fire to tires, creating smokescreens that allowed them to advance. In response, Israeli forces used canisters of tear gas, including some dropped by drones, to regain ground.
Israel built the 40-mile Gaza fence for security reasons in 1994 and it is eager to prevent a massive breach of the barrier and potential attacks in communities on the other side. Palestinians have been warned to keep well away.
Most of the protesters have tended to stay around the tent camps, but groups of youths have ventured closer to the fence to roll burning tires and throw stones. Some have flown kites carrying containers of gasoline that have spread fires on the Israeli side.
Monday's protests coincided with moving the U.S. Embassy from Tel Aviv to Jerusalem — reflecting the Trump administration's recognition of that city as the capital of Israel. The decision breaks with decades of U.S. policy and distances Washington from its allies. Palestinians also consider Jerusalem their capital.
Marchers say they have continued to turn out for the demonstrations because they have so little to lose. More than a decade under Israeli and then Egyptian blockades has left the enclave's 2 million people, particularly its youth, largely jobless and hopeless.
In Gaza, fresh water is unsanitary and the seas are polluted with raw sewage. Power lasts as little as four hours a day while medical care and education are abysmal.
Peace seems increasingly far off and, for most Gazans, gaining permission to leave is impossible without solid education or job opportunities abroad.
Palestinian President Mahmoud Abbas urged the international community to condemn what he said were "massacres" carried out by Israeli troops in Gaza.
Ismail Radwan, a senior Hamas figure, said the border protests would continue "until the rights of the Palestinian people are achieved."