JERUSALEM — Israel launched a barrage of airstrikes on the Gaza Strip Monday after a rocket from the militant-controlled enclave hit an Israeli bus.
Health authorities in Gaza said three Palestinians were killed in the Israeli strikes, and six injured.
Israel's military said about 200 rockets had been launched from the Gaza Strip into Israel, with about 60 intercepted by the Iron Dome missile defense system. The attack from Gaza appeared to be revenge after an Israeli raid on Sunday killed seven Palestinian militants.
Israel's national emergency service said the strike on the bus left a 19-year-old man in critical condition. Ten Israelis were treated for injuries related to rockets from Gaza, the head of volunteer-based emergency service United Hatzalah said, adding that crews were dealing with a high volume of calls from people suffering from injuries and emotional shock.
Sirens sounded across southern Israel amid the latest escalation of tensions between Israel and Hamas, the Palestinian militant group that has controlled Gaza since 2007.
"Our fighter jets have started striking terror targets throughout the Gaza Strip," Israel Defense Forces said on Twitter. More than 20 Hamas military targets throughout Gaza have been struck by Israeli military so far.
The Israeli military also took responsibility for an airstrike that completely destroyed the Hamas-owned Al-Aqsa TV station in Gaza. The organization released video footage of the attack calling it "a strategic Hamas terror target."
Hamas spokesman Fawzi Barhoum called on journalistic organizations to denounce the attack saying that "targeting the headquarter of Al-Aqsa TV Channel and demolishing the building down to the ground is a blatant aggression against journalism and all free voices that are dedicated to communicating reality."
An Israeli based journalist and editor-in-chief of +972 Magazine, Michael Schaeffer Omer-Man, tweeting,"not only as a journalist who believes journalists should never be targets, but also as someone who lives within spitting distance of the IDF's own radio station (located in a residential neighborhood), I can't express enough outrage about the bombing of Al Aqsa TV in Gaza."
Prime Minister Benjamin Netanyahu's office was meeting with senior security and military staff in the evening after cutting short a trip to Paris.
Hours earlier, an Israeli army officer and seven Palestinians, including a local Hamas commander, were killed after an incursion by Israeli special forces into Gaza.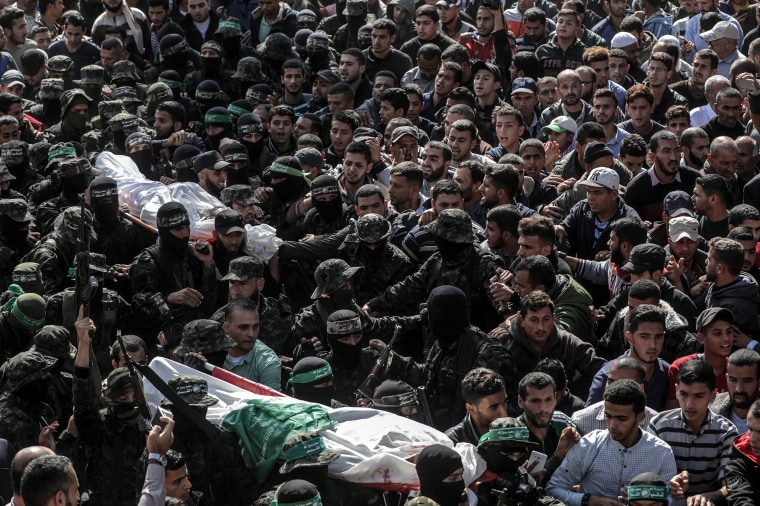 The clashes prompted Israeli airstrikes and the salvo of rocket fire from Gaza toward Israel.
The Israeli military provided few details about the reason for the raid. But the IDF tweeted that the special operation "was not intended to kill or abduct terrorists, but to strengthen Israeli security."
The escalation has prompted Israeli authorities to close down a railway line between two communities neighboring Gaza. School was also cancelled in the Israeli communities surrounding Gaza.
Israel has fought three wars in Gaza in the last decade — the latest in 2014 — and fears are growing that a new conflict is on the way.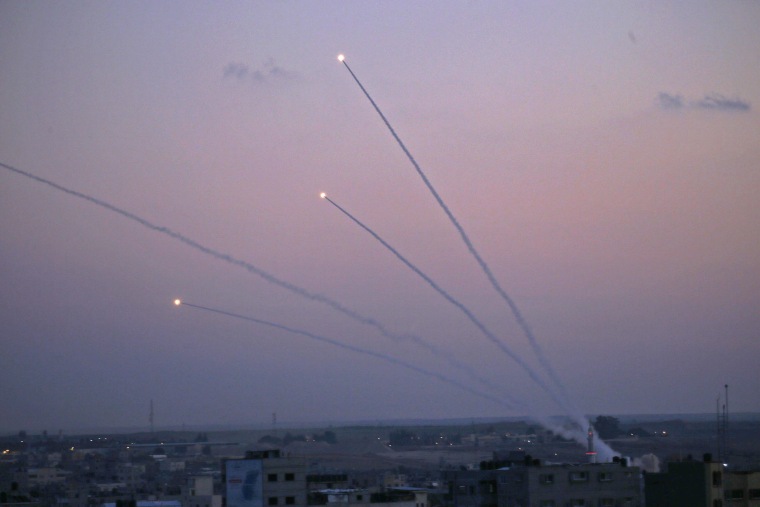 Violence has flared frequently on the frontier since Palestinians began weekly protests on March 30. Last month, Israeli warplanes bombed around 80 targets across the Gaza Strip after militants launched a volley of rockets into Israel, but a truce calmed what looked like a dangerous escalation of violence.
Egypt, Qatar and the United Nations have been trying to broker a long-term ceasefire in the region.
United Nations Secretary-General Antonio Guterres on Monday urged "all parties to exercise maximum restraint," said Farhan Haq, deputy spokesman for Guterres, in a statement.
United Nations Special Coordinator, Nickolay Mladenov, echoed a similar call on Twitter saying the "#UN is working closely with #Egypt and all concerned to ensure that #Gaza steps back from the brink. The escalation in the past 24hrs is EXTREMELY dangerous and reckless. Rockets must STOP, restraint must be shown by all! No effort must be spared to reverse the spiral of violence."
Lawahez Jabari reported from Jerusalem; Yuliya Talmazan from London.