The taps in the besieged Gaza Strip are running dry, and residents are scrambling to save every last drop of water as the shortage reaches a crisis point. 
Dunia Aburahma said her family has rationed supplies, allowing her only a quart of drinking water per day. 
"I haven't taken a shower for four days now," said Aburahma, 22, an architecture student who fled northern Gaza with her family last week ahead of Israel's threatened ground invasion and is now living with relatives in Zawaida in central Gaza. 
After Hamas' Oct. 7 attack on Israel left at least 1,400 people dead and about 200 people taken hostage, Israel announced a full blockade of Gaza, preventing food, water and fuel from entering the area, which is home to 2 million people. More than 2,800 people have been killed in Gaza, and about 12,000 more have been wounded. 
The lack of water is so dire that surgeons at Gaza City's Al-Shifa Hospital have reverted to chemical disinfectants.
"Water pressure down in hospital to the point we can't sterilize instruments," Dr. Ghassan Abu-Sittah, a surgeon at the hospital, said in a message over WhatsApp.
At the heart of the water supply issue is the lack of fuel and electricity, which powers water pumps to treatment centers. Only about 10% of Gaza's water comes from Israel; most of what residents drink is drilled locally, and it then needs to be treated to remove salt and contamination, said Elai Rettig, an assistant professor at Bar-Ilan University who studies environmental policy.
But about 50% of Gaza's electricity comes from Israel, while the rest is generated in Gaza with diesel-powered generators. Much of Gaza's fuel is trucked in from a refinery in Haifa, and Hamas has rapidly diminished Gaza's supplies for its own use. Without enough fuel and electricity to run the desalination and water treatment plants, there's no clean water to flow through the pipes, Rettig said in an interview Monday.  
"And so the major consequence of cutting electricity supply is not necessarily electricity but water supply to the population," Rettig said. "And that's where things can become a humanitarian crisis."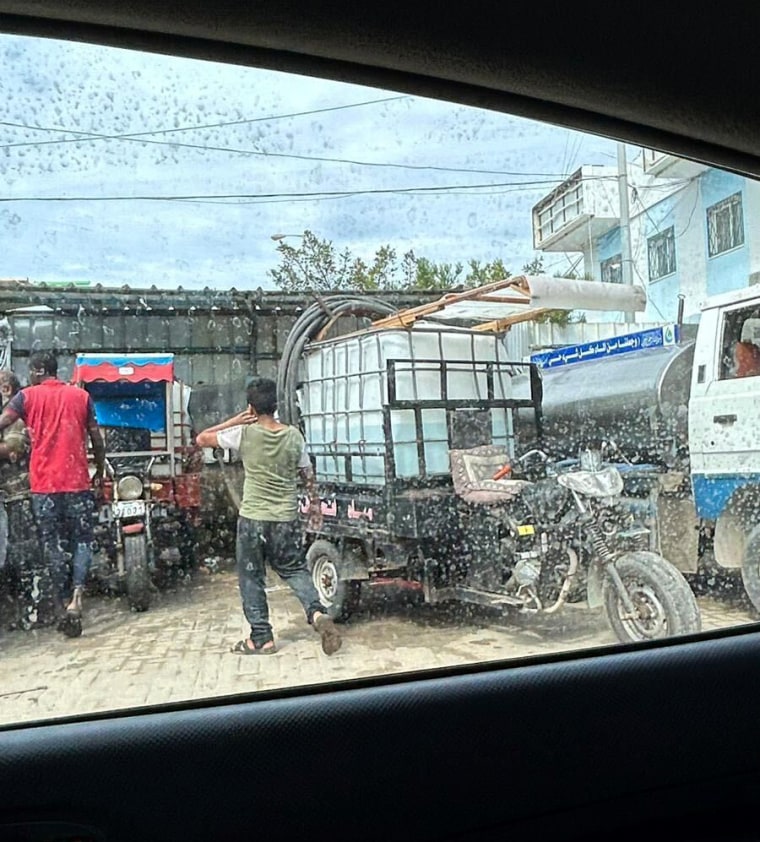 The United Nations Relief and Works Agency for Palestine Refugees in the Near East, or UNRWA, warned in a situation report Tuesday that "concerns over dehydration and waterborne diseases are high given the collapse of water and sanitation services."
"Water remains a key issue as people will start dying without water," the group said. 
U.S. Secretary of State Antony Blinken announced Monday that the U.S. and Israel "have agreed to develop a plan that will enable humanitarian aid" to reach civilians in Gaza.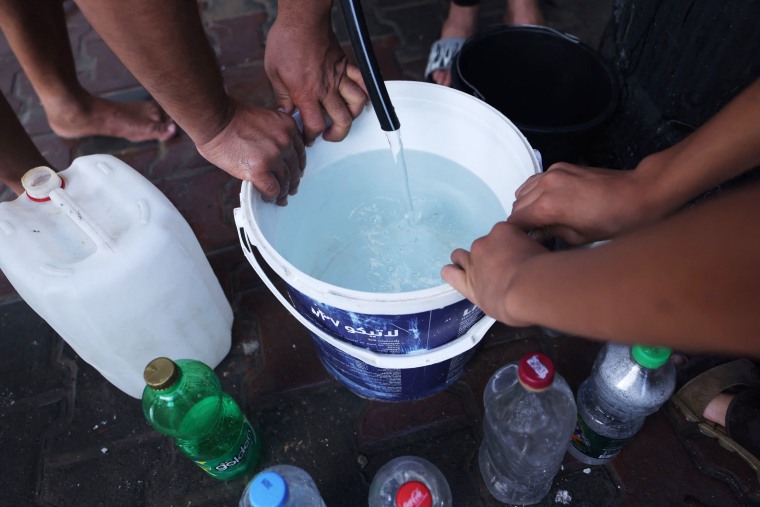 Even before the current conflict, 97% of the population of Gaza had to "rely on informal and unregulated private water tankers and small-scale informal desalination plants for drinking water," according to a 2021 report by the United Nations High Commissioner for Human Rights. Direct pipelines were a luxury, and the risk of waterborne diseases was rampant. 
The private water tankers would load up at the nearest water stations and then go around to neighborhoods. Those who were in need of water could fill their tanks, which were usually placed on the roofs of their homes. 
But those tankers run on fuel, which is now in short supply. And water pulled directly from the ground, which would require electricity and then treatment, is unsafe to drink. 
"The situation is near-catastrophic," Imene Trabelsi, a spokesperson for the International Committee of the Red Cross, said Tuesday, adding that there were already reports of water contamination, which can pose serious health risks.
Trabelsi said the two main water desalination stations in Gaza were no longer functioning. 
Aburahma's family was among the approximately 1 million people who have been displaced in Gaza since the conflict began, according to the UNRWA. Many of them moved from northern Gaza to the south over the past several days after Israeli authorities said they would resume supplying water in the south as a way to make people leave the north amid an anticipated ground offensive against Hamas in Gaza City. 
Israel's bombardments and the displacement of hundreds of thousands of people to the south have put pressure on Gaza's infrastructure, and water hasn't arrived in places where people need it. The UNRWA said Israel had supplied water for only three hours in parts of southern Gaza on Monday.
"We can't get our clothes cleaned," said Aburahma, who is staying at a relative's house with 53 other people. "Whenever I need to clean some of the laundry, I fill a bottle of the water we keep and a bit of soap to clean them on my hands."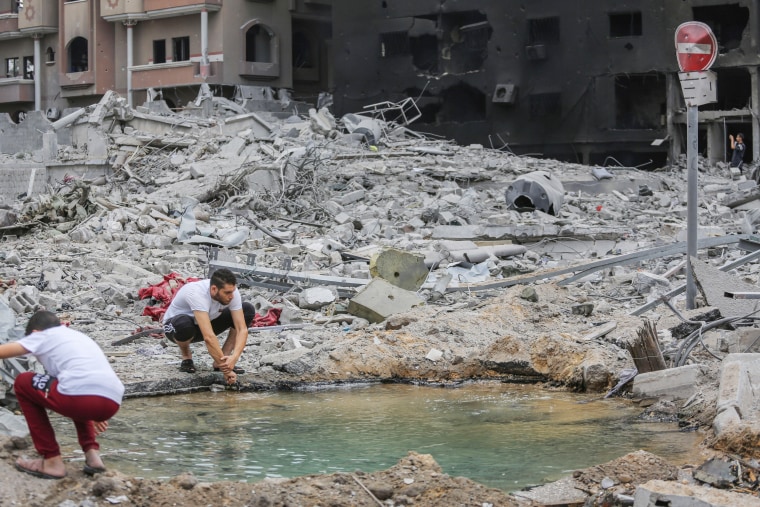 Jonathan Conricus, the international spokesman for Israel Defense Forces, blamed Hamas for using goods, including fuel, that could support civilians in Gaza. 
"The people in Gaza are not our enemies," Conricus told NBC News' Tom Llamas. "We are not targeting them." 
Palestinian authorities say that even if Israel were to resume supplying more water, without power, it can't be pumped to homes.
"For us as a water authority, if Israel pumps water, it cannot be supplied to the population due to the interruption of the electricity required to pump it," the Palestinian Water Authority told NBC News in a Facebook message.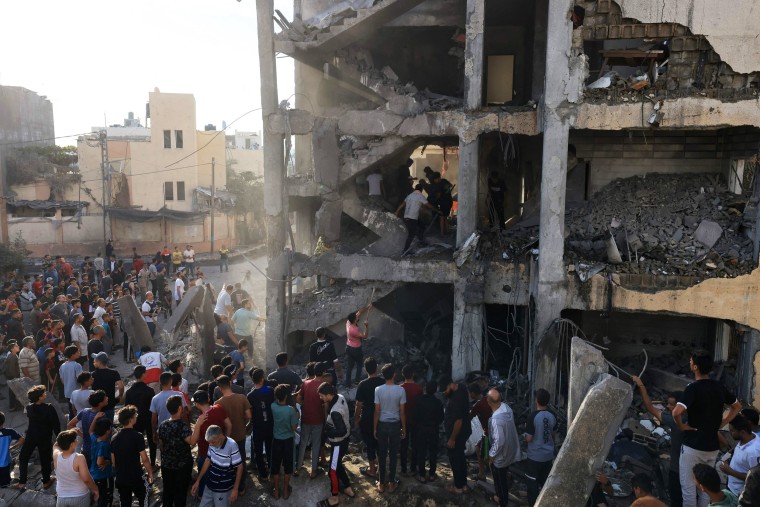 In the southern city of Khan Younis, where hundreds of thousands have fled after the evacuation order, the water pressure was so low that Rahaf Abuzarifa was using cups and buckets to collect any drops that would fall.
"We gave each a 2-liter bottle, and each one is managing his own bottle," said Abuzarifa, 21, who is living in a house with 17 other people. 
Those 2 liters must last for three days, she said, adding that everyone in the family had taken a bath only once since the war broke out this month.