AMSTERDAM — For mainstream European politicians upended by the wave of anti-immigrant populism, political survival means swimming along with the tide.
This theory will be tested Wednesday as Dutch voters go to the polls in the country's parliamentary elections.
It's the first in a series of European elections this year that will determine the fate of the European Union and immigration policy on the continent. Some in the political mainstream are aiming to attract support away from the far-right.
Dutch Prime Minister Mark Rutte, who heads the center-right People's Party for Freedom and Democracy, is coming up against anti-immigration figurehead Geert Wilders' Party for Freedom among a thicket of 28 other rivals.
The mild-mannered Rutte, who has a reputation for optimistic, socially liberal policies, took out newspaper ads late last year telling Dutch people to "act normal or leave" — a statement that observers took as a thinly-veiled attempt to imitate Wilders' views. In December, Wilders was found guilty of inciting discrimination against Dutch Moroccans.
And in a television interview in September, Rutte used a local colloquial profanity to tell Turkish immigrants who attacked journalists to go back to their country.
In an interview with NBC News at a rally in the southern town of Breda on Sunday, Rutte denied copying Wilders.
"I have made no anti-immigrant statements," he said. "I am fighting on my own agenda."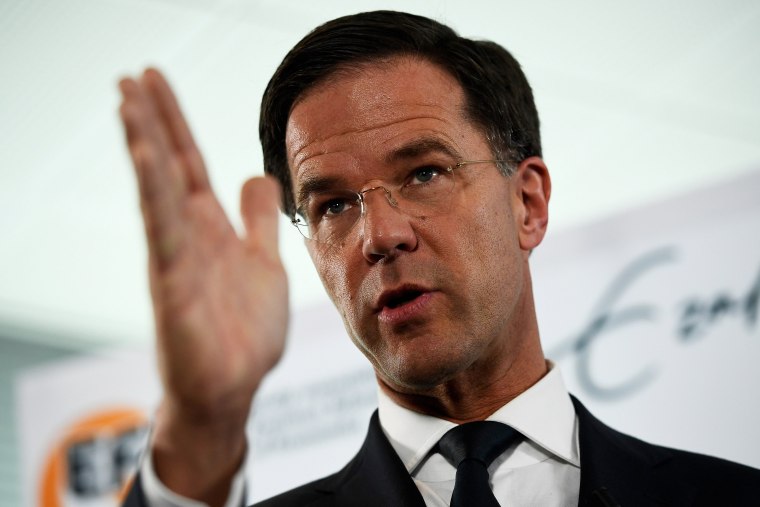 But political analysts disagree and say Rutte's turn toward populism has paid dividends: His party is now edging out Wilders' party in national polls.
It's a pattern that spans the continent.
Angela Merkel, the German Chancellor who will compete for a fourth term in elections this fall, has lately come out against the burqa, one of the most conservative forms of Islamic headscarf.
Francois Fillon, a center-right candidate who was once considered the man to beat in next month's French elections, shocked voters accustomed to secular campaigns by speaking openly about his religious faith and French identity.
And in the United Kingdom, Prime Minister Theresa May has responded to the Brexit tide that swept her to power by taking a firmer stance against immigration as her government negotiates its departure from the European Union.
In many ways, the rightward lurch is overdue, according to Markus Wagner, an associate professor at the University of Vienna and a scholar of European politics.
He said European politicians have been late to close the gap between their own liberal, multicultural sensibilities and electorates that have grown increasingly suspicious of immigration and European institutions.
"This sort of thing has been expected for a while but there's never much evidence of it," Wagner said. "But in the past six months there's been increasing evidence of parties moving to the right to recapture the vote."
Whether the strategy will work is another question.
Rutte seems like a late arrival to the exclusionary patter that has made Wilders so popular and controversial.
In the interview Sunday, Rutte described his "act normal" newspaper ads as a plea for public civility directed at everyone in Dutch society.
"It means that we all have to make sure that we are not just there to live our own lives but we also have a responsibility to make sure that we live in a context of caring about others," he said. "It's not just me, myself and I. We are a society."
Wilders inciting discrimination conviction followed a 2014 municipal election rally when he led a crowd in chants of "Fewer! Fewer!" in response to the question: "Do you want more or fewer Moroccans in this city and in the Netherlands?"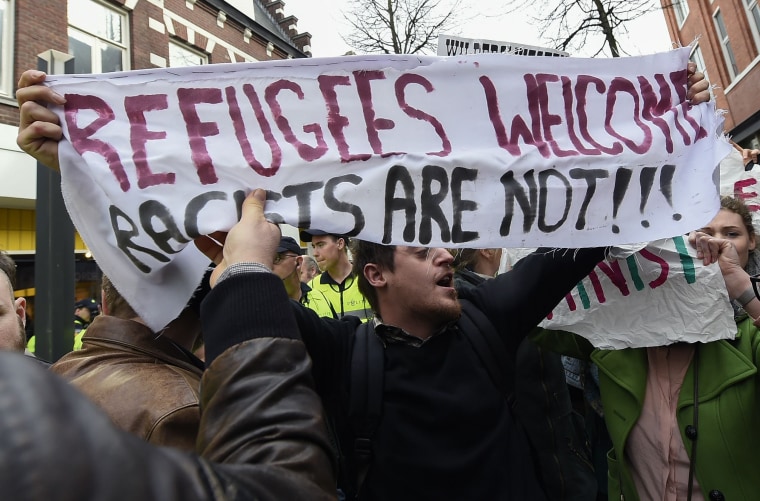 Unlike Rutte, Wilders has rarely tried to climb down from his most inflammatory comments. In a tweet, he called the verdict, which carried no penalty, "insane."
Though analysts point to Rutte's slight improvement in polls, many Wilders voters remain unconvinced.
"I don't think it's authentic," said Xandra Lammers, who supports Wilders, referring to Rutte's tentative embrace of populism. "He's swimming with the waves of Geert Wilders."
Lammers, a professional translator, said she was once a leftist like most Dutch voters. She swung right after Dutch officials moved Moroccan immigrants to her Amsterdam neighborhood of Ijburg.
Since then, she's been active on social media, blogging about what she calls the government's "failed experiment" of creating a multicultural neighborhood.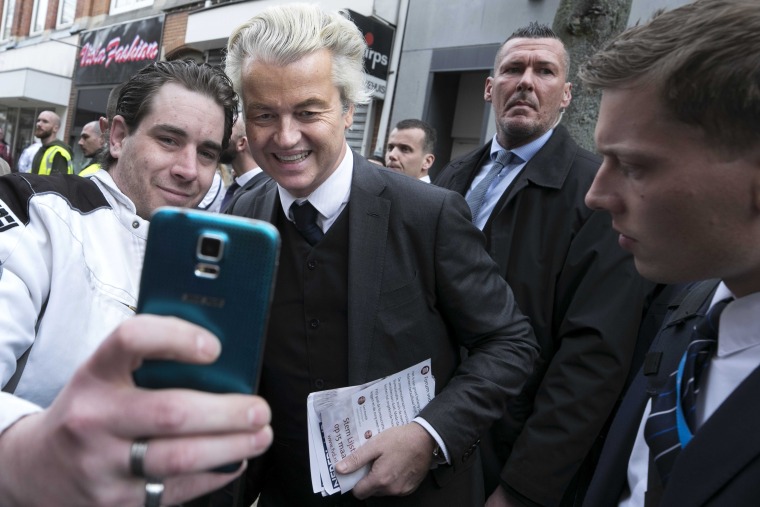 Her social media presence and complaints about crime and public displays of Islamic faith have made her well-known in the neighborhood: During her conversation with NBC News, a young woman stopped to politely chastise her for damaging Ijburg's reputation.
Lammers said she barely recognizes her own politics after travelling across the ideological spectrum. But her political journey and others like it have surprised mainstream politicians as much as she's surprised herself — The Netherlands once had reputation for almost extreme tolerance and radical left-wing thought.
It's because of that recent history that Rutte said he worries about complacency among the liberal voting public who still regard Wilders as an outsider who won't win.
"My main point is where we thought Brexit would not happen, it happened. We thought the American elections would deliver a Clinton presidency. They didn't," Rutte said.
"My worry here in the Netherlands is that people think that this type of chaos cannot happen to the Netherlands because Geert Wilders is somewhat down in the polls," he added. "But I am warning people it could still happen."