A group of German doctors has stripped naked in a series of photos to show how vulnerable they feel without adequate protective equipment on the front lines of the coronavirus pandemic.
The group calls its protest Blanke Bedenken, which translates as "naked concerns," saying shortages of protective clothing and equipment are putting their lives at risk.
"We are your general practitioners. To treat you safely, we need protective equipment. If we run out of what little we have, we look like this," one of the group's tweets said next to a naked photo of a male physician.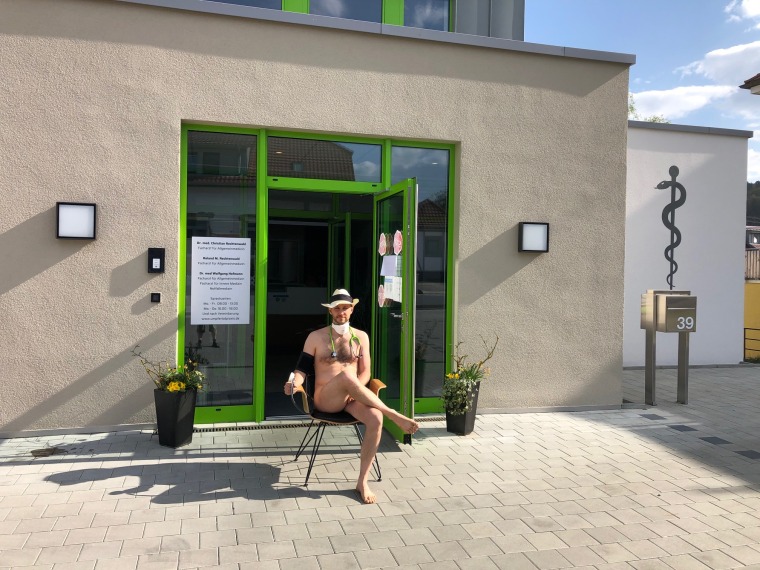 On its site the group, which was launched on Thursday and has since garnered growing attention online, has featured more photos of doctors posing in their medical practices, some wearing nothing but a stethoscope, hiding their private parts behind medical equipment, paperwork and toilet rolls.
In one of the photos a doctor holds up a sign that reads in German, "I learned to sew wounds. Why do I now need to know how to sew masks?"
Like in many other countries around the continent, German health workers have appealed for more personal protective equipment, or PPE, since the beginning of the crisis that has so far claimed the lives of 5,750 people in the country.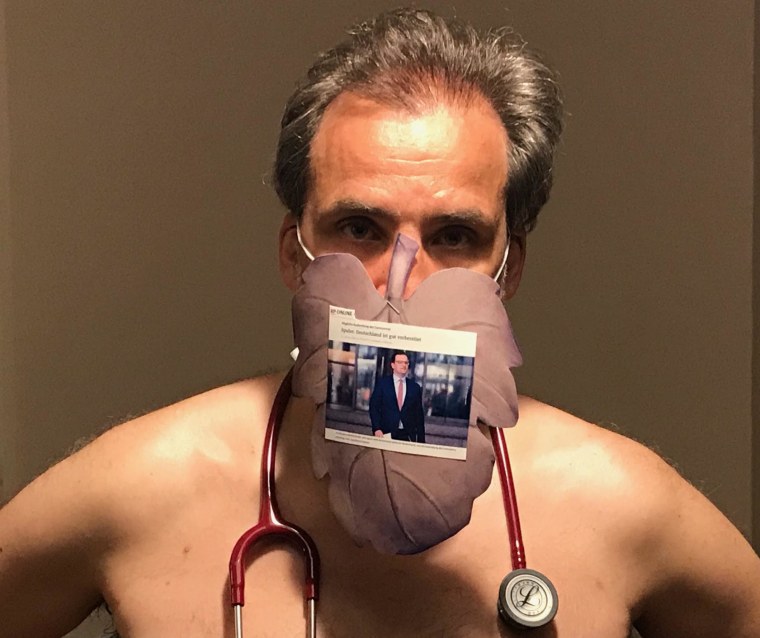 The equipment, which includes face masks, goggles, gloves and protective clothing, is essential to prevent exposure during treatment of coronavirus patients. The worldwide shortage has left many medical workers feeling unprotected.
On its website, Blanke Bedenken says its members were inspired by Alain Colombie, a family doctor in Pomérols, France, who posed naked in his practice to draw attention to insufficient protection for general practitioners. In the photos, Colombie wore an armband with the words "cannon fodder" on it to highlight the problem.
Download the NBC News app for full coverage of the coronavirus outbreak
In an email sent to NBC News on Tuesday, a spokeperson for Blanke Bedenken said it could not immediately answer a request for comment. It is not known how many doctors have taken part in their initiative.
German health officials did not immediately respond to a request for comment on the group's campaign.
The German health ministry announced earlier this month that PPE would be increasingly produced domestically. So far, millions of face masks and other protective gear had to be flown in from abroad, much of it from China.
KBV, an organization representing about 165,000 doctors and psychotherapists within Germany's compulsory health insurance scheme, has worked with the ministry to distribute hundreds of thousands of pieces of protective equipment to medical offices.
Spokesman Roland Stahl told NBC News Tuesday deliveries have increased in recent weeks.
"The situation appears to be improving but we continue to need equipment," Stahl said. "It's not as bad as it was a few weeks ago."