MUNICH, Germany — Neo-Nazis are keeping their black combat boots and bomber jackets in the closet as they try to force their way into mainstream German society.
Security officials say many young fascists are adopting more stylish and less intimidating images, with some branded "nipsters" after embracing hipster-style clothing as well as techno and hip hop music.
Far-right extremists even recently launched a "Vegan Cooking Channel" on YouTube featuring masked young men preparing simple recipes and providing household tips.
"If the young people don't find skinhead types attractive, then they [the neo-Nazis] will simply die out, so they have to find something new," said Daniel Koehler, an expert on radicalization who has counseled right-wing extremists in the past. "There are many different ways in which neo-Nazis now portray themselves" that are "not immediately seen as the violent skinhead, neo-Nazi type," he added.
"When they find new recruits, who have grown up with the Internet, a different type of music, a different clothing style, they will bring them in," Koehler told NBC News.
Issues such as animal rights, the environment, equality for women are sometimes used as a smoke screen by the extremists as they try to lure followers to their scene.
Germany's far-right NPD party once launched a youth welfare service, which offered to help young people find jobs. It has also tried to bring its extremist ideology to young people through with the release of so-called "schoolyard CDs."
Contemporary right-wing bands such as Kategorie C, which offer "Anti Sharia Team" T-shirts to fans on its website, and rapper Makss Damage, whose lyrics include "Kill these anti-German sons of b******," are among the new generation of artists making waves.
And in April, two far-right extremists wearing Cookie Monster costumes were arrested by police, while trying to lure in young children with leaflets reading, "To be German is cool."
"The right-wing scene in Germany is militant, radical and dangerous"
Felix Benneckenstein became a neo-Nazi when he was aged just 14. For nearly a decade, he was deeply integrated in a racist, xenophobic and often violent "parallel society."
"As a teenager, I was very insecure, had difficulties with authorities and the society as such," he said. "I suddenly viewed the neo-Nazi ideology as a universal remedy."
Rebellious towards his middle-class parents and revolutionary in his young political thinking, Benneckenstein was initially attracted by the hard bass of the right-wing music, which he now says was "promoting a false patriotism."
He quickly got into contact with a skinhead group in his hometown in conservative Bavaria and later founded and led his own neo-Nazi group known as a "comradeship" in the southern German city of Erding.
For Benneckenstein, right-wing music presented an opportunity to quickly gain fame in the neo-Nazi scene.
Calling himself "Flex," Benneckenstein started spreading Nazi ideology through violent songs he produced. "The message of my music was xenophobic, anti-immigration, against the United States and Jews," he said. "Looking back, of course it was very bad and spread hate."
In 2011, Benneckenstein was jailed for a series of far-right motivated crimes. In prison, he suddenly faced the individuals he had been bashing for years: foreigners, including many who were in custody pending deportation. "I suddenly felt that they are being treated unjustly and had even stronger doubts about the ideology I was adhering to," he said.
After 18 months behind bars, Benneckenstein started the last phase in his long process of leaving the neo-Nazi scene. With the help of EXIT, an organization that provides assistance for dropouts from far-right groups, he turned a new page. Now 27, Benneckenstein heads his own support group in Bavaria and regularly visits schools to educate students about the dangers with first-hand insight into his story.
The Office for the Protection of the Constitution (BfV), the government's domestic intelligence agency, estimates that Germany's far-right scene presently consists of approximately 22,000 people — a significant decrease since the end of the 1990s.
However, officials say at least 9,000 of them are considered potentially dangerous and violent.
In the wake of shocking revelations surrounding the underground neo-Nazi terror cell that went undetected for 13 years and is believed to be responsible for 10 execution-style killings across Germany, BfV head Hans-Georg Maassen told NBC News that his service currently has "no indications that cells are planning attacks."
Maassen added: "You can say that every second right-wing extremist is violence-prone. That has to worry us and therefore, we are closely monitoring these groups."
There is plenty to monitor. The far-right scene has been making every effort to draw public attention.
In October, hooligans teamed up with right-wing groups in the western city of Cologne to protest against so called "Islamization" of Germany and Islamist activities in the country, resulting in a battle between police and 5,000 extremists.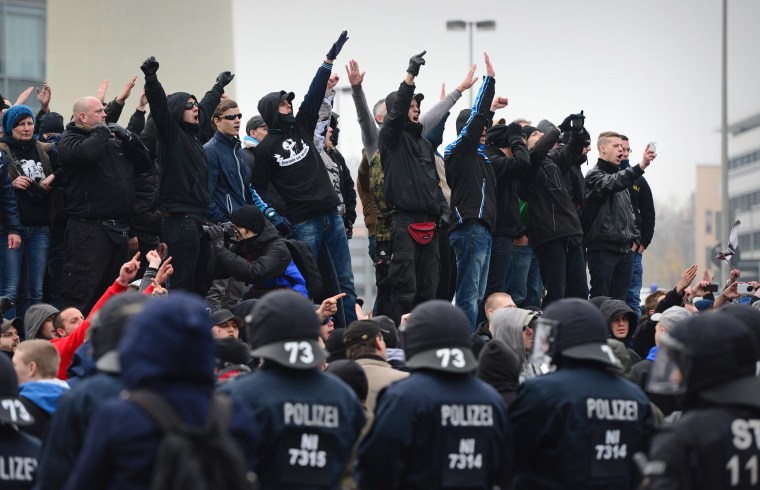 The far-right scene is also piggybacking on a new and more mainstream movement called "Patriotic Europeans against the Islamization of the West," or PEGIDA, which has attracted more than 15,000 people at recent demonstrations in eastern Germany. While some of the PEGIDA protesters are believed to be members of neo-Nazi groups, the majority are not believed to be extremists.
PEGIDA's protests in the streets of Dresden, fueled by fears that the country could be overrun by Muslims and other immigrants, have alarmed German officials, including Chancellor Angela Merkel. "There is freedom of demonstration in Germany, but there is no place for spreading hatred and slander against people who come to us from other countries," she said. In her New Year's address, Merkel added: "Don't follow them."
More than one million people migrated to Germany in 2013, the highest influx in 17 years. Amid a rising tide of refugees from Syria and other trouble spots, officials and experts are worried that a lingering mistrust in society could be exploited by the far right. "Presently, the extremists are heavily relying on Islamophobia, it's an anti-Islam movement, because right-wing scene recognizes that a growing part of the population is scared of Islamization, radicalization, ISIS," Koehler said.
Benneckenstein warns that xenophobic tendencies pose a threat to democracy across Europe.
"The right-wing scene in Germany is militant, radical and dangerous," Benneckenstein said. "And it is now experiencing an upsurge, an affirmation through the PEGIDA movement and rising anti-foreigner sentiment."