This could be a tough pill for President Trump to swallow.
German police seized tens of thousands of dollars-worth of Donald Trump-shaped orange ecstasy tablets during a traffic stop, according to a release issued on Monday.
Osnabrück Police in the northwest German state of Lower Saxony wrote in a Facebook post that they stopped a Peugeot 307 hatchback on Saturday for having questionable license plates.
"In the control of the car, the officials found 5000 Ecstasy Tablets, with the portrait of the American President Donald J. Trump. In addition, a large amount of cash has also been secured," the translated statement reads.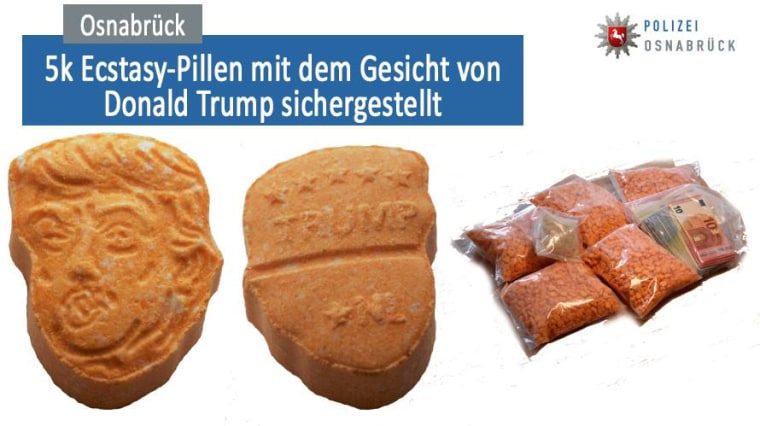 Two men were arrested in the bust, and their vehicle was seized, officials said.
The 5,000 pills were made in the likeness of Trump's face and on the back the name "TRUMP" is emblazoned beneath five stars. It appears the back of the tablet is meant to look like Trump's campaign signs.
Related: Treating PTSD with Ecstasy? Clinical trial shows groundbreaking results
Police estimate the pills were purchased for about €11,000, which equals approximately $12,900. They also estimated the pills could have sold for approximately €36,000 or about $42,400.
The two suspects appeared before a judge on Sunday and an arrest warrant was issued.