A penguin that was apparently stolen from a city park in western Germany last weekend has been found dead, police said Thursday.
"A witness had spotted the dead penguin at a fence alongside a parking lot at 8:30 this morning," Mannheim police spokesman Michael Klump told NBC News. The cause of death is not known.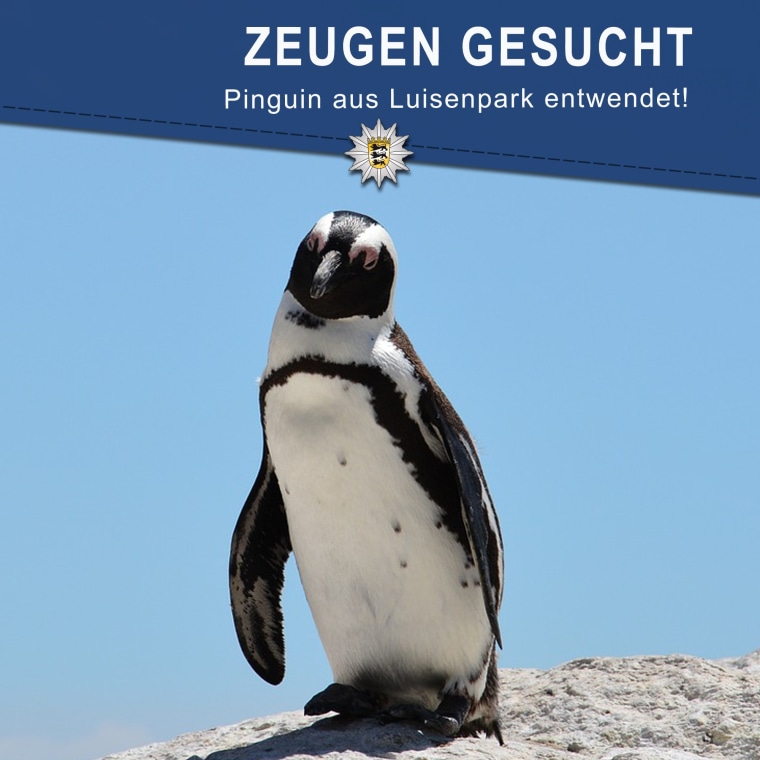 The penguin disappeared Saturday from its enclosure in Luisenpark, a city park that includes attractions for children.
When officials asked for the public's help in locating the missing bird, a Humboldt Penguin, police noted that it needed a specific diet and habitat to survive.
The penguin's remains are being examined at a veterinary institute, police said. The prosecutor's office in Mannheim has launched "investigative procedures against unknown people," they said in a statement.
No CCTV images of the theft exist. But Alexandra Wind, a spokeswoman for the park, told NBC News earlier that it would not have been difficult for someone to enter the penguin enclosure as it was surrounded only by a waist-high fence.
Related: Humboldt Penguin Goes Missing from Park in Mannheim, Germany
Despite the police's pleas for help, the search ended with the sad discovery.
"Apparently the culprit had disposed of the animal," police said in its statement, adding that it was not known whether the penguin was still alive when it was left near a parking lot.
Humboldts are native to coastal Chile and Peru. They are named after the cold water current in which they swim, which is in turn named after 19th-century Prussian explorer Alexander von Humboldt.
The director of the animal park, Joachim Koelitzsch, said staffers were devastated.
"The case could not have come to a worse end," Koelitzsch told police. "it is about the emotional value that the animal had for our employees and our visitors. Especially our animal attendants, who cared for the animal every day, are shocked — shocked — by the death, and shocked by the little respect for the treatment of living creatures."