BERLIN — Located between a Vietnamese restaurant and a shoe store and just around the corner from a lingerie shop, a mannequin dressed in camouflage stands in the German military's first showroom.
The plastic guard wears a fashionable scarf and sunglasses beneath its combat helmet. After decades of relying on a conscription system that was axed in 2011, the country's armed forces has to find at least 20,000 recruits each year. As part of the drive to present itself as a modern and exciting employer, Germany is now following in the footsteps of the U.S. Army's recruiting stations in malls and on Main Streets.
"We're trying to get more people to the German forces," said Captain Juergen Klau, who runs the showroom. "In the past we had many problems because many of the military bases are not in the big cities."
The recruiting center does not offer much more than a couple of video screens, fancy blue furniture and a couple of leaflet stands. It has the "coolness of a waiting room," Germany's Sueddeutsche newspaper noted.
It is located near a busy train station and is staffed by soldiers in uniform, an unusual sight in Germany's big cities. According to Klau, several dozen people visited daily during its opening week.
Many Germans are still wary of the military due to its troubled history under the Nazi regime. Recent unpopular combat missions in Afghanistan after decades of staying out of conflict also haven't helped.
"We had no good image in the past," Klau said. "Our problem is the history of Germany with the forces and therefore we try to get a better image."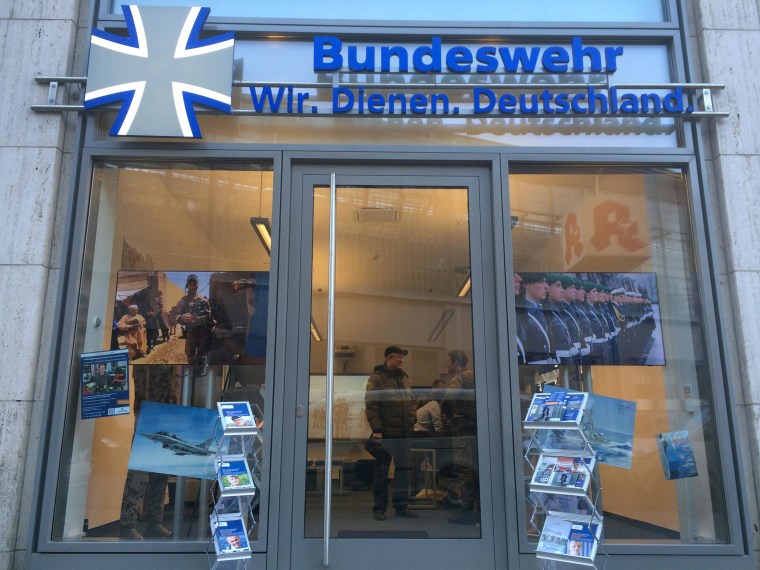 When the recruiting center opened, a throng of protesters greeted German Defense Minister Ursula von der Leyen with posters declaring: "No advertising for dying."
Interrupted by their shouts, von der Leyen took to the offensive and declared sternly that she "would be delighted if the protesters not only screamed but came here for a discussion."
She added: "We came to the center of the city on purpose. It is important that the Bundeswehr [German army] can show all of its advantages but also face the criticism it receives."